Traveling with Kids in China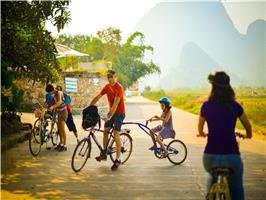 Cycling around Yangshuo countryside with kids
China is a great destination for family holidays. It is fun, safe and full of interesting and child-friendly activities to keep the children entertained. See our well designed China Family Tours. A family holiday not only adds extra enjoyment to the trip, but also promotes the mutual understanding and interaction between you and your children.
It might be stressful and sometimes it can be a challenge to your patience when traveling with kids, however, knowing what to expect and making right preparations can access you to a wonderful journey of discovery.
Trip Planning
Find a destination suitable for you and your children. Take location, weather, safety and hygiene into consideration. See the Top Family Tour Destinations in China and The Top 7 Family-Friendly Activities in China
Also check out our suggestions on things to do with kids in Beijing, Shanghai, and Hong Kong, and How to Plan a Family Tour of Hong Kong.

Involve kids in holiday planning. Find information, pictures or websites about the places you are going to and introduce them to your children, so they can establish a good background and tell you what they are interested in. Their suggestions can help you plan a fun holiday for everyone. You could also come up with a basic plan and give the children some options to choose from.
Make a reasonable and interesting itinerary. Concerning that the children easily get tired and bored, your itinerary should be flexible and relaxed. Remember to add some kid-centric activities just for them, and they'll be more amenable during the journey. Check and discuss the trip with your medical advisor to make sure that your children are fit to travel.
Acquaint yourself with policies that concern children, such as visa, passport, and insurance. In most countries, children no longer share their passports with parents, also usually children's passports expire faster than parents'. Children need their own visa on their passports. (Check the latest information with China embassy or consulate in your country). You can also check out preferential measures and discounts on transport fares and admission fees of scenic spots. Contact your travel advisor and discuss about and arrange for the special needs of your children.
Before Departure
Now the trip planning phase is over and here we come to the preparation phase. Let's see what should be taken into consideration before embarking on the journey.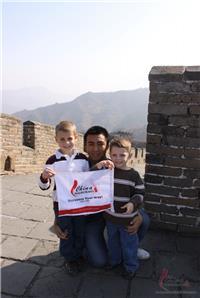 The Great Wall hiking with kids
What to Pack
You can pack light because you can basically buy anything from supermarkets and department stores in China. However, it also depends on where you will be traveling and whether your children are used to any particular brands or goods.
If you are traveling in cities, especially big ones like Beijing, Shanghai, Shenzhen and Guangzhou where there is a significant population of expats, you can easily find western brands in upscale supermarkets. But if you will be traveling to the countryside, then it's best to stock up the necessities in the city to bring along with you. Below is a packing list for your reference.
Favorite toys, books and snacks -- They will keep the children amused and soothe their anxiety.
Medical kit -- It's best to pack a few precautionary items for small discomforts, just in case. On the list are medicine for headache, upset stomach, nausea and allergies, band aids and insect repellants.
Infant formula -- You can find them in supermarkets. But if you are a nervous parent or your child has any special needs, please bring some from your own country.
Feeding bottles and diapers -- You can find them in supermarkets. But if your child is used to any particular brands or has allergies, it's best to stick to their usual ones.
Comfortable clothes, pajamas, socks and shoes -- Layers of clothes would be practical for putting on and off as the weather changes.
Disinfectant gel or cream -- Sometimes they are available in expensive supermarkets, but it is more convenient to pack a few bottles from home.
Sun creams, hats and raincoats.
Take a sling if you are traveling with a small baby so that your hands are free. For toddlers, take a fold-up stroller.
A copy of medical record of your child -- In case the child falls sick and needs to be sent to hospital, information on his/her past medical record can help with better diagnosis and treatment.
Medication and Hygiene
Traveling in China is safe and clean. The chances of picking up some horrible diseases are slim here. However, there are still some issues you need to know.
Consult your doctor before embarking on the trip. Check and discuss the trip with your doctor to make sure that your children are in good shape and fit to travel.
No vaccinations are required for a trip to China, except for Yellow Fever if traveling from an infected area. However, it's always best to take necessary precautions and check with a doctor who knows such things about 6 weeks before departure.
Pack a medical kit in case of small discomforts. On the list are medicine for headache, upset stomach and allergies, band aids and insect repellants. Also, bring along a copy of your child's medical record. In case the child falls sick and needs to be sent to hospital, information on his/her past medical record can help with better diagnosis and treatment.
Keep hands clean. Bring along disinfectant gel and wet wipes (Wet wipes are readily available in China), and wash your hands very often. This is your first defense against germs.
On Transport
Prevent travel sickness. Some children get travel sickness at some time of the transport. Please don't let your children keep their stomach empty or eat fatty foods before leaving, try to help them access to fresh air during transport and encourage them to think about other things to engage their attention. If they get travel sickness, give them medicine under doctor's advice.
Dress your children lightly for air travel. You can get blankets from flight attendants. Layers of clothes are practical for putting on and off.
Help your kids with seat belts. An infant should be carried in your arms or fixed on a special seating. Do not let your children wander around while on transit.
Keep the children quiet. You can make them sleep, let them play with their favorite toys, read some books or eat some snacks as you see fit.
Traveling
Congratulations! Now you have made your way to China, and a wonderful journey is already over halfway there. There are only a few more things you need to notice when traveling.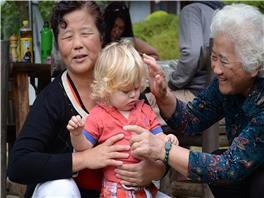 Meet friendly local people.
Lodging
Contact your travel advisor or the hotel in advance, and discuss about the special cares your children need, such as an extra bed or crib.
Familiarize your children with hotel facilities and emergency procedures. Put away any dangerous items that may harm your children.
To prevent from wetting the bed, don't let your children drink too much water before going to bed.
Eating & Drinking
Never drink tap water. You can use a water heater to get boiled water, or buy bottled water or mineral water from supermarkets. Recommended brands are Wahaha, Nestle, Watson's, Robust, and Nongfu Spring. There are also some imported foreign brands of bottled water available in upscale supermarkets.
If your children have allergies to certain foods or condiments, tell your travel advisor or the restaurants in advance.
Don't let your children eat food purchased from street vendors.
There are KFC and McDonald's in almost every city, and the tastes will be very familiar with the kids if they grow tired of Chinese meals.
Safety
Never let your children go anywhere alone, especially at scenic spots or crowded streets.
Let your children carry a note in case they do get separated from you or get lost. The note should have on it your name, phone number, your hotel's name, address and phone number, your tour guide's name and phone number.
When you need to cross the road, hold your children's hand and wait for the green light. Always check both ways even when the green light is on.
Pack for Daily Excursions
The following list may give you some reference on what to pack for daily excursions in China. Ziplock bags are very useful. You can put dirty clothes and wet washcloths in them.
Disinfectant gel
Diapers, changing pads and feeding bottle (for infants)
Wet wipes
A spare shirt
Washcloth
Sunscreen, Umbrella, Insect repellent and Band-Aids
Camera/video camera: Your children might enjoy taking photographs or videos so that they can write their own dairy or travelogue.
China Family Tours

Want a family itinerary crafted by an expert? Try one of these fully-customizable, pre-planned family vacations and book the vacation of a lifetime.

China Highlights
Questions and Answers About Traveling with Kids in China
Stefnee
2013-06-03
Show Answer
Hello! I am packing for a family of four to live in Qingdao for one year! Is it reasonable to pack two large suitcases per family member? Also are there reccomemded vaccines in addition to school vaccinations? My kids are 4 and 6! Thanks
Dear Stefnee, It depends on the policy of the different airlines. Here is some information for refernce. You'd better ask the airline company which you booked the tickets from. For Check-in luggage: Adult and children are entitled to a free checked baggage allowance in economy class of 20kg /44 lbs, business class 30kg /64 lbs and first class is 40kg /84 lbs). The size limit for each piece is 40x60x 100cm or 15.7x 23.6x 39.4 inches. For carry-on luggage: each economy class passenger is allowed one piece of 5kg/11 lbs; first-class is allowed 2 separate articles of 5kg/11 lbs each. The size limit for each piece is 20 x 40 x 55cm or 7.8 x 15.7 x 21.6 inches. Lussie Lu replied on 2013-06-04
April Offer $25 Coupon
Send your inquiry before Apr. 30, 2014, and we will email you a $25 coupon.
The coupon is valid till Dec. 31, 2014, for paying tour packages worth $250 or up.
The coupon cannot be used for paying flight tickets, train tickets, hotel rooms and day trips.
Travel Advice or Question? Ask us here