China's Top Tea Culture Cities
China's top tea culture cities fall into two categories: those that have famous tea-growing areas nearby, and those which have a history and culture of tea-drinking (some are both). Tea drinking is popular all over China and different areas have their favorite types, but the top five cities here represent the cream of China's favorite tea production areas. Two further cities have been added to give depth to the list.
One of the attractions of going to tea-growing areas is being able to get out in the scenic mountainous areas where the tea is grown, and see for yourself how the tea is produced. You will then most likely have the chance to drink the local tea, with a guide explaining the tea ceremony, how best to brew and drink the tea, and then a chance to buy. Don't forget to bargain.
Huangshan is our number one tea culture city for several reasons. The mythical Yellow Emperor, who it is said once lived in Huangshan, and who gave his name to the enchantingly-scenic Yellow Mountains, was traditionally a friend of Emperor Shennong (the 'Divine Farmer'). Shennong is said to have discovered tea, when some tea leaves fell into a pot of water his servant was boiling for drinking. Was tea first discovered in the mists of Huangshan?
One of China's top five teas is Huangshan Furry Tip (Huangshan Maofeng 黄山毛峰), so named for its furry leaves. Another top ten tea is Keenum Black (Qimen Hongcha 祁门红茶), a black tea also grown in Huangshan Prefecture. The best Chrysanthemum tea is also from Huangshan, and is called Yellow Mountain Tribute Chrysanthemum (Huangshan Gongju 黄山贡菊).
You can buy Huangshan's teas on Tunxi Ancient Street on one of our Huangshan Tours, or customize a tour to visit the tea-growing areas.
Many sources agree that China's No. 1 tea is West Lake Dragon Well tea (Xi Hu Longjing 西湖龙井), grown on the hills around West Lake, southwest of Hangzhou City. With its history as an imperial capital and also as a place of vacation for Beijing's emperors, China's best tea has been enjoyed in style in Hangzhou for well over 1,000 years.
Hangzhou Tea Museum, located among the tea plantations, is China's only museum dedicated to the history of Chinese tea. All our Hangzhou tours take in Meijiawu Tea Plantation, which has hosted many foreign VIPs.
A popular choice for China's No. 2 imperial tea is Suzhou's Green Spiral tea (Dongting Bi Luo Chun 洞庭碧螺春). Like Hangzhou, Suzhou was an imperial retreat for Beijing's elite. Suzhou's ornate gardens were doubtless the setting for many a classy "cuppa" over the centuries.
You too can drink the tea of emperors and enjoy the gardens that emperors enjoyed on a Suzhou tour .
Probably Iron Goddess tea (Anxi Tie Guanyin 安溪铁观音) comes in bronze medal position among China's teas. It is an oolong (Wulong) tea with a fresh and mellow taste, a favorite for summer drinking. Anxi, where Iron Goddess is grown, is about 40 km (25 mi) northwest of Quanzhou City, in Quanzhou Prefecture. Quanzhou is a large city (6 million+ people) on the Fujian coast.
Jasmine tea, Beijing's favorite, uses jasmine flowers mixed with green tea. The best jasmine tea is produced in Fujian Province. Customize a visit to Quanzhou, "World Religion Museum" and start of the Marine Silk Road, to see Anxi and sample China's favorite summer tea in its natural setting.
Xishuangbanna is one of the Yunnan endpoints of the Ancient Tea-Horse Road and is still a major tea-growing area. From there pressed tea was carried by horseback to Tibet, India and Nepal. The tropical forested hills of Xishuangbanna are where the Dai people produce some of the best Puer tea, which is pressed into a variety of wheels, bricks, etc.
Puer, the next major stop after Xishuangbanna, was where tea was traded and it gave its name to this famous type of dark pressed tea, though most prefectures in Yunnan, including Xishuangbanna, produce Puer tea. Puer tea should be tried as it is different to the generally delicate flavors of Chinese tea. It has a rustic woody taste, and is soothing and reminiscent of minority culture.
Tailor-make your own Yunnan tour to include a visit to Xishuangbanna or Puer, or tour Xishuangbanna in April for the Dai Water Splashing Festival.
Wuhan is a city with an ancient history. It occupies a uniquely central position for transport with the Yangtze flowing west–east and land transport bridging the Yangtze north-south. See our Wuhan tours, some of which include a Yangtze cruise.
Wuhan is famous more as a place for drinking tea, with its many tea houses, than for growing tea, although there is a famous tea-growing area 200 km (130 mi) southwest in Junshan, Hunan Province. Junshan Silver Needle (Junshan Yin Zhen 君山银针) has been ranked among China's top ten teas in some versions of the imperial list. Yellow was the imperial color and Silver Needle is a yellow tea.
Chengdu is also a popular place for drinking tea. The particularly relaxed atmosphere of this city is demonstrated by residents who spend large periods of time in the tea gardens of parks, sipping tea while playing chess, mahjong or cards, reading the paper, or just chatting with friends.
Ya'an on the Sichuan end of the Ancient Tea-Horse Road is only 120 km southwest of Chengdu. It has a history of tea production dating back 2,000 years. From Ya'an bricks of dark tea were carried by horseback to Tibet and further afield. Take a tour of Chengdu and enjoy its tea culture.
Other Tea Cities
Tea is drunk in some form all over China: from the yak fat tea of Tibet, to the black or milky tea of pastoral regions of the Northwest and Inner Mongolia. Jasmine tea is a favorite in Beijing. Cold (or warm) milky tea with gelatinous "pearls" is a favorite in Hong Kong and Guangdong.
Guilin has its own tea plantation and Tea Institute near Yao Mountain, and Guilin's minorities, particularly the Yao, enjoy oil tea.
Further Reading

China Highlights
Questions and Answers About China's Top Tea Culture Cities
Amy
2012-11-09
Show Answer
I want Chinese. Could you send the article in Chinese to my e-mail?
Hi Amy, what kind of article, please?
Whitney Liao replied on 2012-11-09
April Offer $25 Coupon
Send your inquiry before Apr. 30, 2014, and we will email you a $25 coupon.
The coupon is valid till Dec. 31, 2014, for paying tour packages worth $250 or up.
The coupon cannot be used for paying flight tickets, train tickets, hotel rooms and day trips.
Travel Advice or Question? Ask us here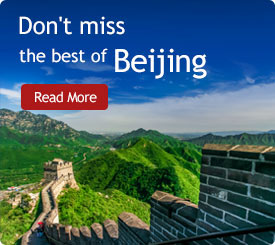 The Most Popular Articles
The Latest Travel Articles