How to Plan a Tour of Zhangjiajie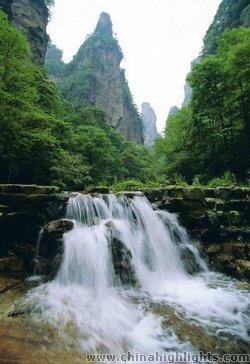 Zhangjiajie National Forest Park
The rock pillar landscapes of Zhangjiajie are renowned all over the world. The picturesque natural scenery and rich ethnic culture in Zhangjiajie is charming and well worth a trip. Generally speaking, three days or four days are enough to see the main things in Zhangjiajie.
When to Go?
The landscapes in Zhangjiajie are best in spring, autumn and winter. Green and verdant trees and colorful flowers in spring, golden foliage in autumn, and pure snow scenery in winter make these three seasons are the golden times for photographers to capture stunning pictures in Zhangjiajie.
Weather in spring and autumn is cool and comfortable. Traveling to Zhangjiajie in winter is not recommended for senior travelers because it gets too cold. See our Zhangjiajie weather summaries.
Bai Minority Torch Festival
The Torch Festival is a traditional ethnic festival held by the Bai minority people on the 24th of the sixth month of the lunar calendar (falling in the period from mid-July to mid-August). Attend this festival to experience Chinese folk culture and customs.
Where Should I Go?
Zhangjiajie National Forest Park and Wulingyuan Scenic Area, which is the epitome of Zhangjiajie and has been added to the UNESCO World Heritage list, mainly show the essence of Zhangjiajie's landscape.
| Attraction | Type of Attraction | Hours from Zhangjiajie | Time for a visit | Time of day | (Entry) cost |
| --- | --- | --- | --- | --- | --- |
| Zhangjiajie National Forest Park | Park | 40 minutes | One day to three days | Daytime | |
| Wulingyuan Scenic Area | Park | 1 hour | One day to two days | Daytime | |
| Yellow Dragon Cave | Cave | 1 hour | 2 hours | Daytime | 80 yuan |
| Baofeng Lake | Lake | 1 hour | 2 hours | Daytime | 74 yuan |
| Tianmen Mountain | Mountain | 1 hour | One day | Daytime | |
| Mengdong River | River | 4 hours | Half a day | Daytime | |
| Phoenix Ancient Town | Town | 5 hours | One day to two days | Daytime and evening | |
What Should I Do?
Being one of the best photography destinations in China, photography is an important part of the itinerary traveling in Zhangjiajie. Hiking (best time: spring and autumn due to the cool weather) is another must-do as the scenic areas are quiet large and suitable for hiking and appreciating the scenery from different vantage points.
What to Bring and Prepare
Camera
Rain gear (especially in spring)
Sun-protection (especially in summer)
Anti-skid sport shoes or walking boots
Any necessary medicine
Meals
If you spend a whole day or more in the forest park or Wulingyuan Scenic Area, there are restaurants in the mountains. You can have a feast of authentic Xiang Cuisine dishes in some sophisticated restaurants in Zhangjiajie urban area. China Highlights has listed the most popular restaurants in Zhangjiajie for you to select from.
Accommodation
There are plenty of classy hotels in Wulingyuan Scenic Area, Phoenix Ancient Town and Zhangjiajie City. Some hotels may require reservations. China Highlights can help you book hotels at a discount. Click here for a choice of hotels in Zhangjiajie.
Tours
We at China Highlights have designed these Zhangjiajie tours. You can also contact us for a tailor-made tour.
Select a tour you are interested in for more information.
| Tour | Duration | Cost | Attractions |
| --- | --- | --- | --- |
| Zhangjiajie and Fenghuang Tour | 5 days | $799 | Zhangjiajie National Forest Park, Huangshizhai Cable Car, Jinbian Brook, Huangshi Fort, Mt. Tianzi, Fenghuang Ancient Town |
| Discover Zhangjiajie Tour | 4 days | $599 | Zhangjiajie National Forest Park, Huangshi Fort, Jinbian Brook, Mt. Tianzi, Tianzishan Cable Car, Aborigines Scenic Park, Yellow Dragon Cave, Mengdong River Scenic Area, Furong Town |
| Hunan Province Discovery Tour | 7 days | $1239 | Water-Dripping Cave, The Memorial Hall, Mao Zedong's Former House, Hunan Provincial Museum, Yue Foothill Academy, Loving Youth Pavilion, Zhangjiajie National Forest Park, Huangshizhai Cable Car, Jinbian Brook, Huangshi Fort, Mt. Tianzi, Fenghuang Ancient Town |
| Discover Zhangjiajie and Yangtze River Tour | 7 days | $1199 | Zhangjiajie → Chongqing → Yangtze → Yichang |

During the Tour
China Highlights aims to provide you with the best travel service possible. Contact us and will try our best to get over any difficulties you encounter during your time in Zhangjiajie.
Are you interested in making a tour of Zhangjiajie? Contact us to tailor-make a tour with a top tour guide. China Highlights specializes in making customized tours and tailor-making tours in China.

China Highlights
Planning a trip? Ask us here 800-2682918 (USA & CA)
86-773-2831999 (Int'l)
Q:
qUE
Asked on 2013-06-20
Reply
I WANT TO ASK. HOW MUCH WE NEED TO PAY TO ENTER ZHANGJIAJIE FOREST PARK?
Dear Que, The entracce fee is about CNY248/US$41 per person. Lussie Lu Replied on 2013-06-20
Q:
melanie
Asked on 2013-05-21
Reply
I am wondering if you have 3 day tours?
Dear Melanie, Here is an itinerary for reference,please click this link: http://www.chinahighlights.com/tour/zhangjiajietour/hun-3/ As our tour packages are private tours, it is easy to revise it based on our requiry. Please feel free to let us know your plan, we can design a tour on your need. Lussie Lu Replied on 2013-05-22
Q:
Saskia van Gemert
Asked on 2012-11-05
Reply
Hello!I am looking to plan a trip to Zhangjiajie / Wulingyuan Scenic Area end of November, over a weekend, with 4 friends (2 couples).We like to fly from Shanghai on either Friday or Thursday evening, spend Friday/Saturday and Sunday in the area, hiking and watching the ''Avatar'' mountains and return by flight to Shanghai on Sunday afternoon. We like to stay in a nice but affordable hotel/hostel near or in the scenic area. Can you give me some advice or suggestions?Saskia
Dear Saskia, Thanks for your tour inquiry. My name is Nancy Deng. I am your travel advisor at China Highlights. According to your request, I've designed a 4-day Zhangjiajie private tour with a private English-speaking tour guide and van for your reference. You will have a chance to visit the ''Avatar'' mountains in this trip. Please check your E-mail box and feel free contact me at nancy@chinahighlights.net any time if you have any question. Nancy Nancy Deng Replied on 2012-11-07
Zhangjiajie Travel Guide