Best Antiques Markets in Beijing
Antiques are the best epitome of Beijing's history even the whole China. Several antique streets and markets in Beijing are not only the paradise for antique lovers and collectors, but also the favorite of travelers who are interested in Chinese history and culture. China Highlights leads you to take a glimpse of five the most famous and popular antiques markets in Beijing.
1.

Panjiayuan Antiques Market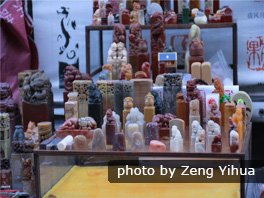 Location: to the southwest of Panjiayuan Bridge, East Third Ring, Chaoyang District
Open: Monday – Friday: 8:30am – 5:30pm; weekends: 4:30am – 5:30pm
Buses: Take bus 34, 36, 51, 99, 300, or 674 to Panjiayuan (潘家园).
For a cultural tour of Beijing, Panjiayuan Antiques Market is a destination that you shouldn't miss! It is a great paradise for the life-size Chinese antiques, including Buddhist statues, Chinese jade, Chinese porcelains, Paintings, calligraphy. On weekend mornings (between about 6am to 8am), you can get great prices bargaining with the vendors.
2.

Liulichang Antiques Street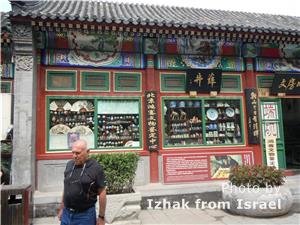 Location: Hepingmenwai, Xuanwu District
Buses: Take bus 7, 14, 15, 45, or 66 to Liulichang (琉璃厂); 102, 105, 603, or 603 branch line (603支线) to Hufangqiao (虎坊桥).
Open: 8am – 6pm
Subway: Take Subway Line 2, and get off at Hepingmen (和平门).
Lilichang Antiques Street was used to be a gathering place for poets and scholars in the Qing Dynasty. It has developed to be an important cultural street in Beijing, with many little old-style shops selling various curios, including paintings, old books. It is an unmissable antiques street in Beijing, where you can also get a great history lesson through strolling around.
3.

Baoguosi Cultural Market
Location: 1 Baoguosi, Guang'anmennei Street, Xicheng District
Open: 9am – 4pm
Buses: Take bus 19, 38, 57, 109, 381, 477, or 717 to Guang'anmennei (广安门内).
As an ancient temple in southern Beijing, Baoguo Temple has turned into a comprehensive antiques bazaar, selling different kinds of antiques, such as coins, stamps, souvenirs and many more. On weekends, you can see more sellers than the working days. China Highlights suggests you get there earlier for more choices. Bargain with the vendors there, and you can get quite acceptable prices.
4.

Beijing Antique City
Location: 21 East Third Ring South Road, Chaoyang District
Open: 9:30am – 6:30pm
Buses: Take bus 51, 53, 621, 680, 938 special line (938专线), 974, 985, or 988 to Capital Library (首都图书馆); 28, 53, 300 out ring (300外环), 513, 621, 627, 638, 680, 973, 976, Yuntong 107 (运通107) to Huaweiqiao South (华威桥南).
Covering a massive area in the southeast Beijing, Beijing Antique City is the largest antiques trade center, with more than 600 antique companies located. The characteristic decorations in Beijing Antique City are decorated into Chinese characteristic atmosphere. More fun can be searched in the mornings on weekends. Receiving a harvest of the colorful antiques there, like tea sets, ink stones, and Buddhist statues.
5.

Liangma Antique Market
Location: 27 Liangmaqiao Road, Chaoyang District
Open: 9:30am – 7pm
Buses: Take bus 51 or 573 to Huawei Nanlu Dongkou (华威南路东口); 52, 621, 680, 805 fast line (805快车), 974, 985, or 988 to Capital Library (首都图书馆).
In Liangma Antique Market, you can find small-size antiques, such as ancient coins and other old pieces, and large-scale ones, like wooden furniture embodying Chinese features. The prices at Liangma Antique Market are higher than other antique market, but bargain is allowed.
Also read the best shopping areas in Beijing.
Visiting antique markets is a popular part of a cultural tour of Beijing. Contact us to have us tailor-make your own way of Beijing without any extra cost.
Related Links
Questions and Answers About Best Antiques Markets in Beijing
April Offer $25 Coupon
Send your inquiry before Apr. 30, 2014, and we will email you a $25 coupon.
The coupon is valid till Dec. 31, 2014, for paying tour packages worth $250 or up.
The coupon cannot be used for paying flight tickets, train tickets, hotel rooms and day trips.
Travel Advice or Question? Ask us here

China Highlights
Beijing Travel Guide