Beijing Weather in March
Weather: The weather warms up rapidly from freezing to cool, but it is windy. On average temperature reaches 11 °C (52 °F) during the day, and at night drops to -1 °C (30 °F). Sandstorms are possible.
Clothing: Wearing a sweater and an overcoat is usually enough, but bring gloves and a hat too and maybe windproof trousers, as it can feel much colder with the wind chill. You may be able to wear just a light windproof jacket, if the weather warms up.
Things to Do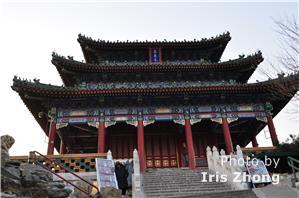 A pavilion in Jingshan Park
By mid-March spring is in full swing. Parks are in full bloom (see Top Places to See Flowers in Beijing) and the temperature is inviting for excursions of every sort.What is there to do in Beijing in March? Plenty.
Parks& Recreation: Summer is at times too hot,winter is often too cold but March is "just right" for a visit to the parksthat populate nearly every corner of the city. Watching the floral fireworks,pinks, purples and reds burst round one's panorama is unique to this month. Yuanmingyuan Park (west of Tsinghua University)and Jingshan Park (opposite the North gate of the forbidden city) are special highlights of the city because of their historical significance. Both are at their best in March.
Tulipor Not Tulip: If weighing the options of whether tosee Jinzhan Tulip Garden, debate no further.Only in March is the magnificence of this manifold soiree for the senses paramount.Blossoms unfurl the eyes; their scent wafts up for the nostrils. Come for the sights and scents, but stay for 21 acres of photo ops. Certain tulips can't be viewed anywhere else in the world except at Jinzhan Tulip Garden in Chaoyang.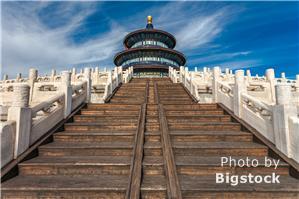 Temple of Heaven
Temple Season: Spring is often seen as the season of rebirth and renewing in Chinese culture, therein making this time of the year to visit these sacred and architecturally astounding sites. Mystic décor, a mist of incense scented fumesand prayers from chanting monks indulge visitors in an experience like fewothers.
Ancient, mysterious and blooming withculture, no season is better than March for visiting temples. The Temple of Heaven in south west Beijing and the Lama Temple in the hutong center of Chaoyang Districtare both perfect places to discover a spiritual healing.
China Highlights Tours
Contact us for a personalized Beijing tour. If you are interested in touring Beijing including any of these places and want to book reservations for hotels or a tour, contactus.
Beijing tours: See the best of Beijing with our Beijing tour packages. Our tours are developed through years of experience and customer feedback, reasonably priced, and can be customized to your requirements.
Beijing Average Daily Temperatures Based on Historical Data
Date
Average High
Average Low
March 1
45 °F
7.22 °C
24 °F
-4.44 °C
March 2
45 °F
7.22 °C
25 °F
-3.89 °C
March 3
46 °F
7.78 °C
25 °F
-3.89 °C
March 4
46 °F
7.78 °C
26 °F
-3.33 °C
March 5
47 °F
8.33 °C
26 °F
-3.33 °C
March 6
47 °F
8.33 °C
27 °F
-2.78 °C
March 7
48 °F
8.89 °C
27 °F
-2.78 °C
March 8
48 °F
8.89 °C
27 °F
-2.78 °C
March 9
49 °F
9.44 °C
28 °F
-2.22 °C
March 10
49 °F
9.44 °C
28 °F
-2.22 °C
March 11
50 °F
10 °C
29 °F
-1.67 °C
March 12
50 °F
10 °C
29 °F
-1.67 °C
March 13
51 °F
10.56 °C
30 °F
-1.11 °C
March 14
51 °F
10.56 °C
30 °F
-1.11 °C
March 15
52 °F
11.11 °C
30 °F
-1.11 °C
March 16
52 °F
11.11 °C
31 °F
-0.56 °C
March 17
53 °F
11.67 °C
31 °F
-0.56 °C
March 18
53 °F
11.67 °C
32 °F
0 °C
March 19
54 °F
12.22 °C
32 °F
0 °C
March 20
54 °F
12.22 °C
33 °F
0.56 °C
March 21
55 °F
12.78 °C
33 °F
0.56 °C
March 22
56 °F
13.33 °C
34 °F
1.11 °C
March 23
56 °F
13.33 °C
34 °F
1.11 °C
March 24
57 °F
13.89 °C
35 °F
1.67 °C
March 25
57 °F
13.89 °C
35 °F
1.67 °C
March 26
58 °F
14.44 °C
36 °F
2.22 °C
March 27
58 °F
14.44 °C
36 °F
2.22 °C
March 28
59 °F
15 °C
36 °F
2.22 °C
March 29
59 °F
15 °C
37 °F
2.78 °C
March 30
60 °F
15.56 °C
37 °F
2.78 °C
March 31
60 °F
15.56 °C
38 °F
3.33 °C
Beijing Climate Information by Month
Questions and Answers About Beijing Weather in March
Ronald Morgan
2014-02-15
Show Answer
we will be traveling to Beijing March 14 to 22,2014. We understand that the weather will still be cold. Would you recommend dressing in layers being that the temperatures vary during the day? I have heard that there may be sand storms. Can you say how bad they may be and if you think that they may affect sightseeing? Thank you. Would appreicate any other advice you can give for traveling to Beijing in March.
As you know the temperature is very during the day, it is hard to estimate the weather condition in March. We can only take the record in 2013 for reference. In last March temperature is about 0 °C to 10 °C . You are suggested to bring winter close.
As to the sand storm, you may click the link to see some picture of sand storm in Beijing.
http://image.baidu.com/i?tn=baiduimage&ct=201326592&lm=-1&cl=2&nc=1&word=%E5%8C%97%E4%BA%AC%E6%B2%99%E5%B0%98%E6%9A%B4&ie=utf-8
Carol Wang replied on 2014-02-16
jon
2014-01-13
Show Answer
In spring in Beijing or Shanghai, I am somewhat limited by back problems and probably cannot walk for more than two or sop miles? Is there an area in either or both cities where I can see many interesting this without a great deal of walking? I am not yet sure of where I am staying.
Hi Jon, both Beijing and Shanghai have lots of interesting things to see and do. We can arrange a private tour guide and van for you, then you don't have to walk much. What do you think?
Please kindly let me know what you are interested in and how long will you stay in China. Then I will send you a detailed itinerary for your reference, okay? Regards, Whitney
Whitney Liao replied on 2014-01-14
Daisy Garcia
2013-12-11
Show Answer
Are the ski resorts open in March?
Hi Daisy,
The ski resorts ususlly will be closed at the end of Feburary, do you need us to arrange a skiing tour for you?
Regards,
Cecilia
Cecilia Peng replied on 2013-12-13
Seth
2013-12-06
Show Answer
Hi, we are planning a trip in March (Around the 2nd-12th) to Beijing then Shanghai for 3 days. And we were worried that there would be too much smog (Air pollution) to walk around/see sites. Do you know if march is good/better/worse for clear skies? We want to avoid airline delays as well.
Hi Seth,
Greetings from Cecilia at China Highlights Travel. Beijing is suitable for travel all year round. However, there is much wind and dust in spring Beijing, and sometimes sandstorms, you are suggested to visit Beijing in Setember.
China Highlights is an online tour operator, which offers varied of tour services, including tour packages, air tickets and hotel rooms, please feel free to let me know if you need our assistance for your China case.
Regards,
Cecilia
Cecilia Peng replied on 2013-12-08
pat thompson
2013-10-03
Show Answer
Is it likely that we will experience rain in Beijing during the last two weeks of March? Thank you.
Dear Pat, According to the data of the passed 3 years, the last 2 weeks of March will be sunny: ) Doris Huang replied on 2013-10-04
April Offer $25 Coupon
Send your inquiry before Apr. 30, 2014, and we will email you a $25 coupon.
The coupon is valid till Dec. 31, 2014, for paying tour packages worth $250 or up.
The coupon cannot be used for paying flight tickets, train tickets, hotel rooms and day trips.
Travel Advice or Question? Ask us here

China Highlights
Beijing Travel Guide