Beijing Weather in February
Weather: The coldest month is over, but spring is still around two months away. The weather is still cold, but warmer than January. Temperatures don't get much above freezing, and it is very dry. Beijing sees the year's first dust storms in this month. The city's ski season usually ends at the end of the month.
Clothing: A thick sweater and a warm winter coat are enough in general.
Chinese New Year Things to Do
Spring Festival: In the west the Christmas holiday is considered the most wonderful time of the year, and the same could be said for Beijing's January/February Chinese New Year holiday. During the Spring Festival holiday the locals are at their merriest, cuisine is at its most bountiful and the atmosphere is popping with such excitement that fireworks explode, literally.
Be aware: The Chinese New Year (Spring Festival) may fall in early or mid-February. This is the best time of the year to experience authentic Chinese culture. However, the Spring Festival period is the busiest travel time around the country when trains and flights are fully booked days before departure. See our Chinese New Year Travel Tips.
Fireworks Display: Watch nights transformed to light as the most impressive fireworks display in world is released across the Beijing skies. Nowhere else in the world do, literally millions, of bubbles of brightness burst into the entire spectrum of color, spattering the night sky with spotted rainbows of delight.
The Shows: Just as the nutcracker entertains western audiences during the Christmas holiday so does the Chinese holiday season explode with theatrical and cultural entertainment for locals and visitors alike. The historical performances at the Red Theatre and the traditional Peking Opera concerts ring in the holiday season with a uniqueness never seen before in the west.
Holiday Sales and Shopping: This month is also the time to shop as the prices drop. Holiday sales are so common that any outlet open during the holidays offers more than thirty percent off the old year goods. It's the perfect time to stock up on souvenirs for all those you love back home. The Wangfujing shopping street and the Sanlitun area's "Mall-tropolis" are perfect spots to stop and shop.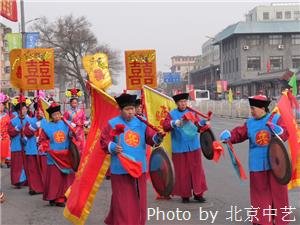 Changdian Temple Fair
Temple Fairs: Another mystery to foreign travelers are the New Year temple fairs, for example at Changdian and Lama Temple. Brimming with local visitors, the event offers unique insight into the customs of bygone centuries. Street snacks, souvenirs and photo opportunities galore this annual weekly event occurs on the Chinese New Year's day and lasts for week after.
Feast for Kings: The February holidays brings a bounty of holiday eats and treats, many of which can only be enjoyed at any other time of the year. New Year style lucky dumplings and longevity noodles, chestnuts, New Year cakes and so much more. Try Dintaifung and Quanjude restaurants for the best of the holiday cuisine to warm-up your stomachs during China's coolest holiday of the year.
Non-Festive Things to Do
Ski Spree: The New Year doesn't always fall in February, but that doesn't mean there's a shortage of things to do. The bountiful mountains in Beijing's north draws skiers and non-skiers alike to its frosted peaks. Snowboard and ski through courses that traverse the unique landscape of North East Asia. A few hours outside of the city center Wanlong Ski Resort and Nanshan Ski Village, to name a few, present a skiing experience unique to the orient.
The Great Wall in Winter: Experience the Great Wall as it should be. Devoid of the crowds and snapshots of the summer, visitors can roam unhampered over the ancient steps and through its magnificent towers. Often topped with a light sprinkling of snow, the endless white pathway snakes onward seemingly forever, proffering memories that last just as long.
Also read: Why Travel to Beijing in China's Winter Low Season
China Highlights Tours
Contact us for a personalized Beijing tour. If you are interested in touring Beijing including any of these places and want to book reservations for hotels or a tour, contact us.
Beijing tours: See the best of Beijing with our Beijing tour packages. Our tours are developed through years of experience and customer feedback, reasonably priced, and can be customized to your requirements.
Beijing Average Daily Temperatures Based on Historical Data
Date
Average High
Average Low
February 1
35 °F
1.67 °C
16 °F
-8.89 °C
February 2
36 °F
2.22 °C
16 °F
-8.89 °C
February 3
36 °F
2.22 °C
16 °F
-8.89 °C
February 4
36 °F
2.22 °C
16 °F
-8.89 °C
February 5
36 °F
2.22 °C
17 °F
-8.33 °C
February 6
36 °F
2.22 °C
17 °F
-8.33 °C
February 7
37 °F
2.78 °C
17 °F
-8.33 °C
February 8
37 °F
2.78 °C
17 °F
-8.33 °C
February 9
37 °F
2.78 °C
18 °F
-7.78 °C
February 10
37 °F
2.78 °C
18 °F
-7.78 °C
February 11
38 °F
3.33 °C
18 °F
-7.78 °C
February 12
38 °F
3.33 °C
18 °F
-7.78 °C
February 13
38 °F
3.33 °C
19 °F
-7.22 °C
February 14
38 °F
3.33 °C
19 °F
-7.22 °C
February 15
39 °F
3.89 °C
19 °F
-7.22 °C
February 16
39 °F
3.89 °C
19 °F
-7.22 °C
February 17
39 °F
3.89 °C
20 °F
-6.67 °C
February 18
40 °F
4.44 °C
20 °F
-6.67 °C
February 19
40 °F
4.44 °C
20 °F
-6.67 °C
February 20
41 °F
5 °C
21 °F
-6.11 °C
February 21
41 °F
5 °C
21 °F
-6.11 °C
February 22
41 °F
5 °C
21 °F
-6.11 °C
February 23
42 °F
5.56 °C
22 °F
-5.56 °C
February 24
42 °F
5.56 °C
22 °F
-5.56 °C
February 25
43 °F
6.11 °C
22 °F
-5.56 °C
February 26
43 °F
6.11 °C
23 °F
-5 °C
February 27
43 °F
6.11 °C
23 °F
-5 °C
February 28
44 °F
6.67 °C
24 °F
-4.44 °C
February 29
44 °F
6.67 °C
24 °F
-4.44 °C
Beijing Climate Information by Month
Questions and Answers About Beijing Weather in February
Mohammad ALI
2013-12-05
Show Answer
Hello there, I am planning to visit Beijing with my wife and young kids from 3 - 7 Feb 2013, mainly to witness the Chinese New Year celebration, however, being in China and not to visit the Great China wall is same as being in France and not seen Eifell tower. However, my concern is that since I am travelling with young kids (the youngest one is 1 and half year and elder one is 6 1/2), would it be advicable to visit during this time, without being worried about any serious threat that weather can put to me and my family? Please give me an honest ''advice'', thanks.
Thank you for your tour inquiry ,It will be good time to visit Beiijng in the New year time , there are a lot of nice decorations on the street and new year celebrations, you will watch the fire crackers play in the evening , it will be more fun than normal time.
It is no problem for you and young kids to travel to the Great wall, you can take the cable car up and down, but the weather will be quite cold. the temprature can drop to -5degrees, please bring your warm coats , warm gloves and hats with you.
I can arrang the New year Beijing tour for you, please advise.
Lily Guo replied on 2013-12-06
Ester
2013-01-01
Show Answer
Hi, I''m planning to go Beijing from 11/Feb till 16/Feb. Things to do in my list includes Great Wall, Forbidden City, sight-seeing, shopping and eat. So, i''m concerned if small individually owned boutiques and eateries will be opened or not.
Beijing is a big and popular tourist city. The shops and restaurants in the main shopping street, such as Wangfujing Street, Xidan Shopping Mall, will be opened as usual from February 11th to 16th. Would you need us arrange tour for you, such as Day trip to Great Wall? How many people are there in your group including yourself? Ruby Zhao replied on 2013-01-01
alin
2012-12-18
Show Answer
Hi, I am planning to visit Beijing from 13 feb to 17 feb 2013. Are the shopping malls open after the new year holiday? About climbing/hiking the Great Wall, is it slippery as it is still covered by the snow?
Dear Sir or Madam, Most of the shopping maslls will open during or after the new year holiday, you could do shopping then. In February, the average temperature will be from -5℃ to 5℃(23-41℉), it is very cold, but I am not sure whether it will snow or not. In general it won't last for a long time if it snows. You'd better wear good walking shoes and protection from the weather. Lussie Lu replied on 2012-12-18
daniel
2012-12-18
Show Answer
plan to vist beijing on the 17 of feb
Hi Daniel, welcome to Beijing. We are very glad to help arrange this tour for you. In order to give you an accurate quotation please help me with below the information:
1. Number of people in your group including yourself
2. Length of stay in Beijing
3. Inbound / outbound city
4. Besides Beijing, any other places or attractions that you want to visit
5. Class of Hotel: 3 / 4 / 5 star
After getting further information from you, we will send you a detailed itinerary.
Whitney Liao replied on 2012-12-19
Emmie
2012-08-19
Show Answer
Planning to go beijing on feb 4-7, 2013 any festival or highlights on those days and what shoes do i have to wear? Do i have to wear boorts?
Hi Emmie, there isn't any festival during Feb 4-7, 2013. The Spring festival falls on Feb.10, 2013. So if you stay longer, you can enjoy it. It will be still cold during this period, so please prepare any shoes or boots that may keep you warm. It is the low season for tourism, hence the price is very good. You can take a Li River Cruise in Guiln or go hiking on the Great Wall in Beijing and skiing there.
Whitney Liao replied on 2012-08-19
April Offer $25 Coupon
Send your inquiry before Apr. 30, 2014, and we will email you a $25 coupon.
The coupon is valid till Dec. 31, 2014, for paying tour packages worth $250 or up.
The coupon cannot be used for paying flight tickets, train tickets, hotel rooms and day trips.
Travel Advice or Question? Ask us here

China Highlights
Beijing Travel Guide