Changsha Transportation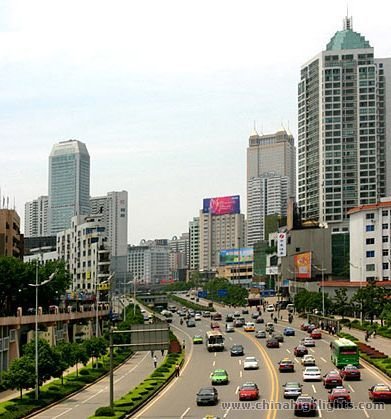 Changsha had convenient transportation even in ancient times, especially with the more than one hundred watercourses, including Xiang River and Dongting Lake. Nowadays, Changsha enjoys national highways 107, 319 and 106, as well as several other speedways. Through Zhuzhou, Beijing – Guangzhou railway connects with the Zhejiang – Jiangxi railway in the east and the Hunan – Guizhou railway in the west. The Shimen – Changsha provincial railway connects with the Yidu (Hubei) – Liuzhou (Guangxi) railway. Huanghua Airport is an international airport and has several international flight courses, and the watercourses are very convenient.
Air
Huanghua International Airport is 24.2 kilometers east to the center of Chengsha City, near Huanghua Town of Changsha County. It is the biggest airport with the most complete establishment in Hunan Province.
From Huanghua Airport, there are non-stop flights to 53 cities including Beijing, Shanghai, Guangzhou, Shenzhen, Kunming and Chongqing.
Airport Shuttle Bus
There are special buses from the downtown to the airport, stops: Civil Aviation Hotel (No 75, Wuyidonglu) during 6:30 am to the last flight. One can also take public bus No.114 from railway station to Huanghua Airport. running time: 6:30 am to 16:30. One way: 65 minutes.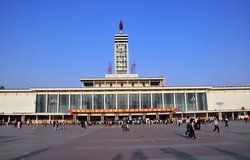 Changsha Railway Station
Railway
Changsha is the transportation hub of China. Through Zhuzhou, Beijing - Guangzhou railway connects Zhejiang - Jiangxi railway in the east and Hunan – Guizhou railway in the west; the provincial railway Shimen – Changsha connects Yidu (Hubei) – Liuzhou (Guangxi) railway.
The railway station is located at Dongzhanlu of downtown. It could be reached by many public buses such as 108, 110, 111 and 113. Changsha railway station is an important big modern station at Beijing – Guangzhou Railway, with different waiting halls for express trains and normal trains as well as honored guest waiting room. Everyday, there are nearly one hundred passenger trains departing or passing Changsha, reaching all the big and moderate cities of China.
Since there is only a single railway station in Changsha, it can at times be busy, therefore the traveler can opt to purchase train tickets at one of the alternative railway ticket offices in the city's suburbs. Find Changsha train ticket offices.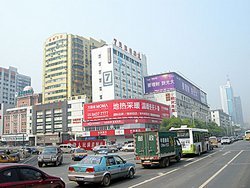 Changsha City Transportation
City Transportation
Of the downtown, there are perfect public transportation system, covering all the city zones and outskirts. At the time when this article were written, the price is RMB 1 for common public bus and RMB 2 for air-conditioning one.
Taxi
During the day, the flag-fall price for a taxi in Changsha is RMB 3 for 1 kilometer, with additional charges within three kilometers of: RMB 4 for 1 to 1.5 kilometers, RMB 5 for 1.5 to 2 kilometers, RMB 6 for 2 to 2.5 kilometers, and RMB 7 for 2.5 to 3 kilometers. RMB 1.8 is charged for each kilometer over three kilometers.
At night (21:00pm – 05:00am), the charge is, within 3 kilometers, add RMB 1 onto the base of the daytime charge. Over 3 kilometers, the charge is RMB 2.16 for each kilometer.
Bus/Coach
Changsha is at the converging point between central and south China and southwest China.
National highway 107, from Beijing to Shenzhen and national highway 319 from Xiamen to Chengdu all pass Changsha.
There are three long distance bus stations: East Station, West Station and South Station. The East and West Bus Stations are more convenient for travelers.
From the East Bus Station, mainly coaches go to Hefei, Nanchang, Xiamen, Nanjing and Shanghai.
From the South Bus Station, mainly coaches go to Guilin, and other cities and towns within the Province.
Charges are calculated every 500 meters. If a passenger requires the taxi to stop and wait midway, RMB 1.8 is charged for each 5 minutes of wait time during day or RMB 2.16 during the night.

China Highlights
Planning a trip? Ask us here 800-2682918 (USA & CA)
86-773-2831999 (Int'l)
Q:
Floyd
Asked on 2013-05-13
Reply
Hello, I''d like to take a bus from Changsha to Shenzhen. Can you tell me how to contact a bus company so I can check schedules. Do you know how long the trip takes and how much the bus fare is? I don''t want to take a speed train. Thank you
Dear Floyd, You could take a bus from Changsha east bus station(长沙汽车东站), located at No. 1021 Yuandayi Road (长沙市远大一路1021号). There is only one bus every day, setting off at 17:30pm. It costs about CNY270/US$44 per person. Lussie Lu Replied on 2013-05-14
Q:
brian
Asked on 2013-02-26
Reply
I arrive changsha train station04.00 Apr 6th how to get to changsha airport for a 08.20 flight is there a bus please
There is no bus from train station to Changsha airport, but you can walk about 500m to Minhang hotel where you can take airport express bus to the airport. Usually the bus will start at 6am. I suggest that you can take taxi to airport to save time.
Leon Long Replied on 2013-02-27
Q:
Satoshi
Asked on 2013-01-16
Reply
Hello, I''m trying to figure out the best way to get to Wugang. I found I can get there from Changsha. However, the train takes a while to get to Shaoyang (where I can then get a taxi) it seems (5-6 hours). I was wondering, will there be any taxis willing to drive from Changsha to Wugang, and if so, how much would a one-way taxi fare cost (the road there has tolls)? According to the map: http://goo.gl/maps/jJAnz it takes almost 5 hours and is 340km. Thank you.

Thanks very much for that! guest Replied on 2013-02-24
Dear Sir or Madam, It is so far from Changsha to Wugang, the cost is too expensive by taxi. I suggest you take a long distance bus at Changsha south bus station(长沙汽车南站), located at No. 643 Zhongyi Road(中意一路643号). There are six buses every day and it is available from 7:50 am to 17:50pm. It costs about CNY110/US$18 per person and it takes about 3.5-4 hours. Lussie Lu Replied on 2013-01-17
Q:
Fai
Asked on 2013-01-14
Reply
Where can I find the airport bus at the G train station (South Railway station), I need to go to the airport from there?
Hi Fai, there are no direct buses from Changsha South Railway Station to the airport at the moment. Whitney Liao Replied on 2013-01-15
Q:
angela
Asked on 2013-01-02
Reply
q1.Hi just want to enquire for train from changsha to chongqing how long would be take which one of transport can take to chongqing Q. from shanghai to chengdu (CTU) how long would be take which transport to take to chengdu please reply me back asap tomorrow thanksemail: angfong112@yahoo.com.au
Hi Angela, there are 3 trains from Changsha to Chongqing every day. It departs at 15:30, 14:42 & 18:49, takes about 16-21hrs.
From Shanghai to Chengdu, there are trains and planes. It is about 3.5hrs by air, more than 30hrs by train.
Whitney Liao Replied on 2013-01-05
Changsha Travel Guide