Macau Weather in July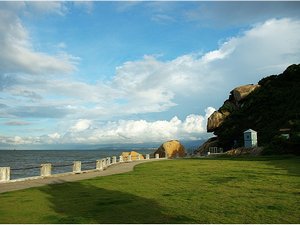 July is the hottest month of the year, with an average high temperature of 31°C (81°F) and an average low temperature of 26 °C (78 °F). July is not as rainy as June, but the weather is still humid. During the day, the sun shines for the second longest period for the year, but the winds blowing from the sea keep it from being sweltering. Remember your hat, sunglasses, or umbrella to protect yourself from the sun. Summer clothing like T-shirts and skirts are adequate. Bad weather can hit during this month, and you may experience thunderstorms and typhoons, so please watch the weather forecast now and then.
July is a good time for swimming in Macau. You can swim in the sea and take great walks on the beaches, such as Zhuwan Shore. Many parks and resorts are available to visit, including Huashigudajiama Garden, Nanwan Artificial Lake, Lianfeng Temple, and Grand Prix Museum. Enjoy the historical atmosphere as well as the faint scent of water lilies at these sites.
Be careful of bad weather, and flights may get cancelled because of typhoons. July is not an ideal month to travel given the bad weather. But since July is in the low travel season, few tourists crowd the attractions and good discounts on flights and hotel rooms are easily available. See our Macau Tours.
Macau Average Daily Temperatures Based on Historical Data
Date
Average High
Average Low
July 1
88 °F
31.11 °C
80 °F
26.67 °C
July 2
88 °F
31.11 °C
80 °F
26.67 °C
July 3
88 °F
31.11 °C
80 °F
26.67 °C
July 4
88 °F
31.11 °C
80 °F
26.67 °C
July 5
88 °F
31.11 °C
80 °F
26.67 °C
July 6
88 °F
31.11 °C
80 °F
26.67 °C
July 7
89 °F
31.67 °C
80 °F
26.67 °C
July 8
89 °F
31.67 °C
80 °F
26.67 °C
July 9
89 °F
31.67 °C
80 °F
26.67 °C
July 10
89 °F
31.67 °C
80 °F
26.67 °C
July 11
89 °F
31.67 °C
80 °F
26.67 °C
July 12
89 °F
31.67 °C
80 °F
26.67 °C
July 13
89 °F
31.67 °C
80 °F
26.67 °C
July 14
89 °F
31.67 °C
80 °F
26.67 °C
July 15
89 °F
31.67 °C
80 °F
26.67 °C
July 16
89 °F
31.67 °C
80 °F
26.67 °C
July 17
89 °F
31.67 °C
80 °F
26.67 °C
July 18
89 °F
31.67 °C
80 °F
26.67 °C
July 19
89 °F
31.67 °C
80 °F
26.67 °C
July 20
89 °F
31.67 °C
80 °F
26.67 °C
July 21
89 °F
31.67 °C
80 °F
26.67 °C
July 22
89 °F
31.67 °C
80 °F
26.67 °C
July 23
89 °F
31.67 °C
80 °F
26.67 °C
July 24
89 °F
31.67 °C
80 °F
26.67 °C
July 25
89 °F
31.67 °C
80 °F
26.67 °C
July 26
89 °F
31.67 °C
80 °F
26.67 °C
July 27
89 °F
31.67 °C
80 °F
26.67 °C
July 28
89 °F
31.67 °C
80 °F
26.67 °C
July 29
89 °F
31.67 °C
80 °F
26.67 °C
July 30
89 °F
31.67 °C
80 °F
26.67 °C
July 31
89 °F
31.67 °C
80 °F
26.67 °C
Macau Climate Information by Month

China Highlights
Macau Travel Guide