Panmen Gate
Accolades
The gate to Suzhou is said to have more than a 2,400 year history. It is said to have been the only gate in China with both a lower water entrance and an upper land entrance. It was built at a time when a canal moat surrounded Suzhou. The present structure was built in 1986. It is part of a park. It was built on the spot of another tower that was built about the year 1344 at the end of the Yuan Empire period.
History
The present Panmen Gate (盘门, pánmén) was mostly built in the last few decades. About 2,500 years ago, a moat canal surrounded Suzhou and provided for convenient transportation. But a wall was built to defend the city, and in order to defend the canal passage, a tower was built over the canal.
The present building has a history dating back to the Yuan Dynasty period (1271-1368 AD) when the Mongolians had a big empire. It was built about the year 1344. In 1976, the Suzhou government rebuilt the tower, and in 1983, construction was done on the canal. In 1986, the present red building was built. It has two floors.
Features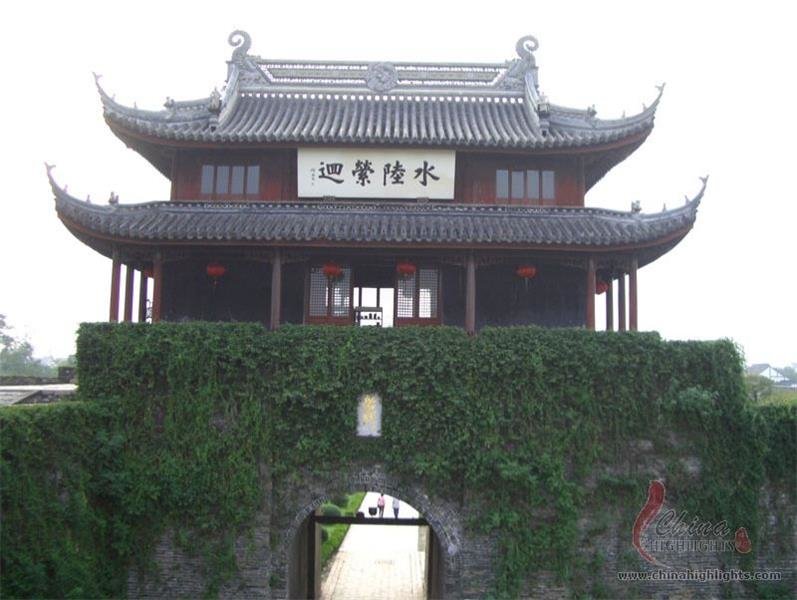 Beautiful appearance of Pan Men Gate
The Pan Men Gate is part of the Panmen Scenic Area Park. There are three main attractions in the park. These are the Panmen Gate itself, the Wumen Bridge, and the Rui Guang Pagoda.
The Pan Men Gate itself is a two-storey red house-like building with a curved roof. It doesn't look like a defensive building at all. It was built in 1986. However, the house-like building sits on a large solid base that has an arched opening. The canal passed underneath. A sluice gate was lowered to close off access. The first floor has an exhibit of ancient weapons.
Rui Guang Pagoda
The Rui Guang Pagoda (瑞光塔) is said to have a long history. It is said that a famous figure in Chinese history named Sun Quan had a tower built there for his mother. Sun Quan was a man who founded a state called Wu after the fall of the Han Empire. It is said that he had a 13-story structure built there in 247 AD. It is also said that in 937, as the temple was being repaired, brilliant colorful light was seen above the tower.
The form of the present structure may date to 1125. It is said a wealthy man had a seven-story structure built at the spot. The tower was damaged extensively in the 1800s. In 1978, some scriptures, statues, and jeweled articles were found hidden away on the third floor. It is said that some of the objects were extremely valuable.
Wumen Bridge
This stone arched bridge was built in the Qing Dynasty period (1644-1911). It is 11 meters (12 yards) high and 66.3 meters or (72.5 yards) long. There are 50 steps on both sides.
China Highlights can help you
customize a tour to Suzhou
, with a visit to Panmen Gate, or jsut see our
Suzhou tours
.
Nearby Attractions
In the Panmen Scenic Area Park of the Pen Men Gate and about 100 meters to the east next to the main
east gate to the park, there is a tower called Auspicious Light Tower or Rui Guang Ta. In the park, you can also feed fish and walk around in the park. The park measures about 500 meters by 200 meters or 550 yards by 118 yards. There are also demonstrations of acrobatics, dances, or other entertainment. In the spring and summer and fall, you can see the colorful flower gardens.
Transportation
Address: 49 East Street, Canglang, Suzhou City, Jiangsu Province.
Bus Route: Bus No. 7, 39, 47, 305, 935, and 949 go there. Tourist Buses No. 2 and 5 go there too. Get off at Pan Men Scenic Area north stop or 盘门景区北 in Chinese.
Questions and Answers About Panmen Gate
Frank A. Lojewski
2011-12-04
Show Answer
This is a nice site except no map! Where are all these attractions in relation to the city centre?
Dear Frank A. Lojewski, Thanks a lot for your suggestions. We would improve it and add more inforamtion about the attractions. Candice Song replied on 2011-12-05
April Offer $25 Coupon
Send your inquiry before Apr. 30, 2014, and we will email you a $25 coupon.
The coupon is valid till Dec. 31, 2014, for paying tour packages worth $250 or up.
The coupon cannot be used for paying flight tickets, train tickets, hotel rooms and day trips.
Travel Advice or Question? Ask us here
You might like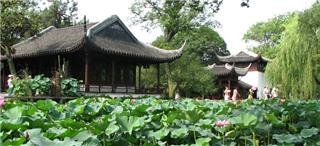 Free Things to Do in Suzhou

China Highlights
Suzhou Travel Guide