Suzhou Weather in July
July is one of the hottest month in Suzhou, with an average temperature above 28 °C (82 °F) and a high temperature of up to 38 °C (100 °F). Summer clothing is adequate, and if you plan to swim, bring a swimsuit. July still falls in the mould rain period, but the sun still shines on many days. If you stay outdoors for a long time, wear sunscreen with SPF 20 and PA++ to protect your skin.
Chinese Valentine's Day (the seventh day of the seventh month in the Chinese lunar calendar) usually falls in July. In Suzhou, this day is also called "Daughter's Day" or the "Day of Begging Wisdom". If you visit Suzhou at this time, you can enjoy Chinese Valentine's Day and experience the day's the special customs.
July falls during the peak travel season, and the city is very crowded. If you want to visit Suzhou, be sure to make your reservations in advance. Refer to our website for information on our Suzhou Tours and a few travel tips.
Suzhou Climate Information by Month
You might like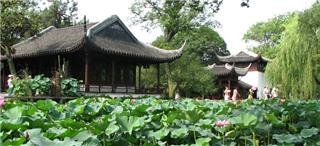 Free Things to Do in Suzhou
China Highlights
Suzhou Travel Guide