Tibet Weather
Spring Scenery of Lake Namtso
Tibet is high altitude plateau set amid tall mountain ranges all around. The mountain ranges catch the rainfall before it reaches the basin, so most of Tibet except the southeastern area is a desert steppe, tundra or permafrost. So generally expect cold and dry weather.
Most of Tibet experiences frost at least 6 months of the year, and the highest lakes have ice except from about about October to March. The weather varies a lot from region to region, and Lhasa (elevation 3,490 meters (11,450 ft)) is ideal for tourists to the region because it is in a lower elevation area valley in the warmer and wetter central and southeastern part of the country.
Lhasa only gets about 68% of the oxygen at sea level, so altitude sickness is a problem for most visitors. The valleys of Lhasa, Shigatse, Gyantse, and the Brahmaputra are free from permafrost and are well cultivated. See weather information for Dingri, Shigatse, Tsetang, and Lhasa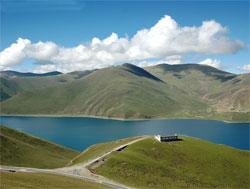 Yamdrok Lake in Summer
Most of the territory has a cold, dry and harsh climate. The annual precipitation in Lhasa is relatively higher at 500 millimeters (20 inches), and the annual precipitation across the region averages between 100 and 300 millimeters (4 and 12 inches). January is the driest and coldest month at -9 °C (16 °F) with virtually no snow.
A monsoon affects Tibet from June to September. August is the wettest month with a moderate 120 mm (5 in) in Lhasa.
Bright sunshine (the Lhasa valley gets 3,000 hours of sunshine a year) helps to make the summer days pleasant. The high altitude and dry air makes Tibet feel warmer than the temperature during the day.
In the summer Lhasa experiences a temperature range of between a pleasant 10 °C (50 °F) and 23 °C (74 °C). The hottest month is June with an average high temperature of 23 °C (74 °F).
Best Time to Travel
Ethnic festivals such as the Tibetan New Year Festival (Losar) and sparsity of tourists gives winter and early spring a special appeal for many tourists, but due to the harsh weather, the ideal travel months are summer and early fall from June to October.
Spring
Weather: Spring is from March to May. In May, the ice begins to melt, and people can start to travel to higher areas or other valleys. In Lhasa, the average high temperatures average about 16 °C or 60 °F.
Clothing: Coats are necessary. Bring a pair of sunglasses.
Summer
Weather: Summer is from June to August. It is usually cool and dry. It occasionally rains. The summer rainy season is widely regarded as the "best time" of the year since it rains mostly at night and Lhasa is still sunny during the daytime.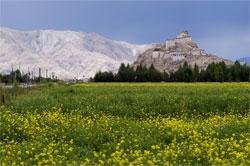 Rape Flowers outside Gyantze in Tibet
Things to do: Summer is the time to travel to the various attractions in the region and enjoy the high altitude sites when the mountain passes are snow free. It is also a time to hike a little.
Tibetans hold their outdoor market fairs and encampments, festivals, and sports contests when the grasslands are their lushest. Festivals of note include the Ganden Thangka Festival, the Shoton Festival, and the Nagqu Horse Racing Festival.
Clothing: Bring a coat and long johns. Sunglasses and solar skin protection is necessary.
Autumn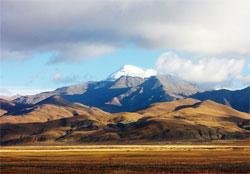 Scenery in Autumn
Weather: Autumn is from September to November. The weather is cold with lows at the lowest elevations of -4 °C (23.2 °F). So warm clothing is necessary. In October and November, there is negligible precipitation.
Winter
Weather: Winter is from December to February. Road travel is difficult because the passes may be closed, but tourists can enter Lhasa via the airport.
Around Lhasa, the average low temperature is -9 °C (15 °F) at night, but there may be warm spells also. The high altitude dry air makes it feel warmer than the temperature.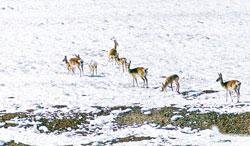 Tibetan antelopes graze in snow-covered grassland
Winter is considered the low tourist season, so the hotel and tour rates are cheaper than usual. Getting train tickets to Lhasa is also much easier than in summer.
Clothing: Bring a coat, long johns, and gloves. Wearing layers is a good idea. Bring sunglasses.
Special seasonal highlight: The Tibetan New Year usually falls between late December and February. Streets will be colorfully decorated for the event in the cities.
Winter is not suitable for traveling around Tibet as the weather is freezing and windy. People are more likely to suffer serious mountain sickness in harsh winter.
Read Where to Travel in Winter
Tibet Weather by Month
*Note*:Tibet will reopen to foreign travelers in April. Book a Tibet tour before the summer tourist crowds arrive.

China Highlights
Planning a trip? Ask us here 800-2682918 (USA & CA)
86-773-2831999 (Int'l)
Q:
Farid
Asked on 2013-04-02
Reply
Hi . Can you help me?I have one Question of youI dont no least point WEATHER in tibet is how many ?Can you say me?Bey
Q:
chan siew peng
Asked on 2012-09-08
Reply
I would like to go tibet on middle of nov.i want to know the weather
November of the winter season in Tibet with dry and windy weather. The sun often shines high and bright in winter. The average temperature is 3.15 °C (37.7 °F). The minimum temperature is –4.9 °C (23.2 °F) and the maximum temperature is 11.2 °C (52.2 °F). Therefore, the weather is fine with sunny days and low cloud cover. Fewer people visit Lhasa in November. Actually, Lhasa has no severely cold winters, but bring a down jacket, pullovers, and sweaters. Sun protection, moisturizer, and lip balms are advisable because of the strong sun and dry weather. Winter is considered the low tourist season, so hotel and tour rates are cheaper than usual. To enter Tibet, foreign travelers are required to show the Tibet Travel Permit. This can only be done by the authorized china. If you haven't confirmed your tour arrangment, please feel free to contact us. Ruby Zhao Replied on 2012-09-08
Q:
Diane
Asked on 2012-08-08
Reply
Hi, I am from Toronto and would like to visit Tibet in October. How is the weather in October? Is it going to be cold? Do I need winter clothing?
Dear Diane, The average temperature will be 0℃ - 16℃, it varies greatly between day and night. In the day, you could take the shirts, but at night, you may wear a coat. In Shigatse it will be colder, you need to wear a cotton padded clothes. Thus I suggest you take some thick coats or a downjacket to avoid the cold weather at night. Lussie Lu Replied on 2012-08-09
Q:
Lily
Asked on 2012-07-24
Reply
Hello. My dream is to visit Tibet, but the flights from California are pretty expensive ($1700 for this September). When is the best time to fly?

loser.shut up and get a plane guest Replied on 2012-12-18
Hi Lily, Maybe it will be cheaper to book the flights seperately. I have just checked the flight price from Los Angeles to Beijing is about $820; the flight price is $411, excluding the service fee from Beijing to Lhasa. It is $ 1231 for one adult. If you need, I would like to book the flights for you. Regards, Coco Coco Yang Replied on 2012-07-24
Q:
Denise
Asked on 2012-07-12
Reply
I would like to go tibet in late May 2013.Plz advise abt permit n others
Hi Denise, A Tibet Permit is required for any foreigners to enter Tibet, and the entry city to Tibet must agree with the city shown on the permit that has been issued. If you booked a tour with us, we will apply the Tibet permit for you for free. We need your passport details at least two weeks ahead of your arrival time so as to process the formalities and delivery. You can check more here: http://www.chinahighlights.com/tibet/travel-tips.htm Regards, Coco Coco Yang Replied on 2012-07-13