Muslims in China
Islam was introduced to China almost 1,400 years ago, and nowadays, China is home to a large Muslim population. Muslims live in every regions in China, with the highest concentration in Western China's Gansu, Xinjiang, Yunnan and Qinghai provinces. Of the 55 or so minority groups, about ten groups are classified as Muslim. The largest muslim groups are Hui and Uighurs. Read more on history of Islam in China.
Islamic Holidays
Like Muslims elsewhere, Muslims in China celebrate their own holidays. All these holidays take place according to the Islamic calendar. The common celebrations includeperformances and worshipping at local mosques. See below for the most popular Islamic holidays.
Halal Food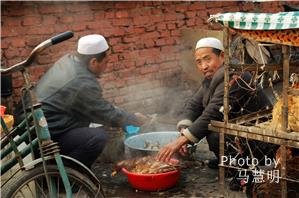 Halal Food
Halal food is called Qing Zhen Cai /ching-jnn tseye/ (清真菜) in Chinese. It is the cuisine of the Hui and other Muslims in China. Halal food and Muslim restaurants can be found in cities and towns all over the country. Read more on Halal food in China
Mosques in China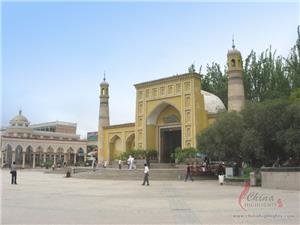 Id Kah Mosque
Mosques first appeared in China almost 1,400 years ago. Now there are over 20,000 mosques all over the country. Read more on mosques in China
Islamic Tours
Beijing Niujie Mosque Muslim Tour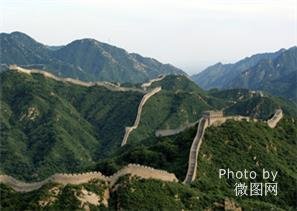 Badaling Great Wall
Make full use of your time in Beijing to explore the must-see highlights, the largest and oldest mosque in Beijing — Niujie Mosque, local markets and shops. Well-chosen Halal restaurants and Muslim hotels are included. See tour itinerary.
Beijing Badaling Great Wall Muslim Tour
The most famous tour sites in Beijing — the Great Wall, the Forbidden City, Tiananmen Square and the Summer Palace, combined with the best-known mosque — Niujie Mosque. See tour itinerary
Hotels for Muslims
China Highlights has selected China hotels for Muslims in Beijing, Shanghai, Guangzhou, Guilin, and Xi'an to cater to Muslims'requiremnts for hotels.
Related pages

China Highlights
Questions and Answers About Muslims in China
mohammed ayub
2013-11-18
Show Answer
hi this is ayub from india.planning to visit china for a bussiness purpose in decenmber of this year.would like to know best shopping destination in china,electronic items,garments,toys etc.i would also like to know affordable and reasonable accommodation,halal food,and mosque near by..please do the needfull..thank you.
Hi ayub, you amy consdier the visit to Guangzhou. For hotel in Guangzhou, please visit our website at http://www.chinahighlights.com/hotel/guangzhou-hotels/, for Guangzhou Halal Restaurants and mosque, visit : http://www.islamichina.com/guangzhou-halal-restaurants.html and http://www.islamichina.com/guangzhou-masjid.html
Simon Huang replied on 2013-11-18
Mohammad Abbas
2013-10-19
Show Answer
Hotels near to Great Mosque and also Grand mosque in Tianjin.
Hanting Express hotel (Tianjin Jingwen Road),It is nearby the Great Mosque in Tian jin.
Lily Guo replied on 2013-10-20
Fadi
2013-04-04
Show Answer
Hello,I have a trip to Xi''an where I will be staying near hte fourth military medical hospital. Would you kindly email me in order to discuss possible tours. Thank you
Hi Fadi, we are more than pleased to help arrange your Xian tour. Would you please let me know:
1. When will you start the trip?
2. How long will you stay in Xian?
3. Besides Xian, any other places or cities you'd like to visit?
4. How many people will be traveling with you?
Whitney Liao replied on 2013-04-07
Aslamualikum Dear Muslim, Khuda na khawasta aap ya aap ka koi bhi aziz kisi Rohani Bemari ka shikaar hey to Qurani ayaat sey Elaaj k liye Contect kren.+924934811 guest replied on 2013-06-19
What can we do for you, please? Whitney Liao replied on 2013-06-20
April Offer $25 Coupon
Send your inquiry before Apr. 30, 2014, and we will email you a $25 coupon.
The coupon is valid till Dec. 31, 2014, for paying tour packages worth $250 or up.
The coupon cannot be used for paying flight tickets, train tickets, hotel rooms and day trips.
Travel Advice or Question? Ask us here