China Tourism
There is strong competition in the travel and tourism business in China. There are many reputable and ethical agencies, and there's the others. It's worth remembering that if an operator is offering a trip which seems amazingly cheap, then the difference will be collected some other way. Sometimes guides and drivers will pay the agency for the right to guide the visitor, ("buying" travelers), and they will then find ways to recover this from the visitors. Sometimes the agency will use non-accredited suppliers, for example for river boats, rather than those which meet the government standard.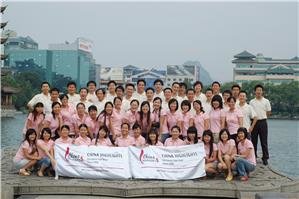 China Highlights is a trustworthy angency.
A good agency, such as China Highlights (CHT), does not collect the 'per head' fee, and pay their guides a fixed monthly salary, which recognizes the fact that they are English graduates as well as expert guides. These days the guides expect a good salary as more and more foreign businesses open in China, offering an attractive alternative, and a guide with a good standard of English does not have to 'buy' customers from an Agency.
A good agency does not permit its guides takes their on endless shopping excursions to factory shops. CHT allows it's guides to take it's customers to one "interesting" factory shop per day. This allows the guides to supplement their income through commissions. CHT gets no commissions from these shops but the quality and authenticity of the products is guaranteed.
A good agency believes in delivering value for money, reliable quality, and clarity about what people will get for their money. It will charge a reasonable price, and pay its own staff and suppliers at a reasonable rate.
This, of course, raises the thorny issue of tipping. China has not previously had a "tipping culture" however the practice of tipping guides and drivers has become common practice. Even though CHT pays our guides and drivers a fair salary, they still expect a tip if they provide good service. We provide a guide to the level of tips but in the end it is the decision of the traveler.
Further Reading


China Highlights
Questions and Answers About China Tourism
Ali Hameed
2013-07-01
Show Answer
hi I plan to visit China what do you recommend
Hi Ali, thanks for your inquiry. Before I give you some suggestions, I would like to ask some questions:
1. Is this your first time to China?
2. How many people are there in your group? Are there any kids or elderly people?
3. How long will you stay in China?
4. When would you like to take the tour?
5. What are you interested in?
I will give you my suggestions after your further information, okay?
Whitney Liao replied on 2013-07-02
chino
2013-05-20
Show Answer
whats the best hotel china has ?
Hi Chino, it is said the best hotel in the world is in Hong Kong, China. What is your destination, please?
Whitney Liao replied on 2013-05-24
yamin shwe
2013-02-26
Show Answer
i want go to great wall.?.how many tour in your country?
Hi Yamin, we have many Great Wall tours here: http://www.chinahighlights.com/beijing/great-wall-tours.htm
Which section attracts you the most? Usually we recommend the Mutianyu section, but if you like hiking, then the Jinshanling section is highly suggested.
Whitney Liao replied on 2013-02-26
mukendi jean de dieu
2012-12-12
Show Answer
i like to visit china from the 18/12/2012 till 27/12/2012
Hi Mukendi, we are more than pleased to assist planning your China trip. In order to give you an accurate quotation please help me with below the information
1. Number of people in your group including yourself
2. Inbound / outbound city
3. Places or attractions that you want to visit
4. Class of Hotel: 3 / 4 / 5 star
5. Estimative total budget per person
After getting further information from you, we will send you a detailed itinerary.
Whitney Liao replied on 2012-12-13
rahman
2012-08-25
Show Answer
i want to trava to china in 15 october 2012 with my friend noredin mohamad to visit canton exhibtion,i want to reved invitation to get visa in my country iraqENG RAHMAN GHUAM AZEEZERBI IRAQ-KARKK STREETBESIDE WAT HOTEL009647701953218
Dear Rahman,
Thank you for your inquiry. My name is Doris Huang. I am your travel advisor at China Highlights. It is my pleasure to assist you in planning your trip to China.
We can provide an invitation letter for you only after you book a package tour with us.
As we are a travel agency, we provide invitation letter that issued by our company (CITS), and we can also apply for the Tourist Bureau (a department of government) invitation letter (5 or over 5 people). Please confirm what kind of invitation letter you need: )
Doris Huang replied on 2012-08-26
April Offer $25 Coupon
Send your inquiry before Apr. 30, 2014, and we will email you a $25 coupon.
The coupon is valid till Dec. 31, 2014, for paying tour packages worth $250 or up.
The coupon cannot be used for paying flight tickets, train tickets, hotel rooms and day trips.
Travel Advice or Question? Ask us here