Xiamen Weather in April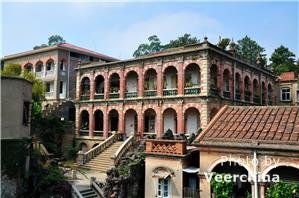 Gulangyu Island
Weather: The weather continues to warm up in April, and the month sees changeable weather with occasional hailstones and downpours. During April, the average daily minimum temperature is 16 °C (61 °F), and the average maximum temperature is 23 °C (73 °F). It rains about 15 days of the month for a total of about 160 mm of rainfall. See the current weather and forecast>>
Clothing: Please be prepared and bring a light sweater or jacket and an umbrella.
Things to Do
April is a good month for touring the Xiamen area before the big crowds arrive in May and the monsoon weather begins. The weather in April is cool, and you can go out into the country or parks to enjoy the spring scenery and the flowers.
Take an excursion to Gulangyu Island: The small island is noted for restaurants, tea and coffee parlors, tourist shops, and old colonial architecture that dates from before WWII when the island was a foreign settlement. You can take a trip to the small island by ferry in about 5 minutes from Xiamen.
The island is one of the city's main attractions. You can walk or take one of the electric carts. Explore the narrow lanes and see the seaside scenery. Automobiles are not permitted because it is a pedestrian area.
Mount Wuyi Natural Park: There is a noted national park in Fujian Province where you can tour by vehicle or hike and backpack. There are numerous stairways for some good stair-climbing exercise. If you are not in shape for this, you could tour by car or take a river rafting trip.
There is a spectacular scenic area around Nine-Bend Stream of exceptional scenic quality. Red sandstone formations stand out against the skyline and are hundreds of meters high. The area is also a noted wildlife sanctuary.
Danxia Landform Park: This other natural park in Fujian Province is also noted for unusual geological formations. You can take a boat trip among the caves and rock formations, and get out to walk and get in among the caves, cliffs, and waterfalls.
Shoulder Travel Season
April is generally a medium travel month. Hotel room prices and prices for flight and train tickets are moderate. Why wait in line to get tickets? We can order and perhaps deliver your tickets to you by an easy way, and maybe even get you a discount.
China Highlights Tours
China Highlights plans personal and group tours throughout China, and to other countries. See our Xiamen tours. Through our years of experience and customer feedback, we've created a variety of tours you'd enjoy.
In 2013 the bullet train service between Hong Kong, Guangzhou and Xiamen opened. This made travel between these prime tourist and business areas much more convenient and economical. Travel between Hong Kong and Xiamen now takes only four hours and costs about 33 USD or less! It is worth doing just for the experience and the scenery; and it is about 5 times cheaper than a flight. We offer a combined Guangzhou and Xiamen Tour that you can modify as per your interests to include Macau, Shenzhen, and Hong Kong.
Further Reading

Xiamen Climate Information by Month
Questions and Answers About Xiamen Weather in April
April Offer $25 Coupon
Send your inquiry before Apr. 30, 2014, and we will email you a $25 coupon.
The coupon is valid till Dec. 31, 2014, for paying tour packages worth $250 or up.
The coupon cannot be used for paying flight tickets, train tickets, hotel rooms and day trips.
Travel Advice or Question? Ask us here

China Highlights
Xiamen Travel Guide