Xiamen Weather in December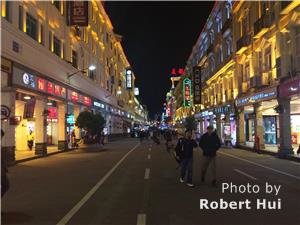 Zhongshan Road Walk Street
Weather: It is cool, dry and often sunny in December. Temperatures continue to fall in December. There is only about 29 mm or 1 inch of total rainfall during the entire month. The month sees about 26 days without any rain. The minimum temperature is 12 °C (53 °F), and the maximum temperature hits 19 °C (66 °F).
The weather is generally fine for tourists! It is a low tourism and travel month for Chinese, so you can enjoy the outdoor attractions and market streets with fewer crowds. See the current weather and forecast>>
Clothing: The weather is cooler, and you should bring coats or sweaters.
Things to Do
Enjoy the street markets: There are two street markets we recommend where you can sample the local food, shop, and experience the culture. One is Zhongshan Road Walking Street. It is an excellent place to stroll around. There are local brand name shops as well as independent sellers and small stalls. It is in Siming District on Zhongshan Road (厦门思明区中山路).
We also recommend Taiwan Food Street in Renhe Road. It was the first Taiwanese Food Street in mainland China. The Taiwanese developed their own style of cuisine, and without going there, you can sample all kinds of authentic Taiwanese food. The 200 meter stretch contains outlets and shops from Shilin Night Market in Taipei, the Fengjia Night Market in Taichung and the Liuhe Night Market in Kaohsiung. Renhe Road is in Siming District (厦门市思明区人和路).
Take a boat trip on the Lu River: A prime way to relax during your tour or on a business trip is to take a river cruise. While enjoying something to eat or drink, you can see some local highlights. You might see Gulangyu Island or the old Hulishan Fort depending on the route, and at night, you can see the city lights.
See Xiamen University: For local sightseeing, the campus of Xiamen University has both architectural beauty and interesting attractions. The university was established with overseas Chinese funds before WWII. See the beautiful buildings that combine Chinese and Western architectural styles and attractive Lotus Lake.
Besides the lake, there is an anthropology museum (人类学博物馆, Rénlèixué Bówùguǎn). You can see Chinese historical artifacts and learn about the history of the region. The university is near an extensive woodland area on the eastern side of the city. Bus 1 goes to the gate of the campus.
Shoulder Travel Month
December falls during the low travel season. Few tourists visit the city, and discounts on hotel rooms and flights are easy to obtain. You can book your flight and train tickets through us, and we might be able to find a discount and deliver the tickets to you conveniently. Why wait in lines at stations for tickets? We can help you book a hotel room that you'll like and perhaps even find a discount and arrange an enjoyable tour with fine meals.
Xiamen Tours
China Highlights has years of experience planning group and personal tours in China. Let us tailor-make a tour to suit your needs.
We can conveniently combine tours of Hong Kong, Xiamen, and Guangzhou by making use of a new four-hour very fast train that opened at the end of 2013. It is fast and inexpensive and almost as convenient as riding a subway train. A first class ticket only costs about 33 USD. We can modify our Guangzhou and Xiamen Tour to go to attractions you choose in Macau, Hong Kong, and Shenzhen too.
Further Reading
Xiamen Climate Information by Month
Questions and Answers About Xiamen Weather in December
Patrick
2013-11-01
Show Answer
I''m going to Xiamen on 26th November and staying at The Royal Victoria Hotel. Can u guide me to where the nearest market shopping areas are. Do you have open street markets.
Hi Patrick, for shopping information, please visit our website at http://www.chinahighlights.com/xiamen/shopping.htm.
Simon Huang replied on 2013-11-01
leony eveline
2013-10-12
Show Answer
i''m going to go to xiamen on 18 december until 1 january, what''s the weather at that time? and what clothes and stuff should i bring? thx before
Dear Jade,
The average temperature is 15.4 °C (59.7 °F). It is a little bit cold. Some thick coat, jacket or sweater would be a good choice.
Christy Luo replied on 2013-10-12
Helen Soo
2013-08-20
Show Answer
I will be in Xiamen from 17 December to 29 December 2013. Do you has a programme that I can follow. December period it is advisable to climb Wuyi mountian?
Hi Helen, we have many Xiamen tours here: http://www.chinahighlights.com/xiamen/tours.htm
Please see which one you are interested in. If none of them fits you, we can also tailor make it for you.
The best time to climb the Wuyi Mountian is Autumn. December is also okay, as there are less people.
Whitney Liao replied on 2013-08-21
Clare
2012-12-19
Show Answer
I am going to Xiamen on December 23. Some people say it is very warm, and some people say it is very cold. What clothing should I wear to keep warm?
Dear Sir or Madam, Based on the weather forecast, the average temperature will be 9-14℃(48.2-57.2℉). It rains recently, so it becomes a bit cold. You could take a cotton padded clothes, a sweater and some thick coats. Please click here to check the new information: http://www.weather.com.cn/en/weather/101230201.shtml Lussie Lu replied on 2012-12-19
stella
2012-12-04
Show Answer
Im planning to visit xiamen from december 16st to 30th december, how the temperature?
Dear Sir or Madam, The average temperature will be 12-19℃(53.6-66.2℉), you could take some thick coats and a sweater. I suggest you check the new information before leaving for Xiamen. Please click: http://www.weather.com.cn/en/weather/101230201.shtml Lussie Lu replied on 2012-12-04
April Offer $25 Coupon
Send your inquiry before Apr. 30, 2014, and we will email you a $25 coupon.
The coupon is valid till Dec. 31, 2014, for paying tour packages worth $250 or up.
The coupon cannot be used for paying flight tickets, train tickets, hotel rooms and day trips.
Travel Advice or Question? Ask us here

China Highlights
Xiamen Travel Guide