Xiamen Weather in May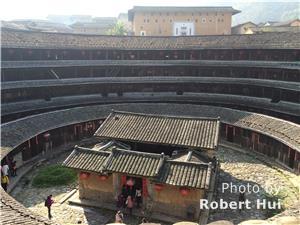 Yongding Earth Buildings
Weather: The rainy season starts in May and lasts until August. In May, total rainfall averages 158 millimeters (6 inches), and the month sees about 16 rainy days. The average temperature is 24 °C (74 °F), with an average minimum temperature of 20 °C (68 °F) and an average maximum temperature of 27 °C (80 °F).
May marks the beginning of summer. The temperature and rainfall increases continually. Rainfall variations in May are the largest of the year, and the typhoon season begins during this month. See the current weather and forecast>>
Clothing: Summer clothes are appropriate from May, but also take a jacket or cardigan for morning and evening. As rainfall is frequent, bring an umbrella.
Things to Do
See the municipal parks: Blooming flowers and green trees can be seen everywhere in May. The best places to enjoy flowers are Lianhua Park, Binglang Road, Hubin Bei Road, Xiamen University, and Zhongshan Park.
Take a walk in Gulangyu Island: Another place to see gardens is this island that is only five minutes away by ferry. You can also enjoy the sea scenery. The small island is noted for restaurants, tea and coffee parlors, and the old colonial architecture that date from before WWII when the island was a foreign settlement. It is a pedestrian tourist area where you can shop for souvenirs.
Mount Wuyi Park: You can visit the highlights by vehicle or enjoy hiking and backpacking. There are numerous high stairways for some good stair-climbing exercise. If you are not in shape for this, you could tour by car or take a river rafting trip.
Nine-Bend Stream is exceptionally scenic. Red sandstone formations stand out against the skyline, and they are hundreds of meters high. The area is also a noted wildlife sanctuary.
Visit Hong Kong: It is only four hours away by bullet train, and now you can go on quick shopping or sightseeing excursions for a day or two. The new trains began operation in late 2013, and they are cheap and comfortable. Hong Kong, Guangzhou and Xiamen are now linked, and travel between these prime tourist and business areas is much more convenient and economical. A first class ticket costs only 33 USD or less! It is about 5 times cheaper than a flight.
High Travel Month
May is one of the busiest periods to travel in China. International Labor Day (May 1 to 3) is one of China's main vacation periods. Since May is during the peak travel season, hotel rates are often higher than usual during this month, and tourist attractions are crowded. By our experience, we can help you book a room you'll enjoy, perhaps at a discount, and get flight and train tickets. Why wait in line to get tickets during this busy travel season?
China Highlights Tours
China Highlights plans personal and group tours throughout the country, and to other countries. Through our years of experience and customer feedback, we've created a variety of tours you'd enjoy.
We offer a combined Guangzhou and Xiamen Tour that you can modify as per your interests to include Macau, Shenzhen, and Hong Kong.
Further Reading

Xiamen Climate Information by Month
Questions and Answers About Xiamen Weather in May
April Offer $25 Coupon
Send your inquiry before Apr. 30, 2014, and we will email you a $25 coupon.
The coupon is valid till Dec. 31, 2014, for paying tour packages worth $250 or up.
The coupon cannot be used for paying flight tickets, train tickets, hotel rooms and day trips.
Travel Advice or Question? Ask us here

China Highlights
Xiamen Travel Guide