Xi'an Nightlife
Nightlife in Xi'an is varied and colorful, and it is vibrant enough to satisfy a whole range of taste and tempos, catering for both young and old. It tells the world how the site of an ancient civilization can blend well with new culture.
Places such as night clubs, karaoke, discos, bars and cafes are all good places for you to get yourself a relaxation. You can sing and dance, which will take tiredness away. In a word, you will be captivated by the various entertainment activities in Xi'an.
Fountain and Music Show 音乐喷泉
The Big Wild Goose Pagoda

Address: North Square of the Big Wild Goose Pagoda (北广场大雁塔)
Time: Every 12:00 and 20:00 from Monday to Sataurday; 12:00, 14:00, 16:00, 18:00 and 21:00 in weekends; and no show from November to January in the next year.

Covering about 110,000 square meters, the music fountain in the North Square of the Big Wild Goose Pagoda is the biggest one in Asia. The Fountain and Music Show has the most benches, the longest light-belt, and the largest-scale acoustic complex in the world.
Generally, the fountain contains 1360 sets of pumps, 1124 sets of transducers, 3300 sets of lampion and more than 2,000 sets of nozzles in all. Besides, it equips with high technological lighting system and professional audio systems.
What is most amazing is that the sound, the light, the water and the color of the fountain are harmoniously combined.
Tang Dynasty Show 仿唐乐舞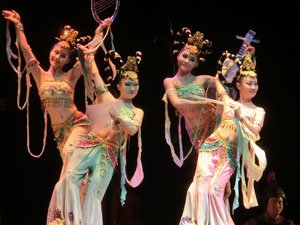 The Tang Dynasty Show
The Tang Dynasty Show offers you the chance to experience a traditional Chinese evening. The Tang Dynasty is regarded as the most progressive and prosperous era in the days of Imperial China and its music and dance symbolize the glory and beauty of Chinese civilization. There are over 100 artists for a performance with a colorful spectacle of traditional music and dance routines.
Location: Tang Dynasty Palace, 75 Chang'an Road, Xi'an 西安市长安路75号唐乐宫
Time: 18:50-20:10 (Dumpling dinner); 20:30-21:40 (Show)
Transportation:
Subway: Take Line 2 and get off at Nanshaomen Station.
Bus: Take No. 603, 215 or 239, and get off at Caochangpo Stop.
Ticket Pricing: 220 CNY / Person (show only, dumpling dinner not included); 370 CNY / Person (Show and dumpling dinner included)
Pubs and Bars
In Xi'an, night club is one of the main entertainment places. The bar is a great place for people to relax themselves. People sing and dance to relieve stress there. It's a good place for making friends as well, with a comfortable atmosphere.
Besides pleasant music and tasty drinks, there are also many fascinating performances. Night club is a wonderful part of nightlife that you can't miss. Here will we brief you on some famous clubs.
Salsa Club (莎莎俱乐部)
Popular among local young people, especially on weekends.
Address: No.6, West Avenue, Lianhu District (莲湖区西大街6号时代百盛商场7楼)
Tel: (29)-87286666
Hours: 20:00 - midnight
Xi'an Diwang Club (帝王俱乐部)
Known as the best club in Xi'an, it is also the most state-of-the-art and expensive.
Address: No.231, East Avenue, Beilin District, Xi'an (碑林区东大街231号)
Phone: (29) 85227569
Hours: 20:00 - midnight
Xi'an Longdu Disc Club (龙都迪士高娱乐)
One of the most popular disco bars with the young and hip in Xi'an, the DJ is great, and the ambience and service are good.
Address: No.72, Nanyuan Gate, Xi'an (西安南院门72号)
Phone: (29) 87250342
Hours: 20:00 - midnight
Shaanxi Royal Nightclub (富利华歌舞厅)
Address: No.276, North Avenue, Beilin District (碑林区北大街276号)
Phone: (29) 87266967
Hours: 20:00 - midnight
One plus One (1+1 酒吧)
This is the most popular bar among foreigners.
Address: No.285, East Avenue, Beilin District, Xi'an (碑林区东大街285号)
Tel: (29)87280008
Hours: 20:00 - midnight
Charlie's Bar (查理士酒吧)
Located in the Jianguo Hotel, it is really a pleasant place to relax.
Address: No 2, Huzhu Road, Xincheng District (新城区互助路2号建国饭店内)
Phone: (29) 88238888
Hours: 24 hours
Cafes and Teahouses
Sicily Cafe (西西里意大利餐厅)
Address: the 1st and 2nd Floor of Yu Cheng Buiding, No. 98-2, Huancheng South Road, Beilin District (碑林区环城南路98-2号台湾御城景观豪宅1-2楼)
Web: www.illychina.com
Tel: (29) 82092996
Ivy Coffee (常春藤咖啡厅)
Address: 4/F, Parkson Shopping Center, West Avenue (西大街101号百盛四楼)
Tel: (29) 87270077
Fu Bao Ge Teahouse (福宝阁茶楼)
Address: No.66 Defu Lane, South Avenue, Beilin Avenue (碑林区南大街德福巷66号)
Web: http://www.fubaoge.com
Tel: (29) 87211031
Questions and Answers About Xi'an Nightlife
Laura
2014-04-01
Show Answer
Are there any clubs, pubs, bars in Xi''an in which you can listen to some good live music and drink beer?
Ajmal
2013-07-19
Show Answer
I have planned for visit to Xian, during my stay I would like also enjoy the Xian & chines taste in romantic atmosphere
Dear Ajmal, We listed some kinds of local restaurants on our website for reference, you could check it. Please click: http://www.chinahighlights.com/xian/restaurants.htm Lussie Lu replied on 2013-07-22
April Offer $25 Coupon
Send your inquiry before Apr. 30, 2014, and we will email you a $25 coupon.
The coupon is valid till Dec. 31, 2014, for paying tour packages worth $250 or up.
The coupon cannot be used for paying flight tickets, train tickets, hotel rooms and day trips.
Travel Advice or Question? Ask us here
You might like

The Most Popular Night Markets in Xi'an

China Highlights
Xi'an Travel Guide