Zhangjiajie Weather in February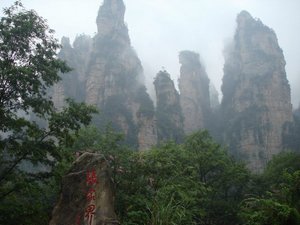 Weather: February is a little warmer than January, with an average temperature above 0 °C (32 °F) and the highest temperature around 13 °C (55 °F). It is cloudy and slightly rainier than January.
Clothing: Bring an overcoat and a sweater to stay warm, as the air is also a little humid.
Low Season: February falls during the low travel season. If you want to take a tour of Zhangjiajie this month, refer to our Zhangjiajie Tours on our website for additional travel information.
Zhangjiajie Climate Information by Month

China Highlights
Planning a trip? Ask us here 800-2682918 (USA & CA)
86-773-2831999 (Int'l)
Q:
moon
Asked on 2012-12-27
Reply
I m malaysian. Will b visiting zjj in feb 2013 with husband. Wud it b too cold for us senior citizens? Pl advise. Tq. From moon
Hi Moon, the average temperature in February is above 0 °C (32 °F) and the highest temperature is around 13 °C (55 °F). I think It is still very cold for senior citizens, especially the ones from warm country like Malaysia.
Whitney Liao Replied on 2012-12-28
Q:
Geetha
Asked on 2012-11-18
Reply
Hello Is it advisable to hike up to the mountains during this month?
Hi Geetha,
It takes 2.5 hours hike up to the mountain.
As long as there is no snow, you can hike.
Sammi
Sammi Dai Replied on 2012-11-19
Zhangjiajie Travel Guide