Zhangjiajie Weather in June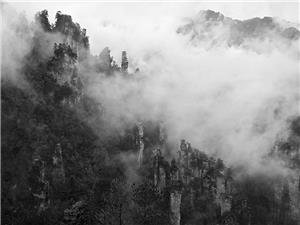 Weather: It is a little hot and rainy in June. The average low temperature is around 22 °C (72 °F), and the average high temperature is 30 °C (86 °F). June is in the height of the rainy season. It is the rainiest month of the year. There is about 210 mm of total precipitation each June, and it rains about half of the days of the month. Check the current weather and forecast>>
Clothing: Generally, a T-shirt and trousers or shorts is sufficient, but you'll need rain gear or an umbrella for a rainy day. If it isn't rainy, a hat and sunglasses will help protect you from solar radiation. If you plan on hiking or walking up stairs, drink a lot of water and wear a hat on sunny days to prevent heatstroke. Make sure your shoes have good traction.
Things to Do
See the Dragon Boat Festivals: There are two Dragon Boat festivals (端午节, Duanwujie) in the 5th month of the Chinese calendar that usually falls in June. The Small Dragon Boat Festival is on the fifth day of the fifth lunar month. This festival is also called the Double 5th Festival. The Big Dragon Boat Festival is on the 15th day of the fifth lunar month. The Lishui River flows through the park region, and you can enjoy the boat races and experience other events along the river amid the beautiful scenery. Moreover, enjoy some zongzi (traditional Chinese rice pudding) this month.
Hike up Tianmenshan: The rocky hill has a huge hole shaped like a keyhole in the middle of it, and people can walk up to it or reach it via a cable car. The hill is the main attraction for most tourists to this UNESCO World Heritage park. It is said that there are 999 steps to it. See if the number is accurate. Hiking all the way to the top of Tianmenshan takes about two or three hours, and the hike might be too difficult if you are out of shape.
The cable ride to the top takes half an hour. If you can get a cable car for just you and your sweetheart, that might make for a good date. The stairs and paths extend all the way to the top, and at the top of Tianmenshan, there is a famous glass walkway. It is a glass sidewalk that stretches 600 meters along the peak more than a kilometer above the ground below. Walking on it is the biggest thrill of the day for a lot of visitors.
See Wulingyuan: The quartzite rock spires are topped with green plants. The contrast is beautiful, and these quartzite rock spires and bluffs inspired generations of painters. One of the amazing pillars is 3,544 feet (1 kilometer) tall. The rock formations are unique in the world, and now it is a UNESCO Global Geopark. They are reminiscent of the sandstone pillars at Bryce Canyon in America.
Shoulder Travel Season
Summer and fall are the peak travel seasons in Zhangjiajie, but the number of visitors decreases after May due to the wet weather, college exams, and the close of the school year. Hotel rates are moderately high, and travel tickets are easier to purchase than around August and September. It is advisable to book in advance. We'll try to arrange hotel accommodations you'll appreciate. We could also help with flight and train tickets, so you won't need to waste time in lines at stations or ticket counters.
Zhangjiajie Tours
We've designed a special 4-day tour that covers the attractions in Zhangjiajie. Four days would be sufficient to enjoy the beauty in the area, and you can modify the tour to go to the specific places you'd like to see.
Jiuzhaigou can be combined with other attractions. Combining exercise in Zhangjiajie with rest on cruise trips such as a Yangtze River cruise or a Guilin Li River cruise would make for a great scenic combo. On a 7-day Zhangjiajie tour combined with a Yangtze River cruise, you can hike to see the natural highlights and dine, relax, and watch the river scenery pass by on the Yangtze River.
Further Reading
Zhangjiajie Climate Information by Month
Questions and Answers About Zhangjiajie Weather in June
Alexandria b. yabut
2013-05-29
Show Answer
Please advice us on what clothes to bring on June 12 to June 17
Dear Alexandria, Based on the former data, the average temperature will be 23-30℃(73.4-86℉), it will hot and you could take some T-shirs , shirts, jeans and shorts. In mountain area, it will be cooler than that in city center, you could wear shirt. I suggest you'd better take an umbrella as the weather will vary frequantly in mountain area. Lussie Lu replied on 2013-05-29
Mrs C Kwok
2012-06-04
Show Answer
My family(3 adults) are planning to go to either Zhangjiajie or Huang Shan at the end of June for about 6 days. However, my friend told me that it is the rainy season and it is not a good idea to go to either place as we might be stuck in the hotel. What is your advice? Any other good suggestions for a trip of about 5 to 6 days?considering we''ve been to Beijing, Shanghai, Guilin, Hangzhou,Lijiang,Jiuzhaiou. Many thanks.
Dear Mrs C Kwok, Thank you for visiting our web site and trust our service. My name is Cecilia Peng. I am a travel advisor at China Highlights. Just as you mentioned, June is the rainiest month of the year in Huangshan. However, summer time (June to September) is the tourist high season in Huangshan. May through to August are the wettest months with a foot (300mm) or more of rain each. This makes summer the best time to enjoy the Sea of Clouds, one of the famous four features of the mountain (the other three are the oddly-shaped pines, grotesque rocks and hot springs). And beware, you will be stuck in the hotel only when you catch the heavy rain, it's Ok for the light rain. The weather is hard to foresee, if you want to climb the mountain, bring an umbrella or a raincoat. And I will cross my fingers to wish you good luck! Here is a link of Huangshan tour for your reference : http://www.chinahighlights.com/tour/jingdezhentour/jdz-1/ For your anxiety about the weather and according to the cities you have been are almost in southern China, you are suggested to go to Xi'an (Terracotta warriors, city wall) and Shanxi (Pingyao ancient city) where in northern China, the weather there is drier and there are many historical resorts. Yangtze River cruise is also a good choice for your family. Feel free to contact me at Cecilia@chinahighlights.net if you have any questions about China tour. Kind regards, Cecilia Cecilia Peng replied on 2012-06-05
April Offer $25 Coupon
Send your inquiry before Apr. 30, 2014, and we will email you a $25 coupon.
The coupon is valid till Dec. 31, 2014, for paying tour packages worth $250 or up.
The coupon cannot be used for paying flight tickets, train tickets, hotel rooms and day trips.
Travel Advice or Question? Ask us here

China Highlights
Zhangjiajie Travel Guide