Zhangjiajie Weather in June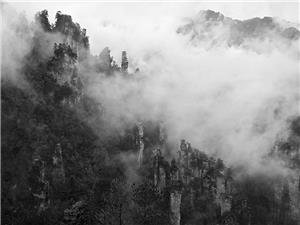 Zhangjiajie National Forest
Weather: It is a little hot in June, with an average high temperature of 30 °C (86 °F) and low temperature of 22 °C (72 °F). The rainfall is higher than during the previous months, so take an umbrella.
Clothing: During the daytime, summer clothing such as shorts, T-shirts, and skirts are suitable. In the evening, wear long sleeves and trousers to stay warm in the cooler weather.
Things to do: Zhangjiajie hosts two Dragon Boat Festivals. The small Dragon Boat Festival is on the fifth day of the fifth lunar month and the big Dragon Boat Festival is on the 15th day of the fifth lunar month.
During almost the entire month, visitors can enjoy the boat races and experience other events. Moreover, enjoy some Zongzi (traditional Chinese rice pudding parcels) this month.
Zhangjiajie Climate Information by Month
Questions and Answers About Zhangjiajie Weather in June
Alexandria b. yabut
2013-05-29
Show Answer
Please advice us on what clothes to bring on June 12 to June 17
Dear Alexandria, Based on the former data, the average temperature will be 23-30℃(73.4-86℉), it will hot and you could take some T-shirs , shirts, jeans and shorts. In mountain area, it will be cooler than that in city center, you could wear shirt. I suggest you'd better take an umbrella as the weather will vary frequantly in mountain area. Lussie Lu replied on 2013-05-29
Mrs C Kwok
2012-06-04
Show Answer
My family(3 adults) are planning to go to either Zhangjiajie or Huang Shan at the end of June for about 6 days. However, my friend told me that it is the rainy season and it is not a good idea to go to either place as we might be stuck in the hotel. What is your advice? Any other good suggestions for a trip of about 5 to 6 days?considering we''ve been to Beijing, Shanghai, Guilin, Hangzhou,Lijiang,Jiuzhaiou. Many thanks.
Dear Mrs C Kwok, Thank you for visiting our web site and trust our service. My name is Cecilia Peng. I am a travel advisor at China Highlights. Just as you mentioned, June is the rainiest month of the year in Huangshan. However, summer time (June to September) is the tourist high season in Huangshan. May through to August are the wettest months with a foot (300mm) or more of rain each. This makes summer the best time to enjoy the Sea of Clouds, one of the famous four features of the mountain (the other three are the oddly-shaped pines, grotesque rocks and hot springs). And beware, you will be stuck in the hotel only when you catch the heavy rain, it's Ok for the light rain. The weather is hard to foresee, if you want to climb the mountain, bring an umbrella or a raincoat. And I will cross my fingers to wish you good luck! Here is a link of Huangshan tour for your reference : http://www.chinahighlights.com/tour/jingdezhentour/jdz-1/ For your anxiety about the weather and according to the cities you have been are almost in southern China, you are suggested to go to Xi'an (Terracotta warriors, city wall) and Shanxi (Pingyao ancient city) where in northern China, the weather there is drier and there are many historical resorts. Yangtze River cruise is also a good choice for your family. Feel free to contact me at Cecilia@chinahighlights.net if you have any questions about China tour. Kind regards, Cecilia Cecilia Peng replied on 2012-06-05

China Highlights
Zhangjiajie Travel Guide