Zhangjiajie Weather in April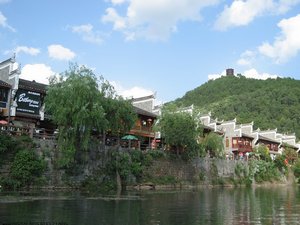 Weather: April sees a significant increase in temperature, with an average high temperature of 24 °C (75 °F) and an average low temperature of 14 °C (57 °F).
Clothing: Since it is much warmer, spring clothing, such as a thin sweatshirt is adequate. The days are clear and sunny, so bring a hat and sun glasses.
Things to do: April is the best season to enjoy the spring flowers and scenery in Zhangjiajie. The air is clear and fresh in the country, so hiking is a joy.
Be aware: Since the weather is pleasant, April marks the beginning of the peak travel season. Hotels, tourist attractions, and restaurants are gearing up for the crowds and scenic spots are more crowded. If you need travel suggestions, check out the information on our Zhangjiajie Tours.
Zhangjiajie Climate Information by Month

China Highlights
Planning a trip? Ask us here 800-2682918 (USA & CA)
86-773-2831999 (Int'l)
Q:
lorine
Asked on 2012-11-02
Reply
Could someone tell me what is the weather like between 20 to 30 March? Any recommendation on the hotel? Please provide your valuable advice. Thanks
Dear Sir or Madam, Based on the former data, the average temperature will be 6-20℃(42.8-68℉), it varies greatly between day and night. Sometimes it rains. In the mountain area, it will be cold. I suggest you take a down jacket or cotton padded clothes. About the hotel, here are some options. Lantian Hotel Zhangjiajie 4*:http://www.chinahighlights.com/hotel/zhangjiajie-hotels/lantian-hotel-zhangjiajie.htm Wulingyuan Hotel 3*:http://www.chinahighlights.com/hotel/zhangjiajie-hotels/wulingyuan-hotel.htm Zhuanjiacun Hotel 4*:http://www.chinahighlights.com/hotel/zhangjiajie-hotels/zhuanjiacun-hotel.htm More options:http://www.chinahighlights.com/hotel/search-hotel.asp Lussie Lu Replied on 2012-11-03
Zhangjiajie Travel Guide