Harbin Weather
Harbin City is influenced by continental monsoon climate, with long, freezing winters and warm, short summers. Spring and autumn are transitional seasons which last for a very short time with rapid change of temperatures.
Best Time to Visit
The best time to visit Harbin is from December to February of the next year, when the weather is freezing cold, and Harbin International Ice and Snow Festival takes place during this period. It is the best time to enjoy the area's ice and snow and relative activities, including skiing. (Harbin Ski Tour with Yabuli). The festival usually runs on December 20 every year. On January 5, it's formally open to the public and lasts for about one month. Visiting Harbin during the holidays of the Christmas Day or after January 5, you won't miss the greatest pleasure of Harbin. View Mia's Harbin travel story with photos.
Weather Conditions by Season
Winter (December-February)
It is the popular tourist season in Harbin, with ice and snow concentrated from December to January. It is very cold in Harbin, which is at the same latitude as Montreal, Canada. January is the coldest month of the year, with an average high temperature at -13 °C (8 °F) and an average low at -25 °C (-13 °F).
Keeping warm: It is necessary to wear down jackets, woolen pants, snow boots, hats, scarves and gloves, everything that can keep you warm. Because the weather is very dry, it is suggested that you wear a mask to protect your nose. More about keeping warm in Harbin.
Recommended attractions: In the ice city of Harbin, the annual Harbin International Ice and Snow Festival (Sun Island Scenic Spot, Ice and Snow World) and skiing (Yabuli Ski Resort, Jihua Ski Resort) are not to be missed. Check out top things to do in Harbin.
Recommended tour: Harbin Sites & Train Experience To Yabuli Ski Resort
Spring (March-May)
The weather is dry and windy, with changeable temperatures that may rise or fall by 10 degrees Celsius just overnight. Average high and low temperatures are 2 to -11 °C (34 - 12 °F) in March, 12 to -6 °C (55 - 31 °F) in April, 21 to 7 °C (70-45 °F) in May.
What to wear: Prepare the same clothing as in winter because it is still very cold in March. It gets warmer and warmer in April and May. Prepare an overcoat, a medium sweater and base shirts for April, and prepare a trench coat and a long-sleeve shirt or T-shirt for May. Wearing layers are always practical, which is easier to take on and off in the changeable weather.
Summer (June-August)
It is hot and humid, but not as hot as other cities in China, so Harbin is also a good summer resort. 60% of the annual rainfall happens in July and August. July is the hottest month of the year, with an average high temperature at 28 °C (83 °F) and an average low at 18 °C (65 °F).
What to wear: Prepare summer clothes, such as T-shirts, skirts and short pants. You might as well prepare a light cardigan in case you feel chill in early morning or evening. Prepare umbrella during the rainy season (July and August).
Autumn (September-November)
Weather is changeable with big temperature difference during day and night. The first snow comes in mid-October or early-November, and temperatures fall lower after the first snow. Average temperatures are 9 to 21 °C (48 - 69 °F) in September, -6 to 12 °C (31 - 54 °F) in October and -11 to -6 °C (12 - 31 °F) in November.
What to wear: Layers are always practical and convenient for taking on and off in the changeable weather. There is big temperature difference between day and night. In September, prepare long-sleeve T-shirts and long pants for the day, and a cardigan/trench coat for early morning and evening. Prepare sweater and overcoat for October, and down jackets for November when it may snow.
Recommended Attractions for All Seasons
Recommended Harbin Tours
Feel free to contact us for a customized tour. Besides enjoying ice and snow in the cold North China, there is another option - Sanya City in southernmost China, with sunshine and beach in winter. Check out China winter vacation packages.
Harbin Climate Information by Month
Harbin Average Climate by Month
| | Jan | Feb | Mar | Apr | May | Jun | Jul | Aug | Sep | Oct | Nov | Dec |
| --- | --- | --- | --- | --- | --- | --- | --- | --- | --- | --- | --- | --- |
| High (ºC) | -13 | -8 | 2 | 13 | 22 | 27 | 29 | 27 | 21 | 13 | -0 | -10 |
| Low (ºC) | -25 | -21 | -11 | -0 | 8 | 14 | 19 | 17 | 9 | -0 | -11 | -20 |
| Rain (mm) | 25.4 | 5.08 | 10.16 | 20.32 | 40.64 | 86.36 | 160.02 | 116.84 | 60.96 | 27.94 | 7.62 | 5.08 |
| High (ºF) | 8 | 17 | 34 | 55 | 70 | 79 | 83 | 80 | 69 | 54 | 31 | 14 |
| Low (ºF) | -13 | -7 | 12 | 31 | 45 | 57 | 65 | 61 | 48 | 31 | 12 | -5 |
| Rain (in) | 1 | 0.2 | 0.4 | 0.8 | 1.6 | 3.4 | 6.3 | 4.6 | 2.4 | 1.1 | 0.3 | 0.2 |
Harbin Average Monthly Temperatures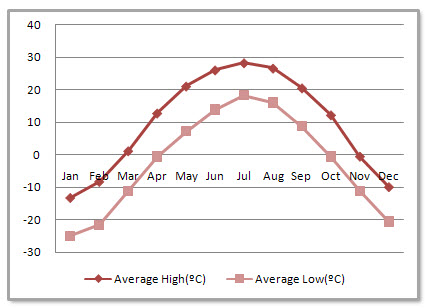 Harbin Average Monthly Precipitation (inches)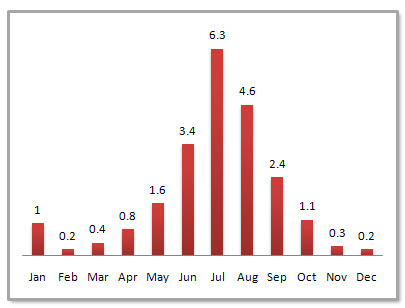 Questions and Answers About Harbin Weather
Trillion
2014-01-07
Show Answer
Is there still good skiing in mid March at Yabuli?
Hi Trillion, there are still snows in March, but the quolity is not that good. Whitney Liao replied on 2014-01-08
Helen
2013-11-10
Show Answer
Hi, i will be arriving in harbin in 13/12/13 and leaving by 18/12/13. Will iget to see the ice and snow festival in habin. Am i too early for the festival? Tks helen
Hi Helen,
The Snow Festival is from 5th Jan to 25th Feb. It is more beautiful at night while the entrance fee is more expensive accordingly. If you prefer to there, you can consider changing your travel time. We have tour about it, see http://www.chinahighlights.com/tour/harbintour/hrb-1/ If you are interested in it, please contact with me at christyluo@chinahighlights.net
Christy Luo replied on 2013-11-10
Brenda
2012-12-17
Show Answer
May I know if the ice & Snow festival had been open for viewing ? As I''m going on 26 Dec.Thanks.
Dear Brenda, Harbin Ice and Snow Festival usually run on December 20 every year. You are able to enjoy the Harbin Ice and Snow Festival there. If you need any tour arrangement, please feel free contact me at nancy@chinahighlights.net any time. Nancy Nancy Deng replied on 2012-12-18
Absar
2012-10-01
Show Answer
I will be visiting Harbin during first week of November. What type of clothes do I need to carry or will it be better to buy winter stuff in Harbin.
Hello Absar, temperatures continue to fall in November, and average high and low temperature of the month is respectively at -6 °C (12 °F) and -11 °C (31 °F). Sometimes it rains, and it gets colder after each rain. There will be some light snowfalls by the end of the month. Sweaters and overcoats should be prepared. Check out top things to do in Harbin, or our Harbin tour packages.
Simon Huang replied on 2012-10-02
chewy
2011-03-06
Show Answer
snow can be seen in end month of jan?what month probaly can be see the snow?
Hi chewy, Generally speaking, you can see the snow from the middle of December to the end of February. I suggest you go to Harbin in January or February. The Harbin International Ice and Snow Festival will be start on Jan. 5. It only started about 10 years ago, and it is already one of world's four biggest such ice and snow festivals, along with the famous ones in Sapporo, Norway and Quebec. There are some Harbin tours on the website for your reference. You can get more information on it. If you are interested in a tour, please feel free to inform us and send your e-mail to lussie@chinahighlights.com I will be glad to serve you. Lussie Lu replied on 2011-03-07
April Offer $25 Coupon
Send your inquiry before Apr. 30, 2014, and we will email you a $25 coupon.
The coupon is valid till Dec. 31, 2014, for paying tour packages worth $250 or up.
The coupon cannot be used for paying flight tickets, train tickets, hotel rooms and day trips.
Travel Advice or Question? Ask us here

China Highlights
Harbin Travel Guide