Kunming Weather in July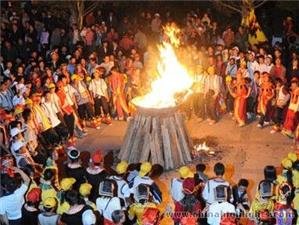 Everyone sings and dances around the bonfire on Torch Festival of Yi People.
July is in the rainy season. On nice days, the temperature hits 15 °C (59 °F) to 28 °C (82 °F), and T-shirts and long trousers are recommended. On rainy days, the temperature is cooler, between 10 °C (50 °F) and 20 °C (68 °F), and wear a dress T-shirt with a light coat and long trousers. Ultraviolet radiation is strong, so use sunscreen with SPF 20 and PA++ when outdoors. Also take an umbrella with you when you go outside.
The Torch Festival of the Yi people falls on the 24th of the sixth month in the Chinese lunar calendar. It usually takes place in the middle of July. On this traditional day, the Yi people dress splendidly and get together in a certain place. During the daytime, activities such as bulk fighting and wrestling are held. In the evening, everyone gets together around a bonfire to sing and dance.
July is the peak season for visiting Kunming. If you are planning to visit Kunming in July, see our Kunming tours or have us tailor-make a tour to Kunming for you. See our Kunming Tours.
Kunming Average Daily Temperatures Based on Historical Data
Date
Average High
Average Low
July 1
74 °F
23.33 °C
62 °F
16.67 °C
July 2
74 °F
23.33 °C
62 °F
16.67 °C
July 3
74 °F
23.33 °C
62 °F
16.67 °C
July 4
74 °F
23.33 °C
62 °F
16.67 °C
July 5
74 °F
23.33 °C
62 °F
16.67 °C
July 6
74 °F
23.33 °C
62 °F
16.67 °C
July 7
74 °F
23.33 °C
62 °F
16.67 °C
July 8
74 °F
23.33 °C
62 °F
16.67 °C
July 9
74 °F
23.33 °C
62 °F
16.67 °C
July 10
74 °F
23.33 °C
62 °F
16.67 °C
July 11
74 °F
23.33 °C
62 °F
16.67 °C
July 12
75 °F
23.89 °C
62 °F
16.67 °C
July 13
75 °F
23.89 °C
62 °F
16.67 °C
July 14
75 °F
23.89 °C
62 °F
16.67 °C
July 15
75 °F
23.89 °C
62 °F
16.67 °C
July 16
75 °F
23.89 °C
62 °F
16.67 °C
July 17
75 °F
23.89 °C
62 °F
16.67 °C
July 18
75 °F
23.89 °C
62 °F
16.67 °C
July 19
75 °F
23.89 °C
62 °F
16.67 °C
July 20
75 °F
23.89 °C
62 °F
16.67 °C
July 21
75 °F
23.89 °C
62 °F
16.67 °C
July 22
75 °F
23.89 °C
62 °F
16.67 °C
July 23
75 °F
23.89 °C
62 °F
16.67 °C
July 24
75 °F
23.89 °C
62 °F
16.67 °C
July 25
75 °F
23.89 °C
62 °F
16.67 °C
July 26
75 °F
23.89 °C
61 °F
16.11 °C
July 27
75 °F
23.89 °C
61 °F
16.11 °C
July 28
75 °F
23.89 °C
61 °F
16.11 °C
July 29
75 °F
23.89 °C
61 °F
16.11 °C
July 30
75 °F
23.89 °C
61 °F
16.11 °C
July 31
75 °F
23.89 °C
61 °F
16.11 °C
Kunming Climate Information by Month

China Highlights
Kunming Travel Guide