Kunming Weather in November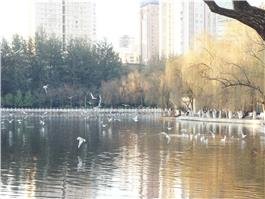 Beautiful scenery of Cuihu Park in autumn
During November in Kunming, the temperature difference between day and night is quite large. The hottest time of the day can reach 19 °C (66 °F) and at night the temperature can fall to between 7° C (45 °F) and 8 °C (47 °F), or even 5 °C (41 °F) to 6 °C (43 °F). If it rains during the day, the temperature falls even further to between 5 °C (41 °F) and 10 °C (50 °F). Autumn and winter clothing, such as a thin coat and a sweatsuit, are essential for staying warm. The weather is dry so use soothing moisturizer.
Cui Lake Park, known as the "emerald," is in Kunming. Each November and December, flocks of black-headed gulls from Siberia spend the winter in the park. At this time, enjoy the best landscape in the park.
November is not during the peak season for visiting Kunming. If you are planning to visit Kunming in November, see our Kunming tours or have us tailor-make a tour to Kunming for you. See our Kunming Tours.
Kunming Average Daily Temperatures Based on Historical Data
Date
Average High
Average Low
November 1
65 °F
18.33 °C
48 °F
8.89 °C
November 2
65 °F
18.33 °C
48 °F
8.89 °C
November 3
65 °F
18.33 °C
47 °F
8.33 °C
November 4
65 °F
18.33 °C
47 °F
8.33 °C
November 5
64 °F
17.78 °C
47 °F
8.33 °C
November 6
64 °F
17.78 °C
47 °F
8.33 °C
November 7
64 °F
17.78 °C
46 °F
7.78 °C
November 8
64 °F
17.78 °C
46 °F
7.78 °C
November 9
64 °F
17.78 °C
46 °F
7.78 °C
November 10
64 °F
17.78 °C
45 °F
7.22 °C
November 11
63 °F
17.22 °C
45 °F
7.22 °C
November 12
63 °F
17.22 °C
45 °F
7.22 °C
November 13
63 °F
17.22 °C
45 °F
7.22 °C
November 14
63 °F
17.22 °C
44 °F
6.67 °C
November 15
63 °F
17.22 °C
44 °F
6.67 °C
November 16
63 °F
17.22 °C
44 °F
6.67 °C
November 17
62 °F
16.67 °C
43 °F
6.11 °C
November 18
62 °F
16.67 °C
43 °F
6.11 °C
November 19
62 °F
16.67 °C
43 °F
6.11 °C
November 20
62 °F
16.67 °C
43 °F
6.11 °C
November 21
62 °F
16.67 °C
42 °F
5.56 °C
November 22
62 °F
16.67 °C
42 °F
5.56 °C
November 23
61 °F
16.11 °C
42 °F
5.56 °C
November 24
61 °F
16.11 °C
42 °F
5.56 °C
November 25
61 °F
16.11 °C
41 °F
5 °C
November 26
61 °F
16.11 °C
41 °F
5 °C
November 27
61 °F
16.11 °C
41 °F
5 °C
November 28
61 °F
16.11 °C
40 °F
4.44 °C
November 29
61 °F
16.11 °C
40 °F
4.44 °C
November 30
60 °F
15.56 °C
40 °F
4.44 °C
Kunming Climate Information by Month

China Highlights
Kunming Travel Guide