Taipei Transport
Taipei City is a large and wealthy city on the northern coast of Taiwan, and its transportation system is modern. Taipei City is composed of three municipalities called Keelung, New Taipei, and Taipei that each have their own governmental administration. So the city of Taipei is actually a megalopolis of about 7 million people. This article details greater Taipei's transportation system.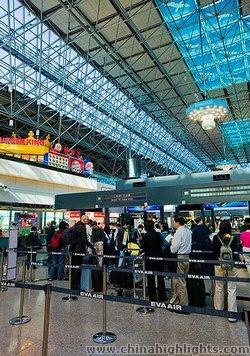 Taipei Taoyuan Airport
International Flights — Taoyuan Airport
Taipei is served by a large modern airport called Taipei Taoyuan International Airport that is about 35 kilometers west of the Taipei Xinyi central business district. It is one of the world's top 20 busiest airports, and there are flights to cities all over the world and to dozens of cities in China.
Transport From the Taoyuan Airport to Taipei
MRT train: A MRT mass rapid transit station is scheduled to open at the airport in 2013. The planned route will start from Terminal II and end in Taipei City. It's designed operational speed is about 100 km/h (62 mph), so it will cover the distance in about an hour or less depending on the number of stops.
Taxi: Taxis are a quick way to travel from the airport, and there will probably be no problems with scamming or crime, but it is advised that female passengers don't take a taxi alone at night. Make sure that they don't charge you the night-time rate (about 20 NTD higher) for driving before 11 pm or after 6 am.
Taxis wait outside the arrivals hall all day and all night. They take about 45 minutes to reach the city center (1,300 NTD, 44 USD).
Airport Bus: There are several bus companies that offer shuttle buses to Taipei City. Each of the two terminals has a bus lounge and have adequate English signage. You'll find tickets desks in the bus lounges.
The buses run from the early morning (about 4:40 am) to late at night (about 1 am). Tickets for the buses run about 140 NTD (5 USD) for adults, and 70 NTD for children.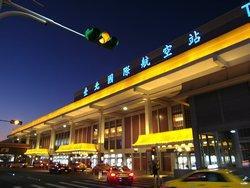 Taipei International Aviation Building
Taiwan and China Flights — Songshan Airport
The Taipei Songshan Airport handles mainly domestic flights to other cities in Taiwan and also flights to China.
Currently, there are cross-Straits flights to Shanghai, Nanning, Wenzhou, Chongqing, Fuzhou, Hefei, Xiamen and other Chinese cities.
There are scheduled flights also to Haneda International Airport near Tokyo.
Travel From the Airport to Taipei
This small airport is actually inside Taipei near the center of the city, so this makes travel to Taipei convenient. If you are travelling from China, this airport may be preferred over Taoyuan Airport.
MRT train: There is a MRT metro train station of the Neihu Line at the airport.
Inner City Travel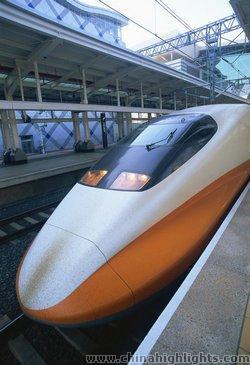 Taipei High-Speed Railway Train
MRT Metro
Taipei City has an extensive metro system called the MRT. There are currently 10 lines. One of the lines called the Muzha line that goes to Taipei Zoo is on elevated tracks.
The trains begin at about 6 am and the last trains on the lines depart at about midnight, and the fare runs between about 20 (2.50 USD) and about 65 NTD for a one way trip in the city. The MRT system is considered safe, and the stations are well monitored.
English: Stations and trains are clearly identified in English. All stops are announced in four languages: Mandarin, Taiwanese, Hakka and English.
Urban Bus
Taipei City has an efficient bus service. All buses display information (destination and the names of stops) in English, so non-Chinese speaking tourists find bus travel to be convenient. Prices are low. An average ticket costs 15 NTD (50 US cents, 3 RMB).
Taxi
Taxis are numerous, and they are the most flexible way to get around, and taking a taxi in Taipei is relatively less expensive than in most of the world.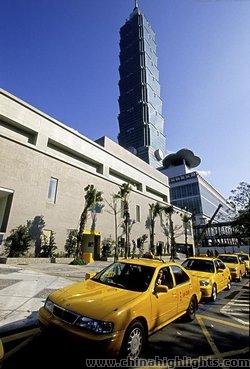 Taxis in Taipei City
However, most taxi drivers cannot speak English, so it is necessary for tourists to have their destination address written down in Chinese to show them, or to have a map handy so that they can point out where they want to go.
Rates: Taxis are metered, so make sure they switch the meter on. The first 1.25 kilometers is charged 70 NTD (2.3 USD), and each additional quarter of a kilometer is charged 5 NTD (.17 USD). An additional 20 NTD is charged for night driving. Tipping is neither necessary nor expected.
Taxi safety: It is advisable for women to be careful about catching a taxi at night alone. If necessary, call one of the bigger taxi companies or go with a friend.
Bicycle
There are bike paths through parks and along most rivers in the city. So taking a bike around for short distances or for touring is in an option. It is permissible to ride on the sidewalks.
Car Rental
It is suggested that foreign tourists not rent a car for driving in Taipei due to the heavy and sometimes chaotic traffic and lack of parking spaces unless they have a lot of experience driving in Taiwan.
However, renting a car to travel in the countryside or between cities by driving along the highways makes more sense and is safer.
An international driver's license is required for driving in Taiwan. These may be used for 30 days. After 30 days, a local driving permit is required.
Additional Transportation Information
Read about Taiwan Transportation, and let us help you plan your trip to Taipei. See our Taipei tour planner.

China Highlights
Planning a trip? Ask us here 800-2682918 (USA & CA)
86-773-2831999 (Int'l)
Q:
Linda Chang
Asked on 2013-11-25
Reply
How to go to Yushan & Yangming Mountain? How long is the journey from Taipei city & how much?
Q:
We We Family
Asked on 2013-10-10
Reply
Is there any TPE airport shuttle bus services to Via Hotel in Ximending?
Yes, there are airport shuttle bus services to Hotel in Ximending, you can buy the bus tickets easliy
Lily Guo Replied on 2013-10-11
Q:
leon
Asked on 2013-08-21
Reply
Hi,we would like to go from Taoyuan Airport to 台北市士林區前港街38-1號 . what is the public transport (bus or MRT) we should take ? the duration and charges ?Thank you
Hi leon, all the transport information about Taipei we have can be found here:http://www.chinahighlights.com/taiwan/taipei-transport.htm
Simon Huang Replied on 2013-08-22
Q:
Melody
Asked on 2013-01-22
Reply
We will be in Taiwan between 3/19 to 4/7, we would like to have the tour in Taiwn info.between 4 to 6 days on each indu. one.3/19 we arriving Taiyuan airport in the early afternoon. Is all the MRT metro & bus to Taipei run offten?Thank you.Melody
Hi Melody, the bus and metro run from 06:00am to 00:10am, the next day. We have 4-Day Essence of Taipei City Without Hotels: http://www.chinahighlights.com/tour/taiwantour/tw-01/ If you are interested in it, please feel free to contact me.

Whitney Liao Replied on 2013-01-23
Q:
kung han
Asked on 2013-01-14
Reply
hi, i have bought a air ticket travel on Jun''13, wat economic transport adviseable from taipei airport to tai chung ? how much?
Hi Kung, you can take airport shuttle bus to Taichung directly. It takes 1-2hrs. The price is about NT260.
Whitney Liao Replied on 2013-01-16