Xi'an Weather in April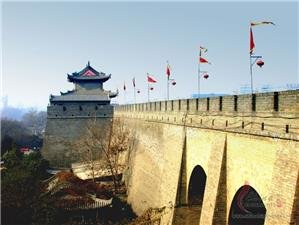 City Wall of Xi'an
Weather: April is a cool month. The average temperature in Xi'an is a cool 15 °C (59 °F), but it is warm enough during the day to be comfortable at outdoor attractions. Though it warms up, it actually rains only a little. Xi'an has a dry climate.
Clothing: A shirt with a thin coat is enough for the beginning of the month. The weather is usually warm at the end of this month, and generally, a shirt will feel comfortable during the day.
Things to Do
April is the best month to see flowers in Xi'an, and the comfortable weather helps to make it one of the best months to travel to the city. Qianlong Temple and the gardens around the Big Wild Goose Pagoda are two nice places to go to see flowers in the city.
See the cherry blossoms at Qianlong Temple: This is a favorite attraction of Japanese tourists in China. They come to see the cherry trees around the historic temple that played a key role in Japanese Buddhism. The temple is about 3 kilometers away from the Bell Tower and the Drum Tower and can be visited during a tour of these central attractions.
Big Wild Goose Pagoda: This ancient pagoda is one of the main architectural attractions of Xi'an. There are garden areas such as the Xian Botanical Garden to enjoy, and there is a sound and light show of the musical fountains at night.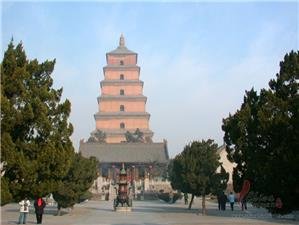 Big Wild Goose Pagoda
The sounds, lights and motion of the fountains are artistically combined. Seeing these outdoor displays and watching the Tang Dynasty Show and having dinner are a good way to spend an evening in the area.
Buy herbs at the Xi'an Herb Market: The herb market features delightful and healthful herbs sold at low prices compared to what you'd find back home. Herbs such as ginseng, goji berries, and hawthorn berries are Chinese products that can help make your trip more delightful, tasty, and healthful as well. The herb market is on Wanshou Road on the way to Emperor Qin Shi Huangdi's mausoleum and the Terracotta Warriors.
Travel: In April, room rates and prices are lower than normal and the city is free of large crowds of tourists. It is one of the best months to travel to Xian. Let us help you book flights and trains.
Xi'an Tours
See the best of Xi'an with our Xi'an tours. Our tours are developed through years of experience and customer feedback, reasonably priced, and can be customized to your requirements.
Let us help you plan a personalized Xi'an tour. If you are interested in touring the ancient capital including any of these places or just want to book reservations for hotels, contact us.
Further Reading
Xi'an Climate Information by Month
Questions and Answers About Xi'an Weather in April
April Offer $25 Coupon
Send your inquiry before Apr. 30, 2014, and we will email you a $25 coupon.
The coupon is valid till Dec. 31, 2014, for paying tour packages worth $250 or up.
The coupon cannot be used for paying flight tickets, train tickets, hotel rooms and day trips.
Travel Advice or Question? Ask us here
You might like

The Most Popular Night Markets in Xi'an

China Highlights
Xi'an Travel Guide