Xi'an Weather in May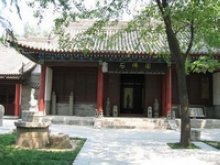 It is hot. Summer clothes are recommended with an extra layer for evenings.
May marks the peak travel season, and the city sees more and more travelers as the months go on. Planning to visit Xian in May? See China Highlights' Xian tours.
Xi'an Climate Information by Month

China Highlights
Planning a trip? Ask us here 800-2682918 (USA & CA)
86-773-2831999 (Int'l)
Q:
Angela
Asked on 2012-12-05
Reply
Hi, i am planning a visit to Xian.May i check if Sofitel located @319 Dong Xin StreetShaanxi or Xian Garden located @No.40 Yanyin Road, Yanta District, Xiana better option? I am planning to visit Beiyuanmen, Drum Tower, Qing Long Si,Xian Botanical GArden etc. Which will be a more convenient area..?
Hi Angela, Yes, Sofitel is located at No.19, Dongxin Street-just in the city center and Xian Garden is located at No.40, Yanyin Road,Yanta District-near Big Wild Goose Pagoda. The feedbacks of the two hotels are very good. However, the feedback on Sofitel is better than Xian Garden according to the former customers. You can visit Trip Advisor to check what other customers say about the two hotels.
Whitney Liao Replied on 2012-12-06
Q:
test
Asked on 2012-06-15
Reply
trage temperature will be around 12ºC-26 ºC (55 ºF -79 ºF). It's suggested you take some simple coats and long-sleeved T-shirts with you. If you are going to visit the Great Wall and the Forbidden City, it's highly suggested you take your walking boots with you. estddddddddddddddddddddddddddd
Q:
Vincent
Asked on 2012-05-23
Reply
Hi I''m planning to visit Xi An 18th of June. What is the average temperature for day and night time?
Thank you for your enquiry. According the former data,the average temperature is between to 30℃ to 38℃(86℉-100.4℉)in June.Xi''an is typically scorching with strong sunshine at noon. Visitors should avoid going to outdoor sights at noon, such as the Ancient City Wall, and visit indoor sights instead, such as Shaanxi History Museum. Bring sunglasses, sunscreen and hats, eat more fruits and vegetables, and drink plenty of water when going sightseeing. Cool mountains around the city such as Huashan Mountain are very popular among travelers for escaping the heat. If you need any tour service in Xi''an. please feel free to let me know. wish you have a nice day Lily Guo Replied on 2012-05-24
Q:
sarojamma
Asked on 2012-05-13
Reply
i am a vegetarian and do not take even egg, what type of vegetarian food available in Xian
Dear sarojamma, You can have a taste of Xi'an noodles, such as Biang Biang Mian and cold noodles, which are the typical cooked wheaten food in Xi'an. You can get more information about the food in Xi'an from the website http://www.chinahighlights.com/xian/food-restaurant.htm Hope it helps. Candice Song Replied on 2012-05-14
Q:
sangita
Asked on 2012-04-27
Reply
I plan to visit bejingon26,27,28 may and xiang 29, 30;31 may and 1,2,3,junein shangia. Can u let me know how the weather will be during these days.Thanks
Xi'an Travel Guide