Xi'an Weather in May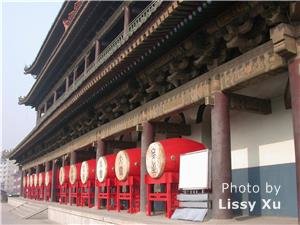 Bell and Drum Tower
Weather: May can be hot, but it is a good month to travel to Xi'an if you want to beat the even hotter "Xi'an furnace city" months of summer and early fall. The average temperature in Xi'an in May is a cool 15 °C (59 °F), but it is warm enough during the day to be comfortable at outdoor attractions. Though it warms up, it actually rains only a little. Xi'an has a dry climate.
Clothing: A shirt with a thin coat is enough for the beginning of the month. The weather is usually consistently warm by the end of this month, and generally, a shirt will feel comfortable during the day.
Things to Do
It is time to go out and enjoy yourself outdoors and at the night markets.
Walk or ride bicycles on the top of the Xi'an Ancient City Wall: If it isn't raining, May is a fine month to see the sights as you go along the top of the massive brick wall that was built during the Ming Dynasty (1368–1644). You can rent bikes. Make sure to bring water, especially on hot days.
Shop and eat at the North Gate Night Market: This night market is located near the Bell Tower and Drum Tower plaza. So you can see these major attractions, and also try a variety of regional cuisines such as Hui Muslim food and various regional foods and desserts. The Hui barbeques and Lanzhou handmade noodles are recommended.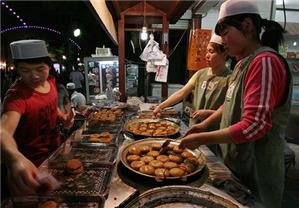 Muslim Street
See and hike the Hongshi Gorge: If you want to go on an outdoors excursion, this valley about 240 kilometers from Xi'an is known as one of China's natural wonders.
It is a group of waterfalls, rapids and falling streams, and paths wind around there that you can walk along. The gorge features red sandstone cliffs and rock formations. We can help you plan a personalized Xi'an tour including this excursion.
Peak travel month: The last few days of April marks the beginning of the high travel season in Xi'an that extends to the end of October. The three-day May Day national holidays and the arrival of tour groups makes room rates and prices for tickets higher than normal. We can help you book flights and trains.
China Highlights Tours
See the best of Xi'an with our Xi'an tours. Our tours are developed through years of experience and customer feedback, reasonably priced, and can be customized to your requirements. If you are interested in touring the ancient capital including any of these places or just want to book reservations for hotels, contact us.
Further Reading
Xi'an Climate Information by Month
Questions and Answers About Xi'an Weather in May
test
2012-06-15
Show Answer
trage temperature will be around 12ºC-26 ºC (55 ºF -79 ºF). It's suggested you take some simple coats and long-sleeved T-shirts with you. If you are going to visit the Great Wall and the Forbidden City, it's highly suggested you take your walking boots with you. estddddddddddddddddddddddddddd
Vincent
2012-05-23
Show Answer
Hi I''m planning to visit Xi An 18th of June. What is the average temperature for day and night time?
Thank you for your enquiry. According the former data,the average temperature is between to 30℃ to 38℃(86℉-100.4℉)in June.Xi'an is typically scorching with strong sunshine at noon. Visitors should avoid going to outdoor sights at noon, such as the Ancient City Wall, and visit indoor sights instead, such as Shaanxi History Museum. Bring sunglasses, sunscreen and hats, eat more fruits and vegetables, and drink plenty of water when going sightseeing. Cool mountains around the city such as Huashan Mountain are very popular among travelers for escaping the heat. If you need any tour service in Xi'an. please feel free to let me know. wish you have a nice day Lily Guo replied on 2012-05-24
sarojamma
2012-05-13
Show Answer
i am a vegetarian and do not take even egg, what type of vegetarian food available in Xian
Dear sarojamma, You can have a taste of Xi'an noodles, such as Biang Biang Mian and cold noodles, which are the typical cooked wheaten food in Xi'an. You can get more information about the food in Xi'an from the website http://www.chinahighlights.com/xian/food-restaurant.htm Hope it helps. Candice Song replied on 2012-05-14
sangita
2012-04-27
Show Answer
I plan to visit bejingon26,27,28 may and xiang 29, 30;31 may and 1,2,3,junein shangia. Can u let me know how the weather will be during these days.Thanks
Loree
2012-01-12
Show Answer
I will be in Bejing from May 21-23, Xian from May 23-24, Yangtze River May 24-27, Shanghai from May 27-29. What will the weather be like in each location and what type of clothing will be best? Thank you.
Hi Loree, From our usual experience the weather is fine for tour in May in China. It is warm and begins to be hot. A T-shirt is enough to cope with the weather. If you need, we can arrange a Beijing-Xian-Yangtze River-Shanghai tour for you. Regards, Coco Coco Yang replied on 2012-01-14
April Offer $25 Coupon
Send your inquiry before Apr. 30, 2014, and we will email you a $25 coupon.
The coupon is valid till Dec. 31, 2014, for paying tour packages worth $250 or up.
The coupon cannot be used for paying flight tickets, train tickets, hotel rooms and day trips.
Travel Advice or Question? Ask us here
You might like

The Most Popular Night Markets in Xi'an

China Highlights
Xi'an Travel Guide