Xi'an Weather in August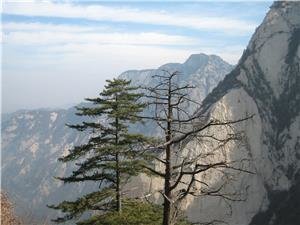 Huashan Mountain
Weather: The city is cooler than in July generally, but the "Xi'an furnace city" season is in full swing. The temperature occasionally exceeds 38 °C (100 °F). It is particularly uncomfortable and muggy because the average humidity is 75 percent. There is about 71 mm of rain each August. It rains about 9 days each August and cools down after the rains.
Having cool transport, restaurants, and hotels provides welcome relief. Tour Xi'an with China Highlights, and we'll keep you cool, doing our best to ensure that you have a comfortable experience in China despite the heat. See below.
Clothing: You'll need summer clothing. Make sure you drink plenty of water and protect yourself from the sun to avoid getting heat stroke. Carry some water with you too.
Things to Do
Explore Cuihua Mountain National Park: You can cool off under the trees strolling along under the granite cliffs for a nice summer hike. The national park is somewhat reminiscent of Yosemite, but it is smaller. There is also a cable car to ride to see the site.
The scenic area is 20 kilometers (12 miles) from downtown Xian and covers an area of 32 square kilometers (12 square miles). The highest peak is 2,600 meters tall (a cool 8,540 feet). It is a national geopark and is rated a Grade AAAA scenic spot in China.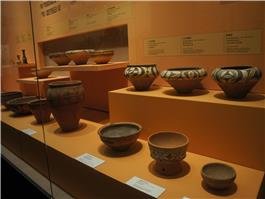 Shaanxi History Museum
Go to the cool Shaanxi History Museum: On hot days it's a place to keep cool. The large national museum is dedicated to the history of Xi'an, the capital city of many old dynasties and kingdoms. It is considered one of the best museums in the country.
You'll need more than two hours to get a good look at the large array of artifacts. There are precious porcelain pieces of outstanding beauty, and it is a good place to learn about China. Entrance is free, so you might find it crowded. It is next to the Big Wild Goose Pagoda.
August is a peak travel month. Hotel rooms, flights and train tickets are in high demand, and the first two higher in price. The favorite sights, such as the museum of the Terracotta Army, are crowded.
China Highlights Xi'an Tours
Book your tour in advance if you plan to travel. We'll arrange the tickets and do our best to ensure that you have a cool and comfortable experience.
See the best of Xi'an with our Xi'an tours. Our tours are developed through years of experience and customer feedback, reasonably priced, and can be customized to your requirements. Let us help you plan a personalized Xi'an tour. If you are interested in touring the ancient capital including any of these places or just want to book reservations for hotels, contact us.
Further Reading
Xi'an Climate Information by Month
Questions and Answers About Xi'an Weather in August
Lorraine
2011-07-06
Show Answer
What clothing should I wear in Xian in Augest
Hi Lorrain Xi'an is very hot in August, around 30 centigrade, short t-shirt and jeans will be ok. William Huo Travel Advisor William replied on 2011-07-06
April Offer $25 Coupon
Send your inquiry before Apr. 30, 2014, and we will email you a $25 coupon.
The coupon is valid till Dec. 31, 2014, for paying tour packages worth $250 or up.
The coupon cannot be used for paying flight tickets, train tickets, hotel rooms and day trips.
Travel Advice or Question? Ask us here
You might like

The Most Popular Night Markets in Xi'an

China Highlights
Xi'an Travel Guide