Xi'an Weather in February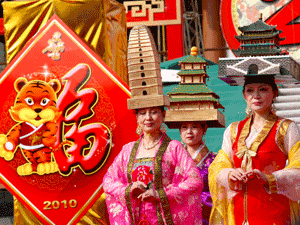 Traditional performance in a New Year temple fair in Xian.
The weather is chilly, but warmer than January. It may snow a little. The daytime temperature is around 5C° ( 41F). Temperature can plummet to 3C° below zero (27F) at night.
Warm clothes such as a sweater, a overcoat and gloves are essential.
The Chinese New Year may takes place in early Februay or late January. A lot of cultural activites are arranged in streets during the festival. This is the best time of the year to experience Chinese culture. However, the New Year period is the busiest travel time, and flights and train tickets are hard to get. If you time your visit to coincide with the festival, you need to book in avance. See Chinese New Year travel tips.
February is in the low travel season. Substantial discounts on hotel rooms and flights can be easily found. Planning to visit Xi'an in February? See China Highlights' Xian tours.
Xi'an Climate Information by Month

China Highlights
Planning a trip? Ask us here 800-2682918 (USA & CA)
86-773-2831999 (Int'l)
Q:
Ginette
Asked on 2012-11-07
Reply
I am visiting China in January is there any chance of doing a Yangtze River cruise between 20th Jan2013 - 1 Feb 2013? Would really like to see the Three Gorges Dam also.
Hi, this is Carol at China highlights. Between Jan 20 and Feb there are 3 cruise dates. They are Jan 24 Victoria Selina cruise (US$419/p.p), Jan 25 Century Diamond cruise (US$379/p.p) and Jan 31(US$419/p.p). All the cruise ship will go through Three Gorge dam lock and offer an excursion to Three Gorge Dam sight. I received your inquiry about China tours, besides Yangtze River cruise. I will send you e-mail about it soon. By the way January is coldest month in China. Winter clothes are needed during the trip. Carol Wang Replied on 2012-11-08
Q:
Doris Lee
Asked on 2012-08-30
Reply
Hi, planning a trip to Xian this coming Chinese New Year 2013, will the tourist place be crowded with China local tourist ?
Hi Doris, yes, there will be people everywhere, too crowded for you to enjoy the trip. You will have to stay in line for a long time to get the tickets. And the trafic is also more than heavy. If you wish to travel to China, please avoid this kind of holidays.
Whitney Liao Replied on 2012-08-31
Q:
Shelly
Asked on 2010-11-23
Reply
what is the average weather in Feb like in Xian and are there tours to the terra-cotta warriors every day?
Hi, The temprature in Feb is about 10℃. Mostly sunny days. I suggest you wear warm clothes. We have some Private Tour Packages, Please click the link below and see: http://www.chinahighlights.com/xian/tours.htm Thanks again for visiting our website. Have a nice day. Kevin Ma Kevin Ma Replied on 2010-11-23
Xi'an Travel Guide