Xi'an Weather in February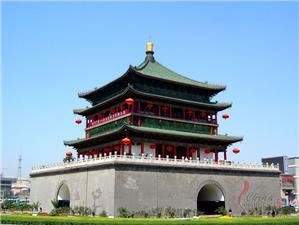 the Bell Tower in Xi'an
Weather: February is a cold month, but it is warmer than January. The daytime temperature is around 5 °C (41 °F). The temperature can drop down to minus 3 °C (27 °F) in the middle of the night.
It snows occasionally, and there may be ice on the roads after a heavy snow. So be careful if you are driving in the hills. The dry weather and the surrounding mountains make air pollution a serious problem. Most buildings have central heating, so you can enjoy your time in Xi'an inside.
Clothing: You need to prepare warm clothes such as a down coat, gloves and a hat to keep warm.
Things to Do
February is a good time to stay indoors in Xi'an unless it is Chinese New Year. In that case, go out and see the fireworks and celebrations at the Bell Tower.
Celebrate Chinese New Year: This is the most important Chinese holiday, and the Spring Festival public holidays covers a two week vacation for many people. Chinese New Year usually falls in early or mid February, though for a third of the years it's in late January. For tourists, the holidays provide a chance to have fun with fireworks, try holiday food, buy tourist souvenirs and experience a local custom firsthand in the historic city. See our Chinese New Year Travel Tips.
Chinese New Year fireworks at the Bell Tower: This ancient looking construction is the site for an annual Chinese New Year fireworks you can go out to see. They explode over the plaza from several directions. Though the weather might be frigid, the fireworks and scenery is memorable.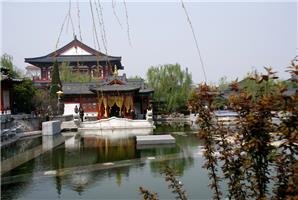 Huaqing Hot Spring
Inside with the Terracotta Warriors: These gritty old warriors stay warm and dry inside their temperature-controlled enclosure, and you can too. The museum and the excavation site is quite big, and you can spend hours touring the museum and viewing the fascinating details of their countenances. It is considered one of the great archeological sites of the world, and it's the highlight of many tourists' trip to China.
Get natural heat at the Huaqing Hot Springs: En route to the Terracotta Warriors from the city of Xi'an is a famous hot springs that supposedly played a part in the downfall of the whole Tang Empire (618–907).
This is a warm place to stop in for some vapory warmth and enjoy the 3D audio and visual presentation.
Travel: If the Chinese New Year falls in February, then it is the busiest travel time in China. Book flights and trains well ahead of departure.
Low Season: Otherwise, February is a low travel month. Room rates and prices are lower than normal and the city is free of large crowds of tourists.
China Highlights Tours
See the best of Xi'an with our Xi'an tours. Our tours are developed through years of experience and customer feedback, reasonably priced, and can be customized to your requirements.
Let us help you plan a personalized Xi'an tour. If you are interested in touring the region including any of these places or just want to book reservations for hotels, contact us.
Further Reading
Xi'an Climate Information by Month
Questions and Answers About Xi'an Weather in February
Ginette
2012-11-07
Show Answer
I am visiting China in January is there any chance of doing a Yangtze River cruise between 20th Jan2013 - 1 Feb 2013? Would really like to see the Three Gorges Dam also.
Hi, this is Carol at China highlights. Between Jan 20 and Feb there are 3 cruise dates. They are Jan 24 Victoria Selina cruise (US$419/p.p), Jan 25 Century Diamond cruise (US$379/p.p) and Jan 31(US$419/p.p). All the cruise ship will go through Three Gorge dam lock and offer an excursion to Three Gorge Dam sight. I received your inquiry about China tours, besides Yangtze River cruise. I will send you e-mail about it soon. By the way January is coldest month in China. Winter clothes are needed during the trip. Carol Wang replied on 2012-11-08
Doris Lee
2012-08-30
Show Answer
Hi, planning a trip to Xian this coming Chinese New Year 2013, will the tourist place be crowded with China local tourist ?
Hi Doris, yes, there will be people everywhere, too crowded for you to enjoy the trip. You will have to stay in line for a long time to get the tickets. And the trafic is also more than heavy. If you wish to travel to China, please avoid this kind of holidays.
Whitney Liao replied on 2012-08-31
Shelly
2010-11-23
Show Answer
what is the average weather in Feb like in Xian and are there tours to the terra-cotta warriors every day?
Hi, The temprature in Feb is about 10℃. Mostly sunny days. I suggest you wear warm clothes. We have some Private Tour Packages, Please click the link below and see: http://www.chinahighlights.com/xian/tours.htm Thanks again for visiting our website. Have a nice day. Kevin Ma Kevin Ma replied on 2010-11-23
April Offer $25 Coupon
Send your inquiry before Apr. 30, 2014, and we will email you a $25 coupon.
The coupon is valid till Dec. 31, 2014, for paying tour packages worth $250 or up.
The coupon cannot be used for paying flight tickets, train tickets, hotel rooms and day trips.
Travel Advice or Question? Ask us here
You might like

The Most Popular Night Markets in Xi'an

China Highlights
Xi'an Travel Guide