Xi'an Weather in November
Qianling Mausoleum
Weather: It is cold in November. The average daily high is only 12 °C (54 °F), and there is a big temperature drop between daytime and nighttime. At night it drops down to a chilly 3 °C (37 °F). It often starts to snow in November, and it will snow occasionally until about February or March. Though it is cold, it is actually very dry so this makes it more comfortable. November is one of the driest months. There is only about 6 days of rain or snow a month, and the precipitation is about 24 mm each November. The average humidity is 74 percent. In the winter, Xi'an has a big dust and smog problem.
Clothing: You'll need to bring warm winter clothing. Many people put on dusk masks during smoggy days, and these might prove useful for you too.
Things to Do
Qianling Mausoleum: This mausoleum is on Liang Mountain (Liang Shan) about 80 kilometers from Xi'an. It is one of the major attractions around the city. However, it is off the usual path for tour groups, and many people enjoy the scenery and even the trip there for that reason. The route to the mausoleum is along rural roads. This will give you a chance to see a typical Chinese countryside.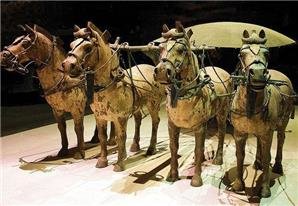 Terracotta Army
See the Terracotta Warriors: This is considered one of the great archeological sites of the world and a must see in the Xi'an region. The museum and the excavation site is quite big, and you can spend hours touring the museum and viewing the fascinating details of their countenances and the excavated artifacts.
It is Xi'an's top attraction, and it's the highlight of many tourists' trip to China. Let us help you schedule a tour of this great site. Our 2-Day Xi'an Terracotta Warriors Tour is our best-selling Xi'an tour. It combines the must-see Terracotta Warriors with some of Xian's essential attractions in 2 days.
November is a low travel month.
The city is less crowded. Good discounts on hotel rooms and flights are easy to get. It will save you a lot of money to travel in low season. Let our Xi'an travel experts help you book your hotel rooms, flights and train tickets.
China Highlights Tours
We can help you see the best of Xi'an. Our tours are developed through years of experience and customer feedback, reasonably priced, and can be customized to your requirements.
If you prefer to plan your own itinerary, we offer a personalized Xi'an tour. If you are interested in touring the ancient capital including any of these places or just want to book reservations for hotels, contact us.
Further Reading
Xi'an Climate Information by Month
Questions and Answers About Xi'an Weather in November
Kathy Johnson
2012-12-29
Show Answer
Hi Can you tell me which month is best to visit the Yangtze Gorges? Can you me how I can book a cruise of the Yangtze Gorges? I have previously visited China so I really would just like to fly in but to which place would I fly into to get on a cruise?Many thanks.Kathy
Hi Cathy, from April to November is the best time for taking the Yangtze River Cruise. We can book it for you. When would you like to take it, please? How long will you stay in China? How many people are there in your group? Do you have any cruise ship in your mind? If not, please let me know above the information, then we give you some suggestions. You can fly to Shanghai, Chongqing, Wuhan or Yichang first.
Whitney Liao replied on 2013-01-01
Doris
2012-09-30
Show Answer
Is it too cold to go to Wah San (Mt. Wah) around Nov 5? Will it snow?
Hi Doris, usually it doesn't snow in early November. But it could be very cold. Please prepare thick clothes like sweaters and down jackets. Before you set off, please keep an eye on the weather forecast.
Whitney Liao replied on 2012-10-04
Audrey Soo
2012-09-20
Show Answer
Hi, we are planning to go Xian fom 9-13 Nov then Beijing 14-18 Nov with 3 kids. Any tips and advice? Thanks
I suggest that you should spend one more day in Beijing as there are more to see.

In Xi'an we recommend the following attractions: The Terracotta Warriors and Horses, Shaanxi History Museum, Ancient City Wall, Forest of Stele Museum, Muslim Quarters, Big Wild Goose Pagoda, Shadow Play in the Gao Courtyard. If you like night show, Tang Dynastic musical show are recommended.
In Beijing , we recommend the following places: The Forbidden City, Summer Palace, Lama Temple, Temple of Heaven, Confucian Mansion, The Mutianyu Great Wall, Beijing Ancient Observatory, Beijing Zoo, Hutong Tour in Xicheng District. if you like shopping, you should consider Hongqiao market near Temple of Heaven and Panjiayuan weekend market.
For night show, you can choose Peking opera, Kungfu show and Acrobatic show.
Leon Long replied on 2012-09-21
Thanks. I am thinking of taking a train from Xian to Beijing. I have a choice between taking D132 or Z20 to Beijing. We are traveling in a family of 5 with 2 audlts and 3 children with the youngest child at age of 10. Do you think it is fine for us to book a cabin of soft sleeper in a Z20 train or we should go for the D132 train? Regards guest replied on 2012-09-22
sue
2012-07-02
Show Answer
hi, im going to xian fr. 10 - 18 nov. Any nearby places worth visiting?
Dear Sue, Based on your request, I designed a itinerary as below for you. Please check the proposal details in your email. Day 1 Arrive in Xian, TBA (Your arrangements) Day 2 Sun 11-Nov-12 Big Wild Goose Pagoda, The Terracotta Warriors and Horses, Xi'an Imperial Fine Arts center Day 3 Mon 12-Nov-12 Forest of Stele Museum, Shaanxi History Museum, Xian City Wall with Bicycle, Muslim Quarters Day 4 Tue 13-Nov-12 Cable Car on Mt. Huashan(round way), Mt. Hua Day 5 Wed 14-Nov-12 Huangdi Mausoleum Day 6 Thu 15-Nov-12 Qianling Tomb, Famen Temple, The Tomb of Yangguifei Day 7 Fri 16-Nov-12 Hotel to airport Transfer (Xian) Lily Lee Lily Lee replied on 2012-07-03
April Offer $25 Coupon
Send your inquiry before Apr. 30, 2014, and we will email you a $25 coupon.
The coupon is valid till Dec. 31, 2014, for paying tour packages worth $250 or up.
The coupon cannot be used for paying flight tickets, train tickets, hotel rooms and day trips.
Travel Advice or Question? Ask us here
You might like

The Most Popular Night Markets in Xi'an

China Highlights
Xi'an Travel Guide