Xi'an Weather in October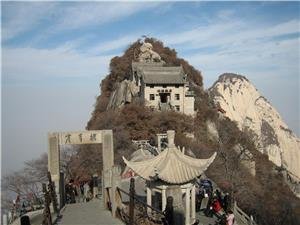 Xi'an Huashan Mountain
Weather: In October, the temperatures drop in Xi'an. The average daily high is only 20 °C (68 °F), and at night it drops down to a chilly 10 °C (50 °F). This is cold enough to feel cold even with a jacket on. The average humidity is 77 percent. It is also one of the rainiest months, and there is about 60 mm of rain each October. It rains about 10 days each October and cools down after the rains.
Clothing: To avoid being wet and cold, you'll need warm clothing such as a jacket and sweater for cool temperatures and rain gear such as an umbrella.
Things to Do
October is the best month to see the autumn colors in the forests around Xi'an. If you are in the mood for some natural scenery and hiking, we can suggest two scenic sites around Xi'an and help you plan your tour.
See Huashan Mountain: And climb up these precipitous peaks on well-worm mountain paths and see the beautiful fall scenery around you. The walk up is strenuous, but the mountains are a favorite local hiking area for the people of Xi'an. Hua Mountain is 120 kilometers east of Xi'an or about three hours from the city center. There are five peaks. The highest are Sunrise Peak (East Peak, 2,100 meters, 6,890 feet) and Landing Wild Goose Peak (South Peak, 2,160 meters, 7,000 feet).
Go up to the Cuihua Mountain National Park: The scenic spot is a lot closer than Huashan. It is only 20 kilometers (12 miles) from downtown Xi'an. You can see the trees in the fall while strolling along under the granite cliffs for a nice autumn hike. The national park is somewhat reminiscent of Yosemite, but it is smaller. There is also a cable car to ride to see the site. The national park covers an area of 32 square kilometers (12 square miles). The highest peak is 2,600 meters tall (8,540 feet). It is a national geopark and is rated a Grade AAAA scenic spot in China.
Happy Mid-Autumn Festival 中秋节快乐
The Mid-Autumn Festival: The annual holiday is the second biggest traditional Chinese festival. The public holiday usually falls in September, but occasionally it is in early October. See traditional outdoor sites and join the festivities in the shopping streets and city parks.
October is a peak travel month.
The travel for the October 1 National Day holidays and the crush during the Mid-Autumn Festival (if it falls in October) add to the crunch.
Hotel rooms, flights and train tickets are in high demand. Let us help you book flights and train tickets. Book your tour in advance if you plan to travel. We'll arrange the tickets and do our best to ensure that you have a great experience.
China Highlights Tours
See the best of Xi'an with our Xi'an tours. Our tours are developed through years of experience and customer feedback, reasonably priced, and can be customized to your requirements.
If you prefer to plan your own itinerary, we offer a personalized Xi'an tour. If you are interested in touring the ancient capital including any of these places or just want to book reservations for hotels, contact us.
Further Reading
Xi'an Climate Information by Month
Questions and Answers About Xi'an Weather in October
April Offer $25 Coupon
Send your inquiry before Apr. 30, 2014, and we will email you a $25 coupon.
The coupon is valid till Dec. 31, 2014, for paying tour packages worth $250 or up.
The coupon cannot be used for paying flight tickets, train tickets, hotel rooms and day trips.
Travel Advice or Question? Ask us here
You might like

The Most Popular Night Markets in Xi'an

China Highlights
Xi'an Travel Guide