Xi'an Weather in December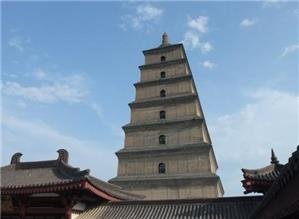 Big Wild Goose Pagoda
Weather: Expect it to be cold and cloudy during the day and freezing at night. The daily high temperature is about 6 °C (42 °F) during the day, and it drops to a frigid low temperature of minus 3 °C (27 °F) at night.
Though it is cold, it is actually very dry. December is the driest month: there are only about three days of rain or snow in the entire month, and the total precipitation is about 3 mm. The average humidity level is 69 percent. Due to the cold and little precipitation, Xi'an has a big dust and smog problem.
Clothing: You'll need to bring warm winter clothing, but it's heated indoors. Many people put on dusk masks during smoggy days, and these might prove useful for you too. Take our Xi'an tours to make your trip warm and comfortable.
Things to Do
There are a variety of things to do including staying warm in the great heated indoor attractions or skiing.
See the Shaanxi History Museum: It's one of the nation's best museums. It's a national museum dedicated to the history of Xi'an, the capital city of many old dynasties and kingdoms. The exhibits range from exhibits from the Bronze Age, to Terracotta Army pieces and artifacts of the Qin Empire, to the Tang Dynasty, and to modern times. You'll need more than two hours to get a good look at the large array of artifacts and displays. It is a good place to learn about China. Entrance is free, so you might find it crowded. It is next to the Big Wild Goose Pagoda, and they can be visited together.
Ski at Cuihuashan Ski Resort: It is reputed to be the best ski resort in the Xi'an area. It is a part of Cuihuashan National Park that has beautiful scenery of rocky cliffs and woodlands. The national park is somewhat reminiscent of Yosemite, but it is smaller. There is also a cable car to ride to see the site. The ski resort is close to Xi'an. It is only 20 kilometers (12 miles) from downtown. It covers an area of 32 square kilometers (12 square miles). The highest peak is 2,600 meters tall (8,540 feet). It is a national geopark and is rated a Grade AAAA scenic spot in China.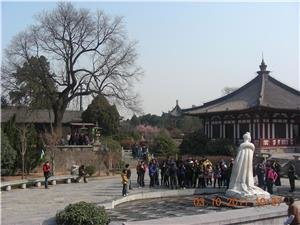 Huaqing Hot Spring
Get natural warmth at the Huaqing Hot Springs: En route to the Terracotta Warriors from the city of Xi'an is a famous hot springs that supposedly played a part in the downfall of the whole Tang Empire (618–907). This is a warm place to stop in for some vapory heat, and enjoy the historical 3D audio and visual presentation at the theater building.
Low Travel Month
In December, there are few tourists in the city, and discounts on hotel rooms and flights are easy to obtain. Let our Xi'an travel experts help find these discounts and book hotel rooms, flights and train tickets.
China Highlights Tours
We can help you see the best of Xi'an. Our Xi'an tours are developed through years of experience and customer feedback, reasonably priced, and can be customized to your requirements.
Further Reading
Xi'an Climate Information by Month
Questions and Answers About Xi'an Weather in December
GG Lim
2013-08-25
Show Answer
Planning to have family trip to Xian on December 2013. Will it be too cold? Worry that my children can not get use to the weather! Will this time is suitable for sight-seeing and outdoor trip at Xian.
Hi GG Lim, most of the important visits will be carried out indoor, like the visits toTerrocota Warriors and History Musuem, so i don't think it be a problem to visit Xi'an. Feel free to let me know if you want me to send you a proposal.
Simon Huang replied on 2013-08-26
Ariel Chang
2011-11-14
Show Answer
how is the weather and temperature in xian from 16 dec to 29 dec?
Dear Ariel, Based on the former data, the temperature will be -3°C to 5°C. It'll be cold. You'd better take down jacket or thick cotton-padded clothes. Here is an useful website for checking the weather before you leave for Xian. Click here: http://www.weather.com.cn/en/weather/101110101.shtml If you have booked a tour, i am glad to arrange it for you. Please feel free to inform me your travel plan. My e-mail address is lussie@chinahighlights.com Lussie Lu replied on 2011-11-15
guest
2010-12-08
Show Answer
How is the weather in Xian between 22nd December until 27th December 2010.
The average temperature in December is 0.9 C. It should be dry. Leon Long replied on 2010-12-09
loh ching sing
2010-10-13
Show Answer
how is the weather in xian between 04-12-2010 to 11-12-2010
December in Xi'an is with winter weather: cold and might be snow. The temperature is about -0.3~-1.3℃. A warm coat and sweater is recommended. Cindy Feng replied on 2010-10-13
April Offer $25 Coupon
Send your inquiry before Apr. 30, 2014, and we will email you a $25 coupon.
The coupon is valid till Dec. 31, 2014, for paying tour packages worth $250 or up.
The coupon cannot be used for paying flight tickets, train tickets, hotel rooms and day trips.
Travel Advice or Question? Ask us here
You might like

The Most Popular Night Markets in Xi'an

China Highlights
Xi'an Travel Guide