Xi'an Weather in March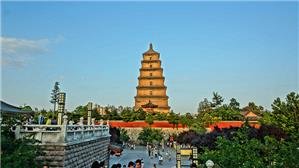 Big Wild Goose Pagoda
Weather: March is a cool month. The average temperature in Xi'an is a cool 14 °C (57 °F). Flowers begin to bloom at the end of the month, and it gets warm enough to go to some outdoor attractions.
Clothing: A jacket or sweater is usually enough for the cool days, and for warm days, a T-shirt will feel comfortable.
Things to Do
See the cherry blossoms at Qianlong Temple: This is a favorite attraction of Japanese tourists in China. They come to see the cherry trees around the historic temple that played a key role in Japanese Buddhism.
The temple is about 3 kilometers away from the Bell Tower and the Drum Tower and can be visited during a tour of these central attractions.
Big Wild Goose Pagoda: This ancient pagoda is one of the main architectural attractions of Xi'an. Around it are some garden areas, and at night there is a sound and light show of the musical fountains.
The sounds, lights and motion of the fountains are artistically combined. Seeing these outdoor displays and watching the Tang Dynasty Show and having dinner are a good way to spend an evening in the area.
Yaozhou Ceramics Kiln Museum: If you are interested in Chinese porcelain, we'll arrange a side trip an hour north of Xi'an to the region's major ceramic center of dynasties past. There are displays of great artwork from various eras in the main museum and displays of the actual excavated kilns themselves.
China Highlights Tours
Let us help you plan a personalized Xi'an tour. If you are interested in touring the ancient capital including any of these places or just want to book reservations for hotels, contact us.
See the best attractions with our Xi'an tours. Our tours are developed through years of experience and customer feedback, reasonably priced, and can be customized to your requirements.
For more ideas see The Best Travel China Destinations in March.
Xi'an Climate Information by Month
Questions and Answers About Xi'an Weather in March
christina tan
2011-01-31
Show Answer
When is the best time to visit Xian?
Xi'an has a temperate and continental monsoon climate, with four distinct seasons. Summer in Xi'an is hot and rainy while winter it is usually cold and dry. Rainy season comes in July, August and September, with showers that come and go quickly. The weather is generally pleasant all year round, but spring and autumn would be the best seasons to visit Xi'an. Nero Hou replied on 2011-01-31
You might like

The Most Popular Night Markets in Xi'an

China Highlights
Xi'an Travel Guide