Hangzhou Weather
Hangzhou has a temperate maritime climate with four distinct seasons. June and September are the rainiest months with 200mm falling in each and rainfall building up in preceding months and sharply tailing off afterwards. Hangzhou is occasionally hit by typhoons in August or September, which account for the second rainy season.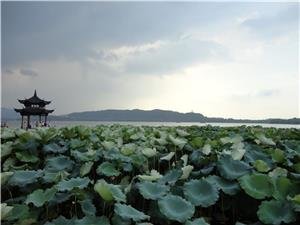 West Lake
The average annual temperature is 16.5 °C (61.7 °F). The city has abundant rainfall. The annual precipitation is 1141 mm (45 inches), and the annual sunshine totals 1765 hours. Hangzhou City is suitable for travel all year round, but the most pleasant and popular time is autumn. Have a look at our Hangzhou Tour Packages and choose your time of travel.
Spring
Spring is from March to May. It is a good time to see the peach blossom on the Su Causeway across West Lake. The weather warms up and becomes humid gradually, but with frequent and sharp changes of temperature and weather condition. Prepare coats and sweaters are enough to cope with the weather, and also long-sleeve shirts for the day when it gets warmer.
Summer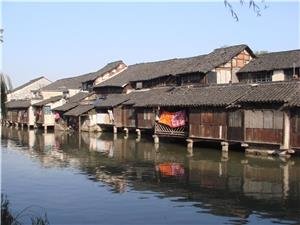 Wuzhen Ancient Water Town
Summer is from June to September. Summer is very hot and humid. From mid-June to mid-July is the period of plum rain month, with continuous drizzling and rainfall. The average temperature is usually well above 34 °C (86 °F), and sometimes the highest temperature reaches up to 40 °C (104 °F). Wear any summer clothes, such as shirts, shorts and skirts. Preparing sunglasses, hats, umbrella, and drinking lots of water is recommended. It is very relaxing to visit the nearby water towns in summer, such as Xitang and Wuzhen. During the Chinese Mid-Autumn Festival around September, the osmanthus blossoms are in full bloom, making the city a fragrant place everywhere.
Autumn
Autumn is from October to November. The pleasant dry and cool weather makes it the best time of the year to visit Hangzhou. The weather changes frequently, but a light sweater, a coat and a shirt are enough to cope with it.
Winter
Winter is from December to February. Winter is cold at just above freezing on average, with heavy humidity, and it snows sometimes. January is the coldest month with the low temperature dropping to -3 °C (26°F). The average low and high temperature is respectively at 2 °C (37 °F) and 11 °C (51 °F) in December, 0 °C (33 °F) and 7 °C (46 °F) in January, and 2 °C (35 °F) and 9 °C (48 °F) in February. Prepare sweater and down jacket for winter.
Popular Tours to Hangzhou
Hangzhou Climate Information by Month
Hangzhou Average Climate by Month
| | Jan | Feb | Mar | Apr | May | Jun | Jul | Aug | Sep | Oct | Nov | Dec |
| --- | --- | --- | --- | --- | --- | --- | --- | --- | --- | --- | --- | --- |
| High (ºC) | 8 | 9 | 14 | 20 | 25 | 29 | 34 | 33 | 28 | 23 | 18 | 11 |
| Low (ºC) | 1 | 2 | 6 | 12 | 17 | 22 | 25 | 25 | 20 | 14 | 9 | 3 |
| Rain (mm) | 66.04 | 91.44 | 116.84 | 129.54 | 162.56 | 203.2 | 132.08 | 154.94 | 180.34 | 73.66 | 58.42 | 50.8 |
| High (ºF) | 46 | 48 | 57 | 68 | 77 | 83 | 92 | 91 | 81 | 73 | 63 | 51 |
| Low (ºF) | 33 | 35 | 42 | 53 | 62 | 70 | 77 | 76 | 68 | 57 | 47 | 37 |
| Rain (in) | 2.6 | 3.6 | 4.6 | 5.1 | 6.4 | 8 | 5.2 | 6.1 | 7.1 | 2.9 | 2.3 | 2 |
Hangzhou Average Monthly Temperatures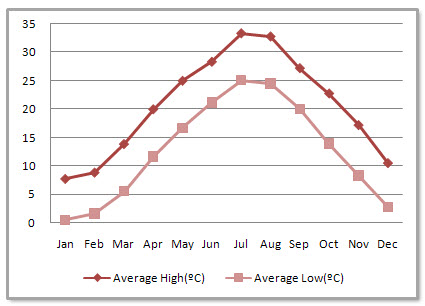 Hangzhou Average Monthly Precipitation (inches)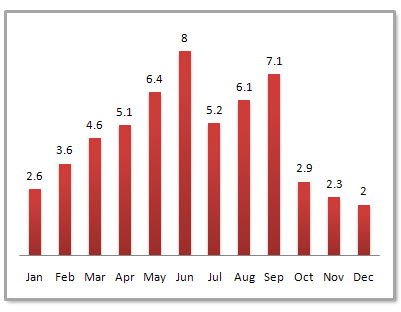 Questions and Answers About Hangzhou Weather
firdaus
2012-11-29
Show Answer
i''m visiting hangzhou this 5 december 12 for two weeks. as u told here it is very cold. i dont have any idea what kind of jacket will be nice for me. is 2 ply of normal sweater will be ok? i never been to cold country.
Dear Sir or Madam, Based on the information from weather forecast, the average temperature will be 5-10℃(41-50℉), it might be rainy, so it'll cold. You'd better take some warm clothes, such cotton padded clothes or down jacket and a sweater. Lussie Lu replied on 2012-11-30
Ali Ahmad
2012-11-14
Show Answer
I''m planning to go to Hangzhou with my family because its a really beautiful city. However we are Muslim and can only eat halal food. Are there halal restaurants readily available in Hangzhou?
Hi Ali, there are lots of halal restaurants in Hangzhou, please check here: http://www.chinahighlights.com/hangzhou/restaurants.htm
Whitney Liao replied on 2012-11-15
Connie
2012-09-21
Show Answer
Hi dear,I just booked the flight to Hangzhou for 29/4 to 6/5/2013, i want to know the weather during this travel date based on the past year condition. We are from the M''sia, so worried can''t stand for too cold weather and elder will go along. what is the best cloth to bring ... Thank for your advice in advance.
Hi Connie,
The weather from 29/4 to 6/5/2013 is quite pleasant, with plentiful sunshine and cool days and nights. The temperatures is 17 °C (62 °F) - 25 °C (77 °F). A long-sleeve skirt and a light coat is enough for these days. It rains sometimes, so umbrella is also needed when going out.
Whitney Liao replied on 2012-09-23
wilianto aulia
2012-06-10
Show Answer
Hi,I''m planning going to hangzhou on 20 - 27 dec. we''re 9 adults + 2 child. I would like to ask about:1. how much the bus cost from airport to Ibis xiasha hotel ?2. how much a car rental for one day tour in hangzhou ?3. how about the cost from hangzhou - suzhou - zhouzuang - shanghai ?Thanks for your cooporation, I am waiting towards for your reply
Dear Wilianto Aulia, I am Cecilia, a trip advisor of China Highlights, thank you for your question. Following are the issues you concern about: 1. You 'd pay CNY800 to rent a car from airport to Ibis xiasha hotel. 2. It is CNY1700 for a car rental one day tour in Hangzhou by 18 seats Toyota including a driver and an English guide. 3. The car rental price to Hangzhou - Suzhou – zhouzhuang - shanghai depends on the days you rent; it is CNY2000 per day including a driver and an English guide. Note: 1.We are not provide car rental separately due to all our drivers can't speak English, so he can't solve the problems during the tour. 2. You can only use the car 8 hours a day, the fee which surpasses the specified time is CNY100 per hour and CNY50 per hour for the guide. By the way, could you please let me know have you fixed the itinerary yet? I am willing to assist the China tour for your all. Feel free to contact me at Cecilia@chinahighlights.net if you need any tour package. Kind regards, Cecilia Cecilia Peng replied on 2012-06-11
Chan Yoon
2012-06-09
Show Answer
Plan a trip to Hangzhou, Suzhou and Shanghai in Nov. looking for a budget trip with some tour and some free and easy time.
Hi, Chan, So how about i recommend some day trip at Hangzhou, Suzhou and Shanghai? Hangzhou Classic Tour --US$198 for two people, the price has coverred the service fee for English speaking guide and van, entrance fee and lunch You will be picked up from your hotel at about 8:30am by your guide. First go to West Lake, the symbol of Hangzhou as well as one of the most beautiful sights in China. Take leisure bicycle around the West Lake is avaiable if you would like. You can feel the picturesque scenery of the West Lake, breathe the fragrant air of the nature and exercise your body as well.After lunch, turn to Lingyin Temple, which is one of the ten most famous ancient Buddhist temples in China. Then step to Peak Flown from Afar. It is 209 meters (about 700 feet) tall, is a pure limestone mountain that is very distinctive from the sandstone mountains around it. After the tour, you'll be transferred to your hotel. Suzhou Classic Highlights --US$216 for two people, the price has coverred the service fee for English speaking guide and van, entrance fee and lunch You will be picked up from your hotel by your guide who will accompany you for your one day tour. Have a full day trip to The Grand Canal, who ranks alongside the Great Wall of China as the country's greatest engineering achievement and it is the longest man-made waterway in world. Pan Gate is an ancient city gate with land and water entrances. The Lingering Garden is an elaborate succession of small gardens. Lingering in the garden you will marvel at its unique architecture and art. Suzhou is also famous for its silk production. In the factory you can see how the silk is processed from the silk worm to the final woven cloth. Then be transferred to your hotel. Classic Tour A shanghai -- US$280 for two people, the price has coverred the service fee for English speaking guide and van, entrance fee and lunch You will be picked up from your hotel by your guide for your one day tour. The tour starts with the Oriental TV Tower, the unmistakable symbol of modern Shanghai. After the lunch, visit the Shanghai Urban Planning Exhibition Hall to know the development of Shanghai. A cruise on Huang River gives you another way to see the Bund. If you are intersted in any of the tour, please information me one week earlier. Karen Karen Yang replied on 2012-06-12
April Offer $25 Coupon
Send your inquiry before Apr. 30, 2014, and we will email you a $25 coupon.
The coupon is valid till Dec. 31, 2014, for paying tour packages worth $250 or up.
The coupon cannot be used for paying flight tickets, train tickets, hotel rooms and day trips.
Travel Advice or Question? Ask us here
You might like

Free Things to Do in and around Hangzhou

China Highlights
Hangzhou Travel Guide