Hangzhou Weather in October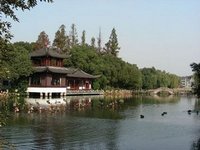 October provides the best combination of mild temperatures and little rain. The average low and high temperatures are, respectively, 14 °C (57 °F) and 23 °C (73 °F). Bring a long-sleeve shirt and a coat or sweater.
Hangzhou Climate Information by Month
You might like

Free Things to Do in and around Hangzhou

China Highlights
Planning a trip? Ask us here 800-2682918 (USA & CA)
86-773-2831999 (Int'l)
Q:
Ricky Chan
Asked on 2012-09-25
Reply
Hi, How the weather in hangzhou during end of october, we are on holiday for one week, and what clothings need to prepare? THANK YOU.
Hi Ricky, the weather at the end of October in Hangzhou is quite comfortable. The temperature is 8℃-18℃. You can wear coats or sweaters. During the early morning and late night, the temperature usually drops several degrees, so please put on extra clothes. If you need any tour service, flights/hotel booking, please feel free to contact me. Wish you a great journey. Whitney Liao Replied on 2012-09-26
Q:
Ray Saragih
Asked on 2010-10-08
Reply
Hi... How is the weather during mid of Oct in Hangzhou? I will be in Hangzhou from 16 Oct to 23 Oct '10. Before travelling I would like to prepare what type of clothings need to borrow. Your reply is highly appreciated. Regards, Ray Saragih
Hello Ray, The temperature in Hangzhou during mid Oct will be just fine, not too hot or cold, it will around 20 census degrees. I think you should take a jacket or sweater with you in case the temperature gets lower during night. Regards Lee Lee Li Replied on 2010-10-09
Q:
Yanny
Asked on 2010-09-16
Reply
Hi, How is the weather during end of Oct to Hangzhou.I will be in Hangzhou from 29/10-2/11/10.I need to know what type of clothings to prepare.Kindly assist.Thank You.
Hi Yanny, The weather at the end of October is quite comfortable. The average temperature is about 8℃ to 18℃ in Hangzhou. You may take your coat and a sweater with you in necessary during night in Hangzhou. If you need any transfer, sightseeing and hotel booking service, please feel free to contact us. Wish you a nice time in Hangzhou. Grace Wang Replied on 2010-09-17
Hangzhou Travel Guide