Hangzhou Weather in January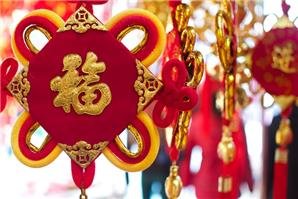 The Chinese New Year decoration: Chinese red knot
Hangzhou is in the peak of a freezing winter during January. The weather is freezing, humid, and windy, with occasional snows. The lowest temperature may drop to zero degrees Celsius (32 °F) or even lower.
Warm clothes are essential such as a down coat, thick trousers, a hat, and gloves, Also, remember to bring an umbrella as it rains a lot during this month.
Travelers to Hangzhou in the winter are probably lucky to see the scenery. Melting snow on Broken Bridge, one of the most famous ten scenes of West Lake, only appears after a snow.
The Chinese New Year may take place in late January or early February. The New Year travel season, around 40 days, begins 25 days before the festival and is the busiest travel time of the year. Travelers are advised to avoid visiting China during this period. However, this is the best time to see authentic Chinese culture, as there are many cultural activities in most cities. If you plan to travel, arrange your tours months in advance. See China Highlights' Hangzhou tours.
Hangzhou Climate Information by Month
Questions and Answers About Hangzhou Weather in January
Maximilian
2010-12-17
Show Answer
I wouldlike to visit Hangzhou for a family trip, of courseto take some photograph, and I'm looking for the best weather there (it won't rain or maybe having a very bad sky color). What month will be the best month to go there.. Thank you..
Hi Maximilian, this is Eva Wang. the best seasons for traveling in Hangzhou are March, April, September and October. Generally speaking, it is rainy in June and July, and typhoon sometime affects Hangzhou tour in August. In fact, you will see the different landscape in the different seasons. For me, I prefer to cruise on the West Lake in rainy seasons, and you can breathe the fresh air and the lake looks peachful with the misty rain. Do you have a plan to visit Hangzhou or other places of China? I am pleased to organize a China tour itinerary for you if you like. You are welcome to contact me at eva@chinahighlights.com evawang replied on 2010-12-18
April Offer $25 Coupon
Send your inquiry before Apr. 30, 2014, and we will email you a $25 coupon.
The coupon is valid till Dec. 31, 2014, for paying tour packages worth $250 or up.
The coupon cannot be used for paying flight tickets, train tickets, hotel rooms and day trips.
Travel Advice or Question? Ask us here
You might like

Free Things to Do in and around Hangzhou

China Highlights
Hangzhou Travel Guide