Harbin Transportation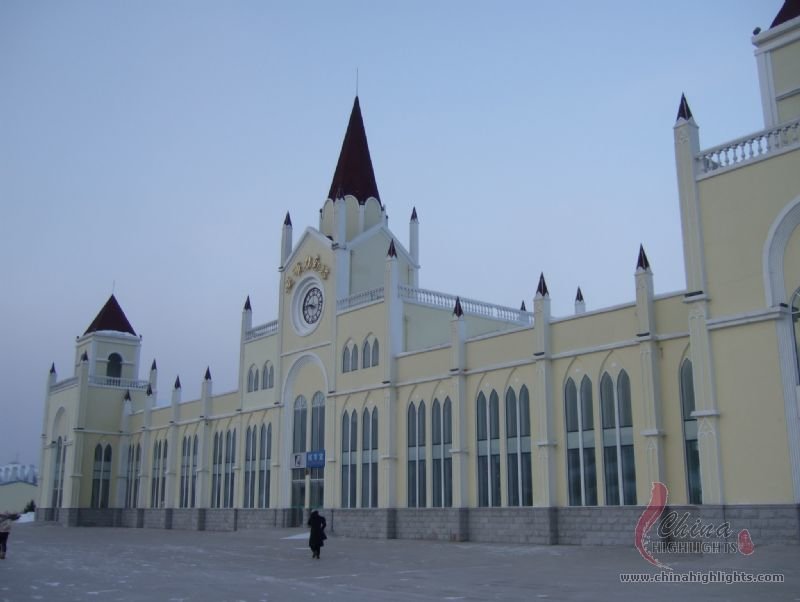 Harbin is in China's northernmost province, bordering Russia and North Korea. Due to its position as a provincial capital and its important geographic location, the government is developing the city's transportation infrastructure to make it a major international transportation and business hub for China, Korea, Russia and Japan.
The city has a central location in Northeast China and has been a transportation hub throughout its history. The city was first built by the Russians to service a railroad route that they built to Vladivostok around the turn of the 20th century. Now, five railways and five major expressways converge in the city.
Harbin is only two hours from Beijng by flight, or eight hours by bullet train. Harbin Taipin International Airport is about 45 minutes' drive from city center. (Search for and book Harbin flights) Overall, you'll find that Harbin's air travel, rail, and highway systems allow for fairly inexpensive, modern and rapid transportation.
Air
The Harbin Peace International Airport (Harbin Taiping Jichang) is about 35 kilometers southwest of the central old sector of Harbin where there are the major tourist highlights. It is the second largest international airport in northeast China.
There are shuttle buses and taxies available from the airport to central Harbin. Airport shuttle buses cost about 20 RMB to ride, and taxis are a little more than 100 RMB. You can go to Harbin from Beijing by train or plane. The airport is about 32 kilometers or about 20 miles from the central Daoli district. A taxi ride from the airport takes about 45 minutes or an hour. The flight between Beijing and Harbin takes less than two hours.
Airline Ticket Office Info:
The Ticket Center of the China Southern Airline Company:
Address: No.6, Minghang Road, Xiangfang District, Harbin City;
Telephone: 0451-84620888.
The Ticket Office of the China Southern Airline Company in the Harbin Airport:
Address: the Harbin Airport;
Telephone: 0451-82894388.
The Globe Airline Service Limited Company:
Address: Huaqi Hotel, No. 301, Red Flag Avenue;
Telephone: 0451-87007070.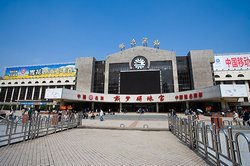 Harbin Railway Station
Railway
As the railway transportation hub in Northeast China, Harbin is easily accessible and connected by train from most major cities in China. Most of the trains between Beijing and Harbin are overnight trains that leave in the afternoon and arrive early the next morning. There is also a bullet train system operating between Harbin and Beijing. Bullet trains leave Beijing for Harbin each day, and the trip takes about 8 hours.
It is very convenient to get to Yabuli Ski Resort from Harbin. Yabuli is only about 3 hours' drive by car from Harbin city center. Every day, there is a special train that runs between Harbin and Yabuli South Train Station, and the journey takes about 3 hours. The train is clean and comfortable. Yabuli South Train Station is only about 10 minutes' walk from the ski resort.
Harbin to Yabuli South: K7011, 07:46 - 10:49
Yabuli South to Harbin: K7012, 16:28 - 19:31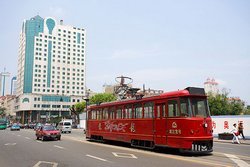 Harbin City Transportation
City Transportation
The public traffic system in Harbin city is well developed, with over 100 bus routes connecting nearly all parts of the city. There are two special tourist routes running pass scenic spots. One departs from Flood Control Monument and ends at Sun Island Scenic Spot. The other passes several tourist spots in city center. Cost for a public bus ticket is 1 or 2 yuan per ticket.
Taxi
There are several types of taxis, and the cost depends on the type you use, but the price difference is small. Usually, the flag down price is 8 or 9 yuan for the first three kilometers, and then no more than 2 yuan for every additional kilometer.
When you travel by taxi, make sure that the driver turn the meter on or that you negotiate and agree on a price beforehand. If you don't, when you arrive, they are likely to charge their own prices. Also, prepare some small bills, because the drivers are reluctant to break a 100 yuan bill, or sometimes you may get fake money for change. In winter, due to the freezing cold outdoors, taxies are in tight demand, so the taxi driver might pick up some other passengers along the way. There is no need to worry about, you simply need to take care of your belongings, or maybe shoot the breeze with them.
From the airport or the train station, it is better to take a taxi that is waiting in the official taxi waiting line to avoid problems.
Waterway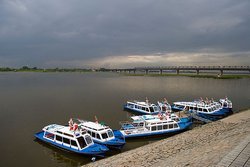 The Boats Floating on Heilongjiang River
To go to Sun Island Park area, Siberian Tiger Park, Ice Lantern Festival and Grand World of Ice and Snow, visitors can take a ferry. There are ferries between Sun Island and the city center area. Every year the operation period of ferries is usually from April 20 till November 10, depending on the river condition. Every day from 5:00 to 17:00, there are 3 ferries go from docks at Jiuzhan (九站), Tongjiang Street (通江街) and Flood Control Monument (防洪纪念塔) to Sun Island. A single ferry ride takes about half an hour.
Transportation from Harbin to Vladivostok
There is one long-distance bus from Harbin (China) to Vladivostok (Russia), which leaves at 07:00 every day. It takes about 12 hours from Harbin to Vladivostok, running at a distances of more than 750 kilometers (470 miles). Tourists need to pay 500 yuan for a ticket, and passports are needed when they get on the bus.
Notes
It may take a long time for the long-distance bus to pass the border between China and Russia, and the bus may sometimes stop for several hours.
There is also one long-distance bus available from Vladivostok (Russia) to Harbin (China), which leaves in the morning.
Travel Tips
In Harbin and the rest of China, when you travel by taxi, make sure that the drivers turn the meter on or that you negotiate about the price beforehand. If you don't, when you arrive, they will charge you their own prices. Also, carry small denomination bills, because you may be handed fake money if you try to get change.
From the airport or the train station, it is better to take a cab that is waiting in the official taxi waiting line to avoid problems.
Related Reading:
For more information on the bullet train network, see:
http://www.chinahighlights.com/news/around-china/bullet-train-problem.htm and http://www.chinahighlights.com/news/around-china/bullet-train.htm

China Highlights
Planning a trip? Ask us here 800-2682918 (USA & CA)
86-773-2831999 (Int'l)
Q:
stacey
Asked on 2013-01-18
Reply
Hi, we are planning a trip to harbin in the coming week and we were wondering how easy it is to get from the airport to our hotel in daoli. is the shuttle bus easy enough to use? And is it easy to find?
Hi Stacey, you can take Airport Shuttle Bus Line 3, get off at Xinyang Rd., then you get to Daoli District. The shuttle bus is available from 6:30 to16:30, every 40mins. It is easy to find.
Whitney Liao Replied on 2013-01-19
Q:
Hilda
Asked on 2013-01-15
Reply
Could you give an approximate cost for a driver and mini van per day. Needs to seat 8 people. Thanks
Hi Hilda, when do you need it and where to go, please? Are there any kids or elderly people in your group?
Whitney Liao Replied on 2013-01-16
Q:
cathy
Asked on 2013-01-02
Reply
Hi,My husband and I will arrive Harbin at 11:30PM flight (night arrival). It is hard to catch a taxi at that hour or would you suggest a pre-arranged airport pickup? Do you have any taxi /driver that you can recommend?We''re also thinking of visiting Snow Village (xuexiang), but prefer to hire a private driver. Can you remmend any? Do you also have any recommendation for Hotel/Stays in xuexiang? Lastly, How often is the flight delay going outbound from Harbin in mid Jan? (if you know). We have another connecting flight to catch and was wondering if the 3.5hr window we left in between would be enough, that is in case if there''s a flight delay.Thank you,Cathy
It is better to book a pre-arranged airport pickup as the taxi driver may overcharge you in the middle night. we can arrange a private driver for you to visit Snow village , can you please let us know your tour date so I can send you a exact quote for driver and hotel there. we suggest that you should leave more time for the flight connection as it is winter and the weather may be not good. Leon Long Replied on 2013-01-04
Q:
Greta
Asked on 2012-12-29
Reply
What is the price for arranging transport from Harbin Airport to Yabuli Club Med? We hv got 3 adults. Pls quote the return price as well, thanks.
The cost for the private transfer from Harbin Airport to Yabuli Club Med is CNY1299 (USD209) per person for a group of 3 adults. The cost is the same for the return transport. On which day would you need the service? What is your arrival and departure flight? Ruby Zhao Replied on 2013-01-01
Q:
Donya
Asked on 2012-12-12
Reply
We are planning to visit Harbin and we will be coming from Beijing. Is the bullet train comfortable and clean? We will be traveling with 2 children. How much is the bullet train fare Beijing-Harbin-beijing? Is it cheaper than flying to harbin?
Hi Donya, yes, the bullet train is clean and comfortable. The price is CNY422(around USD70) for first class seat. It is cheaper than the flight. You can check flight information via here http://www.chinahighlights.com/china-flights/
Whitney Liao Replied on 2012-12-13
Harbin Travel Guide