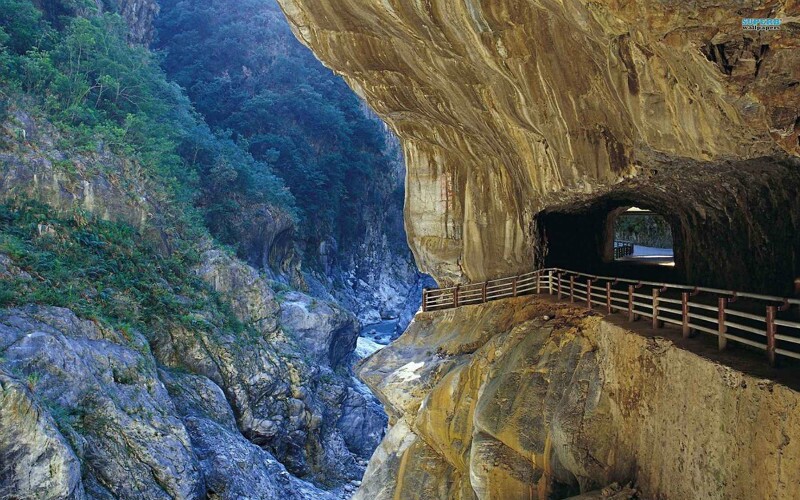 taiwan
Taroko Gorge
Why Go to Taroko Gorge?
Taroko Gorge is Taiwan's most popular tourist destination for both domestic and international visitors. Most of Taiwan's native wildlife and birds can be found here.
Spectacular scenery attracts the attention of photographers, and there are many opportunities for hiking, river tracing, mountain climbing and other outdoor activities. Trails follow the old hunting paths of the indigenous peoples and their traces are everywhere.
There are also wonderful bridges, shrines and temples to be enjoyed for both their history and their architectural beauty.
What Is Taroko Gorge?
Taroko Gorge, nicknamed "The Marble Gorge", is a rugged 19 km long marble-walled canyon 15 km north of Hualien on Taiwan's east coast. It was created by tectonic forces and then carved by the action of the Liwu River.
Taiwanese jade found in the walls of the canyon is used to make craft items. These may be purchased in Hualien.
Who Would Like Taroko Gorge?
Visitors who love spectacular scenery, rock formations, and nature won't want to miss Taroko Gorge. It is a photographer's paradise. Physically fit visitors may choose to explore the canyon on foot and even plan a mountain climbing expedition. Less athletic visitors may choose to see the gorge from a motor scooter, car, or tour bus.
History of Taroko Gorge
Two indigenous tribes once occupied the Taroko Gorge, but most were driven from the area during the Japanese occupation. A few members of the Atayal and Truki tribes still live in the area, selling their arts and crafts to visitors. They also run some of the local bed and breakfasts.
The area has been mined for both marble and jade, and was exploited for its forest resources early in the 20th century. It became a Taiwan National Park in 1986.
When to Visit
Taroko Gorge National Park is open the year around. Summer temperatures average 25 degrees Celsius, and winter temperatures can be in the range of 12 to 16 degrees Celsius. Rain is common in the afternoons, and snow is possible at higher elevations in the winter.
The Taroko Gorge Marathon and Half Marathon takes place in November each year. Racers are treated to spectacular views of the canyon while coping with the challenges of the steep terrain. More information can be obtained from the Chinese Taipei Road Running Association. 
Important to Know
Be alert for the sound of falling rock at all times as this is a common occurrence. Proper footwear is a must. Trails are sometimes closed by rock falls or earthquakes. Park staff can provide up-to-date information. Stay off closed trails as they may be unstable.
To avoid the worst crowds, try not to visit Taroko Gorge on weekends and holidays if possible. Park entry is free, but permits are required for the protected areas. Many accommodation options, including free camping, are available in the park. Lodging is also available in nearby Hualien.
How to Get There
From Taipei it is a twenty-five minute flight to Hualien, the starting point for visiting Taroko Gorge.
By train the journey takes from two to four and a half hours.
Cars can be rented at the airport.
Some visitors may choose to take a taxi or one of the many buses to the Gorge.
The Gorge can be explored on foot, by car, motor scooter, or bus. Many tours are available.
In the Area
Visitors with enough time and a rental car may enjoy a drive down Highway 11, which follows the east coast. Points of interest include beaches, camping, access to indigenous villages, and much more.