The most important historical destinations and extraordinary scenery destinations in China, with special ways to explore them — all in 14 days!
Discover ancient imperial Beijing, hike the greatest wall in the world, and pay your respects to the Terracotta Warriors in Xi'an. Then relax and enjoy the Li River cruise between the most incredible karst hills and immerse yourself in Yangshuo's countryside views. Finish this comprehensive journey in China at the electric skyline of modern Shanghai.
Highlights
Avoid the crowds and have an in-depth tour of the world's largest imperial palace — the Forbidden City.
Appreciate the thousands of life-size statues that have been standing for over 2,200 years in the Terracotta Warriors and Horses Museum.
Challenge yourself on the Grand Canyon Glass Bridge that is 300 meters above the ground in Zhangjiajie.
Relax on the Li River cruise, and ride a bike in the countryside while passing the buffaloes in Yangshuo.
Stroll on the Bund and get lost among the skyscrapers in Shanghai.
Tour Summary
What's Included
Entrance to attractions listed in the itinerary
Meals mentioned in the itinerary
Private transfers between the airport, attractions, ports, and hotels
Private local tour guide and driver service throughout the tour (except on the Yangtze River Cruise)
Hotel accommodation with breakfast
Specified flights, trains, and Yangtze River Cruise
Price Per Person in US Dollars
| | Nov.1 - Mar. 31 | Apr.1 - Oct.31 |
| --- | --- | --- |
| 2-5 Persons | $3,449 | $3,539 |
| 6-9 Persons | $2,589 | $2,679 |
Suggested Itinerary
Hotel: Novotel Peace Beijing
When your flight has landed, your tour guide will be waiting for you at the arrival hall of the airport. He/she will greet you with a smile and a name plate. You will be transferred to your hotel by a private van and driver.
Day 2
Forbidden City Heritage Walk and Jinshan Park Small Group Tour
Meals: breakfast, lunch
Hotel: Novotel Peace Beijing
This is a small group tour with six customers. Your tour guide will be waiting for you in your hotel lobby at 7am and a comfortable car will drive you to the Forbidden City.
We will attempt to bring the emperors' lives to life for you through fascinating stories with original iPad pictures and videos. We will take you to see places that you would never find by yourself. In this 600-year-old building complex with 9,999½ forbidden imperial chambers, nowhere is closed and no secrets are kept from you today. This is more like time travel, not just a tour.
At the end of the tour, your driver will take you back to your hotel.
Optimum-size small groups:
On our Boutique Group Tour, you will share the tour with other tourists (a maximum of six people per group). In this way, we can guarantee the best tour experience and our Forbidden City presenter can take care of every participator.

Day 3
Mutianyu Great Wall
Meals: breakfast, lunch
Hotel: Novotel Peace Beijing
After breakfast at your hotel, your guide will pick you up at your hotel and you will travel to the Mutianyu Great Wall. This less-crowded section of the Great Wall is a about 2.5 hours' drive from downtown Beijing. A chairlift takes you to a good section (avoiding a very steep climb), where you can walk along the wall, through the watch towers and enjoy superb views as it snakes across the hills and mountains. Wear good walking shoes and protection from the weather.
Excellent for photography and flexibility:
The hiking tour takes about 3 to 4 hours. Along the way you will be offered spectacular views, making this section a favorite for photographers. If the hiking trip is too long for you, we can go slower and can also just cover one section of the wall.

Day 4
Beijing Highlight Attractions and Bullet Train to Xi'an
Meals: breakfast, lunch
Hotel: Grand Noble Hotel
In the morning, walk through the Summer Palace, an enormous royal park with pavilions, boasting vividly painted corridors, temples, and lakes surrounded by hills. Explore Beijing's local and royal areas. Taste a Chinese white spirit, take a rickshaw ride in the hutongs, and go into local people's homes to get a glimpse of their lifestyle.
After lunch, say goodbye to your Beijing tour guide and experience the high speed of a bullet train to Xi'an.

Day 5
Xi'an Historical Experience: Terracotta Warriors and Big Wild Goose Pagoda
Meals: breakfast, lunch
Hotel: Grand Noble Hotel
Drive for about one hour to the outskirts of Xi'an and admire the formidable underground army of Terracotta Warriors, which has been guarding 'First Emperor' Qin for over 2,000 years. Back in the city, walk on the ancient city wall, which divides the city into its inner and outer parts. Riding a bike on the massive wall is recommended.
The arranged lunch will let you experience some traditional Hunan and Sichuan cuisine.
Big Wild Goose Pagoda was built in the 7th century and was used to store the Buddhist scriptures and relics that the monk called Xuanzang brought back from the West. Visiting Fountain Square in front of Big Wild Goose Pagoda is recommended in the evening.

Day 6
Xi'an Local Exploration: Shaanxi History Museum, Learn to Make Dumplings with the Locals, the Muslim Quarter, and the Ancient City Wall with a Bicycle
Meals: breakfast, lunch
Hotel: Grand Noble Hotel
The day starts with the Shaanxi History Museum, which has four major galleries housed in a large, Tang-style building. It has a vast and impressive collection, which is beautifully displayed.
Dumplings are a major part of the diet in North China. You will learn to make dumplings with some local people, and have lunch with them.
After lunch, explore the Muslim Quarter, which is the most bustling area in Xi'an. Full of local snacks and souvenirs, it's a great place for shopping!
In the afternoon, ride a bike on the Ancient City Wall, have a bird's-eye view of the city, and enjoy the beautiful sunset.
Dinner is for your own arrangement but feel free to ask your tour guide for some insider's recommendations. Transfer to the airport for your evening flight to Zhangjiajie. Upon arrival, meet your guide in the arrival hall for your transfer to a Zhangjiajie city hotel.
Be flexible or rise early to avoid lines:
To avoid waiting in long queues, your Zhangjiajie guide might suggest you get up early or alter your attraction schedule. Please kindly understand and cooperate.

Day 7
Zhangjiajie National Forest Park: Tianzi Mountain and Yuanjiajie
Meals: breakfast, lunch
Hotel: Pullman Zhangjiajie
Breakfast in Zhangjiajie's hotels is very basic, so your guide will prepare bread, coffee, and fruit for you.
Zhangjiajie National Forest Park is located in Wulingyuan Scenic Area, which is about 40 minutes' drive from the city. Tianzi
Mountain and Yuanjiajie are the most classic and popular sights of Zhangjiajie.
Take the cable car up Tianzi Mountain, and look through the glass walkway to see large areas of spiky sandstone peaks below that are thrusting up from the ground.
Have a simple lunch on the mountain. If you prefer, we can arrange for you to have lunch at a McDonald's on the mountain, and have a break in the air-conditioned building.
The namesake and inspiration for th Hallelujah Mountain in Avatar is located in Yuanjiajie Scenic Area, which you will visit in the afternoon after taking a shuttle bus from Tianzi Mountain.
Alternative:
To get back down to the foot of the mountain, besides taking the cable car, there is also an option to take the Bailong Elevator, a glass elevator built on the side of a cliff, which only takes 2 minutes. If you are interested, tell your tour guide in advance so that he/she can arrange for you to avoid the long queues, which might take you 2 hours.

Day 8
Tianmen Mountain with the Cable Car and Glass Walkway and 
Grand Canyon with Glass Bridge
Meals: breakfast, lunch
Hotel: Pullman Zhangjiajie
You will take the world's longest cable car to the top of the Tianmen Mountain. The cable car starts from the city center, and takes about 30 minutes!
Tianmen literally means 'Heaven's Gate', and Tianmen Mountain does match its name. With an altitude of 1,518 meters (4,980 feet), its scenery is often locked in mist in the morning. Besides its beautiful scenery, it will make your heart beat fast as you walk across its glass walkway, suspended 1,430 meters up; ride the world's longest cable car from city to mountain top; and take a vehicle down the curvy mountain road of '99 Bends'.

Zhangjiajie Grand Canyon is a recently–developed natural wonderland. It incorporates mountains, streams, caves, cliffs and forest. The world's longest & highest glass-bottomed bridge is located in this area. Walking along this glass bridge 300 meters above ground-level will be one of the coolest experiences of your tour!
NB. If you prefer not to walk on the bridge, we'll take another route to visit the area.
Grand Canyon Glass Bridge option:
The world's longest and highest glass-bottomed bridge, Zhangjiajie Grand Canyon Glass Bridge, was expected to be opened in May, 2016. According to the latest information, the opening date has been postponed, and the new date is yet to be confirmed. After it opens, we can replace the trip to Baofeng Lake with the glass bridge experience for thrill seekers, at no extra cost!

Day 9
 Zhangjiajie to Changsha to Guilin
Meals: breakfast, lunch
Hotel: Guilin Lijiang Waterfall Hotel
Today we will escort you from Zhangjiajie to the South Railway Station in Changsha and wave goodbye. After 3½ hours bullet train journey, your tour guide in Guilin will be ready to meet you.
Enjoy great access to central Guilin from your hotel:
The Guilin Lijiang Waterfall Hotel has a very central location. It is beside the Two Rivers and our Lakes Scenic Area, and has a great view of the Sun and Moon Pagodas. Zhengyang Pedestrian Street is also next to the hotel, so it's very convenient for you to walk around in your free time!
Day 10
Guilin Scenic and Cultural Exploration: Reed Flute Cave, Elephant Trunk Hill, and Discover the Old Town of Daxu with a Local Scholar
Meals: breakfast, lunch 
Hotel:Guilin Lijiang Waterfall Hotel
Morning stroll recommendation: If you are an early bird, it is recommended that you have a walk around your hotel in the morning. Beside the lake, you will see local people practicing tai chi, dancing with kung fu fans, and even singing. Your tour guide will pick you up from your hotel's lobby on time in order to start the trip.
Reed Flute Cave gets its name from the reeds used for making flutes and pipes that grow at its entrance. The cave is regarded as the largest and most impressive cave in Guilin.
As the symbol of Guilin, Elephant Trunk Hill got its name because its shape resembles an elephant with its trunk drinking from the Li River. The hill is pierced with many caves and topped with a small pagoda.
Located 18 kilometers southeast from Guilin, Daxu is an old town along the Li River with some original buildings. It was a busy junction for water transportation between Guangdong (Canton) and Guangxi.
'Daxu' means big market. Lots of craftsmen and businessmen lived there and started their businesses on a shoestring budget. With the development of road construction, its glory days have faded away, but the older generation still living there are witnesses of the old town.
Let's knock on their doors with a scholar to discover their lasting stories of Daxu. The exploration of the old town lasts for about 1½ to 2 hours.

Day 11
Li River Cruise from Guilin to Yangshuo; Yangshuo Countryside Cycling
Meals: breakfast, lunch on the cruise
Hotel:Yangshuo Mountain Retreat
After a long time spent traveling around China, you will benefit from a leisurely day. Enjoy the breakfast at your hotel, and then we will drive you to the port to take the Li River cruise.
From Guilin to Yangshuo, the Li River cruise is an unforgettable experience, and you will see the most typical sights of rural China. These include fishermen gliding along on their narrow bamboo rafts, lumbering water buffaloes cooling off in the river, farmers taking care of their vegetables, and water birds hiding in the graceful bamboo groves.
The cruise takes around 3½ hours and you will arrive at the Yangshuo port. We will drive you to the countryside to escape the hustle and bustle of the Yangshuo traffic, and you will check-in to the Yangshuo Mountain Retreat.
The countryside cycling tour starts from the hotel. Biking alongside the paddy fields and orchards that surround the famous mountains will give you a fascinating insight into life in rural China. You will visit a family halfway through the journey. This is an opportunity to see the real country lifestyle and talk to the local farmers.
Excellent hotel location for a tranquil evening:
The Yangshuo Mountain Retreat is located at the foot of a karst hill and beside the Yulong River. Decorated in a southern Chinese rural style, the rooms are equipped with Western facilities. It is a great place to enjoy a peaceful and quiet evening in the country.

Day 12
Yangshuo Chinese Cookery Class; Fly from Guilin to Shanghai
Hotel:The Bund Hotel Shanghai
As the most typical rural area of southern China, Yangshuo produces plenty of fresh ingredients, and local markets sell various seasonal vegetables and meats.
The cookery class begins at the local market where ingredients for the dishes are chosen by the students. Back at a covered, rooftop patio-classroom, you will have the opportunity to learn how to cook three dishes and enjoy the fruits of your labor. An extra one or two dishes that have been cooked by the chef will be added to your lunch. Enjoy this small group cooking class and share your happiness with more people!
After lunch, we will take you to Guilin Liangjiang International Airport ready for your flight to Shanghai. Our Shanghai tour guide will be ready and waiting to meet you at the airport.
Evening walk recommendation:
The Bund Hotel Shanghai is located near Renmin Square and is not far from the most famous pedestrian street: Nanjing Road. In your free time, we recommend that you walk down Nanjing Road to the Bund (and do some shopping).

Day 13
Shanghai City Exploration
Meals: breakfast, lunch
Hotel:The Bund Hotel Shanghai
Shanghai is a booming megalopolis that mixes the West with the East, and the modern with the ancient.
On your last day of touring in China, Shanghai's charm of blended cultures will be unveiled during your visit to the essential highlights of the city — the classical landscape garden, Yuyuan Garden, the Oriental Pearl TV Tower with a history museum on the lower floor, the Bund, where architectures of various Western styles are gathered, and the former French Concession precinct.
Day 14
Shanghai Departure
Your tour guide, driver, and van will pick you up from your hotel for your airport transfer and flight. Your guide will accompany and assist you as far as the security check, and will then wave goodbye.
Our Staff's Feedback after Taking This Tour
I saw many were traveling as a family when I was taking this tour with my colleagues. I missed my 4-year-old son. He loves watching the movie Avatar, and I am sure he will be very happy if he ever comes to Zhangjiajie. One day I will take my son and husband to see these beautiful places together.
- Website Editor Ruru Zhou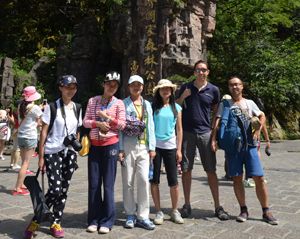 Trip Notes
Tailoring your tour
This tour is very flexible. You can alter the itinerary, extend or shorten it to suit your price, interest and schedule. Feel free to tell us your requirements, and we are happy to help you arrange with our professional knowledge and experience.
About Accommodation in Zhangjiajie
Star-rated hotels in Zhangjiajie might not be up to the standard of those in big cities like Beijing and Shanghai. The hotels we use in the tour are carefully selected based on criteria like hotel environment, location, service, and previous customer feedback.
There are some hostels in the national park, with very basic facilities. If you would like to stay in a local guesthouse, we can arrange it. In this way you can save time on transportation, avoid tourist groups, and also cut the cost.
About Food in Zhangjiajie
Restaurant and cuisine choices are very limited in the national park. We will find the best available, but it is also suggested that you bring some snacks. Local villagers sell water and food like fruits and corn on the mountains, which are good to try while you climb the steps.
Breakfast at a 4-star hotel at Zhangjiajie is very basic, so our guide will prepare bread, coffee, and fruit for you.