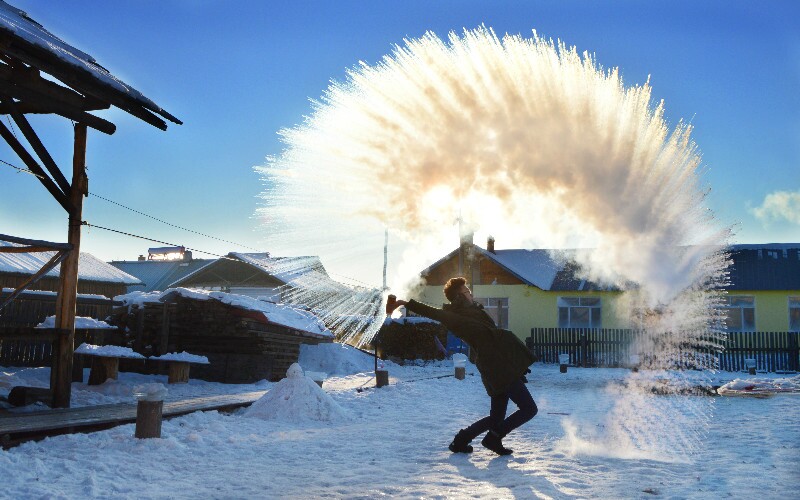 travel guide
Top 6 Places to Visit in January in China
January is the coldest month in China, and the main tourist themes in this month are related to ice and snow. You can experience great winter scenery and ski resorts in northern China, such as in Harbin and Jilin. Sanya becomes a favorite for people who prefer a warm winter holiday.
1. Harbin — Enchantment at Minus 20 °C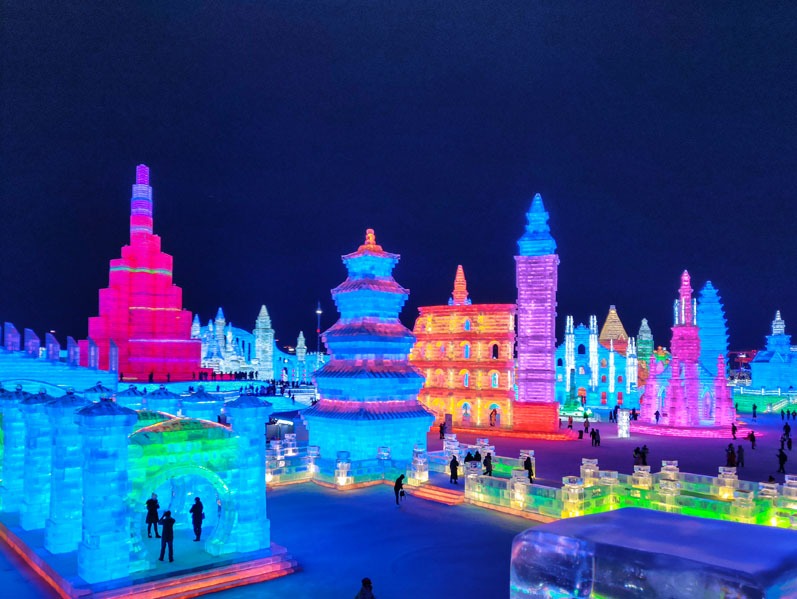 Harbin Ice and Snow World
Harbin, premier city of Heilongjiang province, is the northernmost and coldest large city in China. The annual Harbin International Ice and Snow Sculpture Festival runs throughout January.
World famous landmarks, such as the Great Wall and Disney Castle, are carved out of ice and snow and lit up with colorful lights. It's a crystalline fairyland of ice palaces, famous figures, cute animals, etc.
Skiing is another popular activity. Harbin has one of China's best ski resorts called Yabuli Ski Resort. You can appreciate ice and snow sculptures in Harbin, which will be lit up by colorful lights for a beautiful display in the long nights.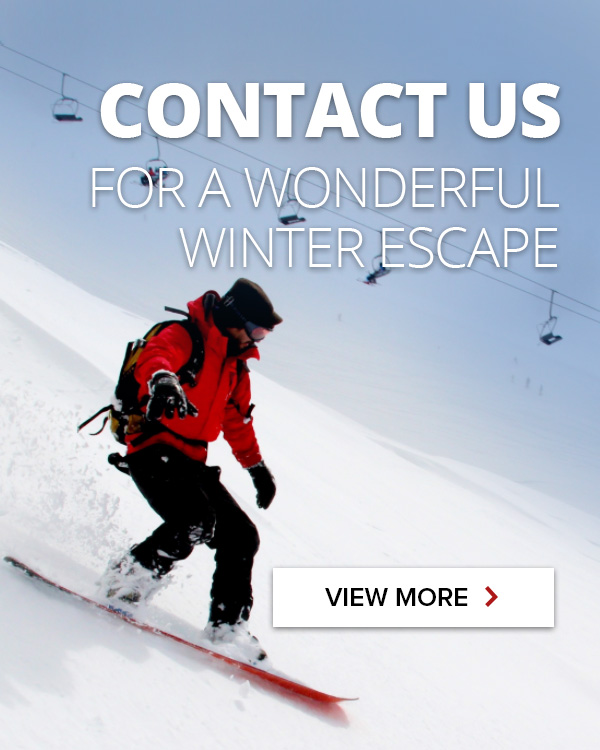 Recommended Tours
2. Jilin — Rime Wonder on the Songhua River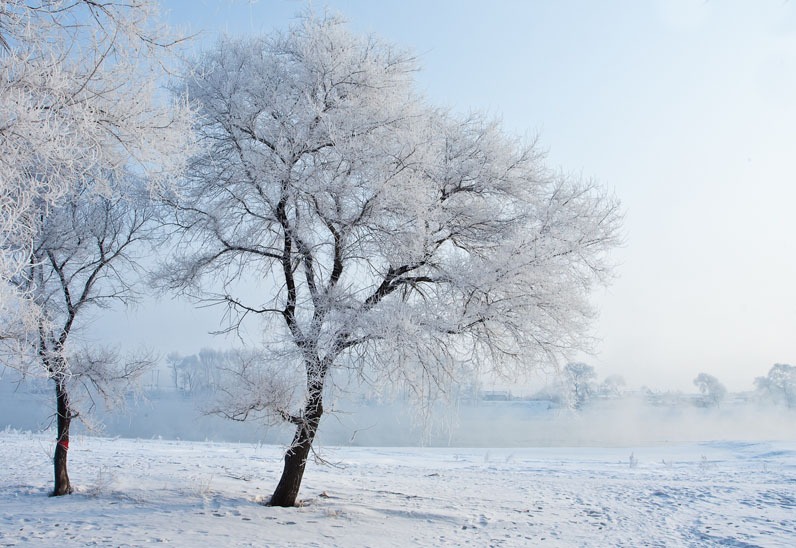 Jilin Rime
Rime in Jilin, the karst landscape of Guilin, the Stone Forest in Yunnan, and the Three Gorges on the Yangtze River are the "Four Amazing Natural Wonders of China".
If you are a photographer looking for spectacular winter scenery, the rime wonder of Jilin City should not be missed.
The Songhua River is frozen in winter, but the temperature of the water flowing under the ice is kept at 4°C. The big difference in temperature produces a lot of mist, which turns into rime hanging on the trees along the banks of the river.
The best time to appreciate the rime lasts from December to late February and the city holds its Rime and Ice Festival in mid-January every year.
Skiing is another main tourist theme in Jilin City, and the best ski resorts are Changbai Mountain Resort, Beidahu Ski Resort, Songhuahu Ski Resort, and Zhuqueshan Ski Resort.
Recommended Tours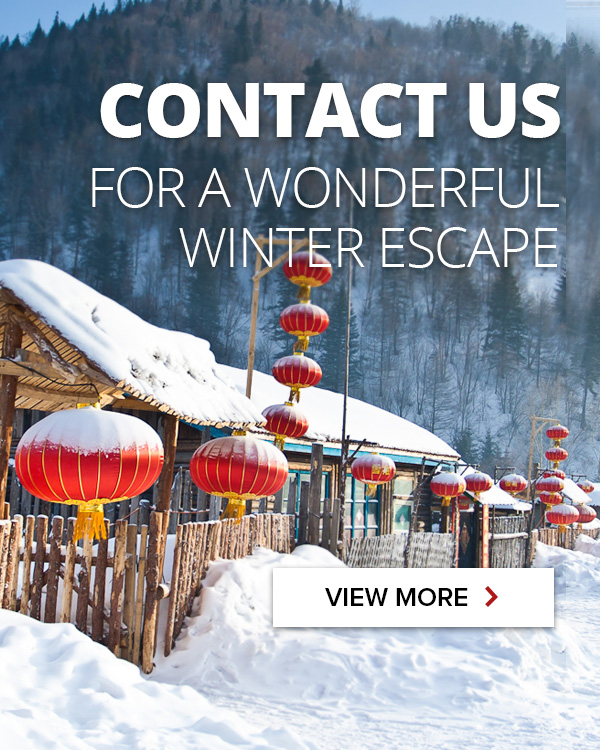 3. Sanya — Sunny Beach Time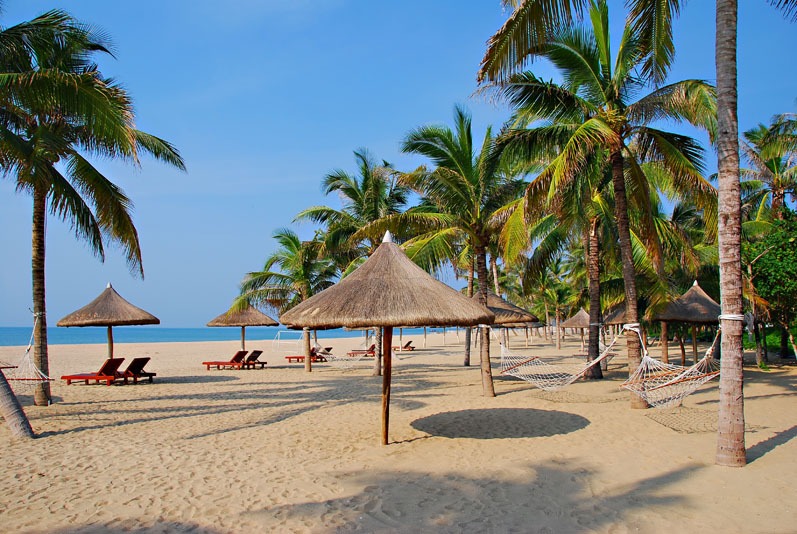 Sanya
Lying in the tropics, Sanya's "winters" feature sun, blue sea, clear skies, soft sand, and warm weather.
There, you can sunbathe on a private beach, do some water activities such as surfing, snorkeling, swimming, and motorboat riding, and enjoy a rainforest hot spring at nightfall while you listen to the birds' evening chorus.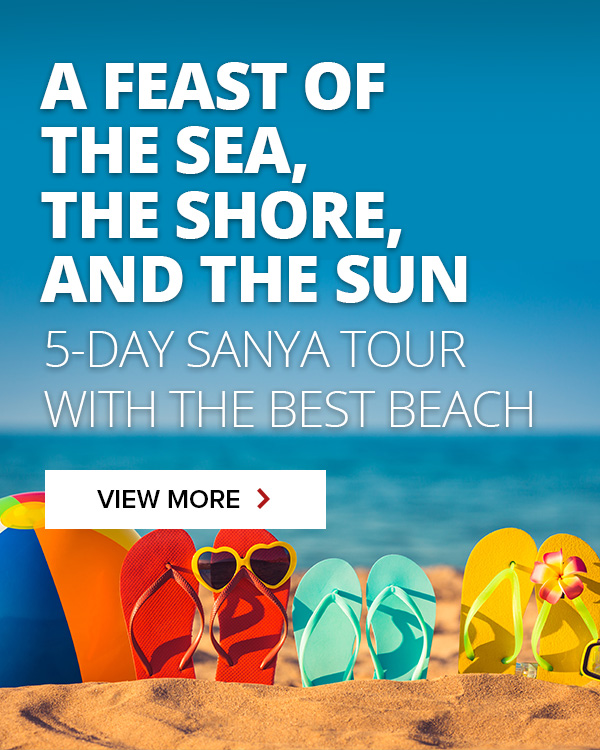 Recommended Tours
4. Yuanyang Rice Terraces — Seas of Cloud and Red Paddies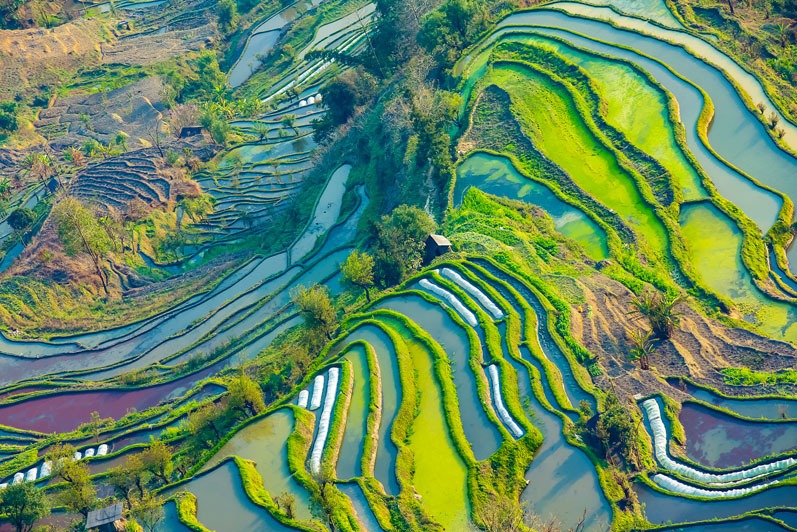 Yuanyang Rice Terraces
The Yuanyang Rice Terraces (in Kunming prefecture, southwest China) is one of China's five most beautiful rice terraces. It is recommended for magnificent natural scenery and mild winters.
The best period to visit the rice terraces lasts from December to March (when the rice terraces are irrigated but without crops), and January is the best month.
In January the weather is stable, with bright sunshine in the daytime and thick fog in the early morning. Seas of clouds on the terraces are most likely to be seen in January. And you can see the special red rice terraces due to the red duckweed in the water.
At the beginning of the twelfth Chinese month (which always falls in December or January), the local Hani people hold a "long street banquet" — always hundreds of meters long — to sacrifice to their dragon god. You can experience unique minority customs there.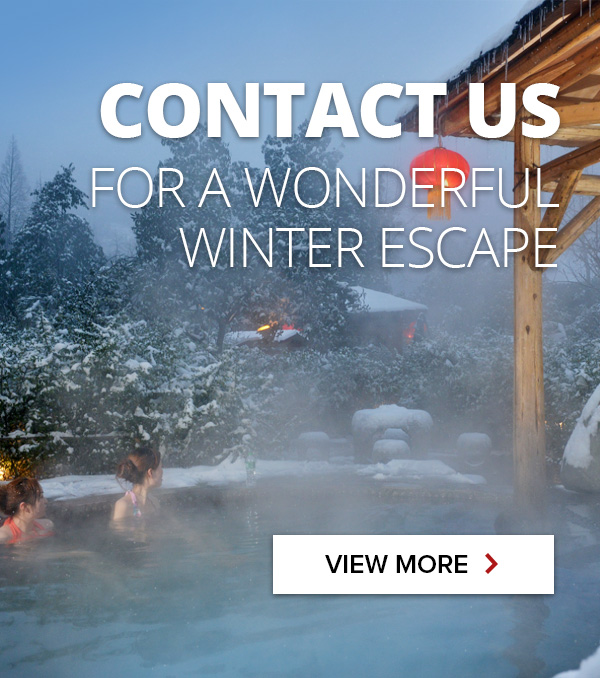 Recommended Tours
5. Chengdu — Glacier, Hot Pot, and Pandas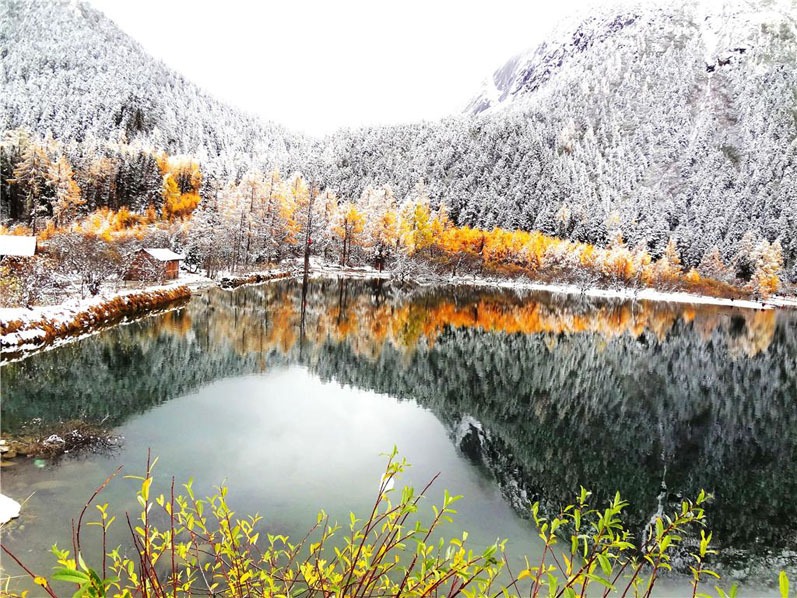 Chengdu Bipenggou Valley
You will travel across time and space to the "Ice Age" and enjoy a hot spring hidden in a snowy valley in Hailuogou — a glacier park near Chengdu. It has the biggest frozen waterfall in China.
Mount Emei provides beautiful snowy scenery in winter with sweeping cliffs, high-reaching peaks, gushing waterfalls, gurgling springs, and towering ancient trees.
Getting close to pandas will also be an unforgettable moment in your winter holidays. Of course, hot pot is an indispensable Chengdu feast in winter. The hot and spicy food will ward off the cold.
Recommended Tours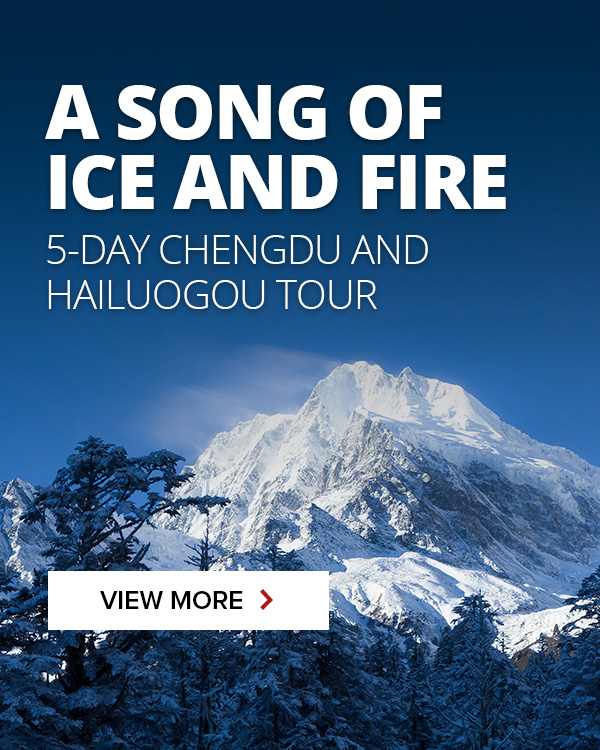 6. Xiamen — Explore Mulan's Hometown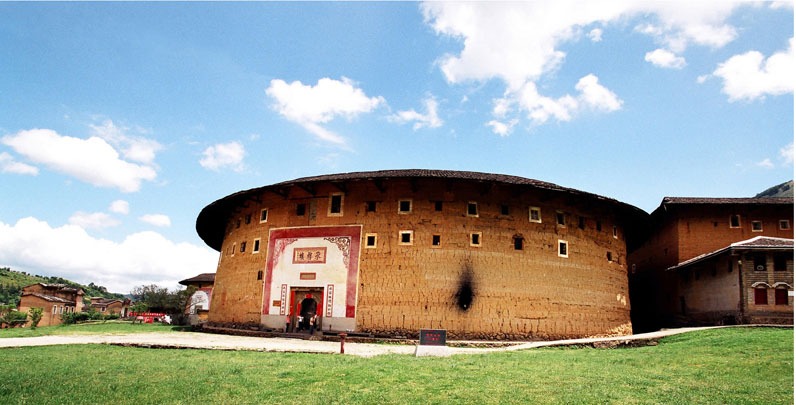 Tulou in Xiamen
Relatively mild temperatures in January compared to China's northern cities make Xiamen a good place to visit, though it is not as warm as Sanya (below). Although a popular destination, there aren't many tourists in Xiamen in January. You will have more space and time to enjoy your trip to the full.
Feel the artistic temperament of uncrowded Gulangyu Island, and pay a visit to the Fujian Tulou (earthen castles) — Mulan's movie home, which is the traditional architectural style of Hakka people in the Fujian area.
Recommended Tours
Plan Your Winter Holiday with Us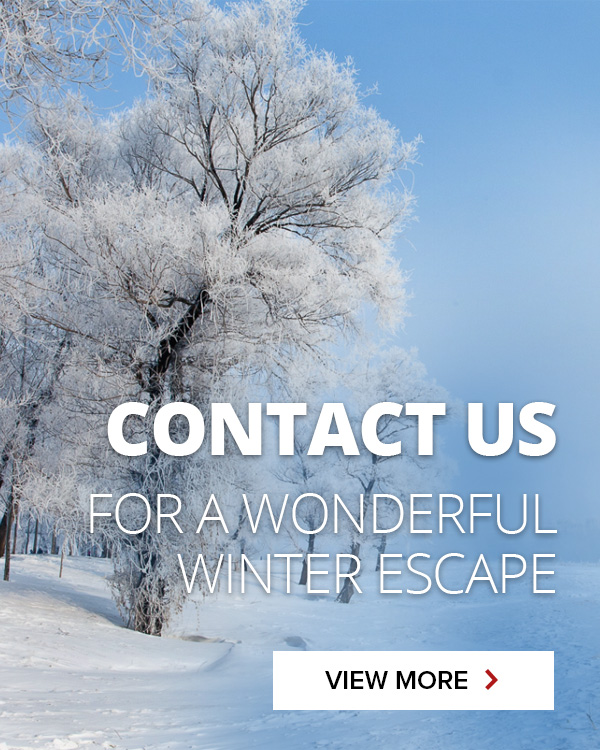 For travelers who prefer snow scenery and activities, see our most recommended customizable ice and snow tours:
For those who'd prefer a warm winter escape, see our top recommended customizable warm winter tours:
Or contact us if you have any questions or requirements to design a tour.
You Might Like to Read
Related Articles

travel guide
Top 10 Temples and Monasteries in China

China facts
China Facts (17 Fantastic Facts about China)

Chinese language
Chinese Language