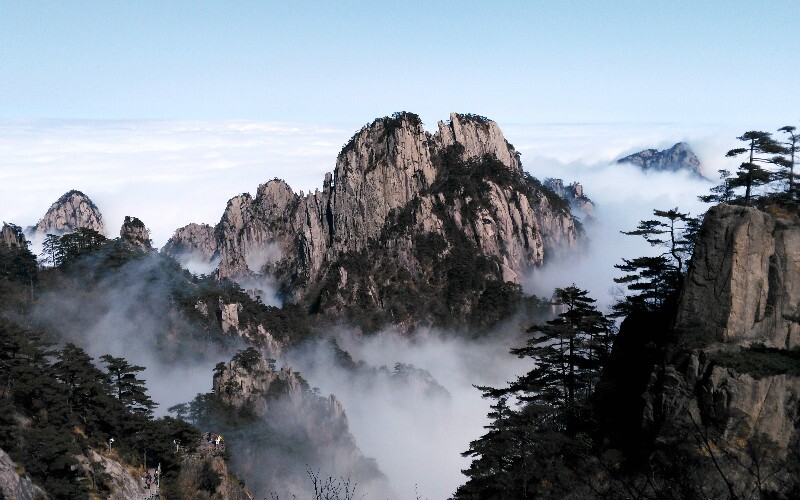 travel guide
The 5 Best Places to Visit in October in China
October is the middle of autumn in China, and it is the best month to appreciate colorful autumn scenery. Cool weather in October can makes your tour in China more comfortable and enjoyable.
We have listed the five best places to visit in colorful October. If you are a shutterbug and looking for the most beautiful photography locations in October, these places are great choices.
1. The Silk Road
The Silk Road was once the world's most significant trade route that connected East and West for more than two thousand years. Now it is a popular tourist route, including a lot of fascinating and beautiful destinations and attractions. The key destinations are: Luoyang (Longmen Grottoes), Xi'an (Terracotta Army), Zhangye (Zhangye Danxia Geological Park), Dunhuang (the Singing Sand Mountains), and Xinjiang Province (Turpan Grape Valley).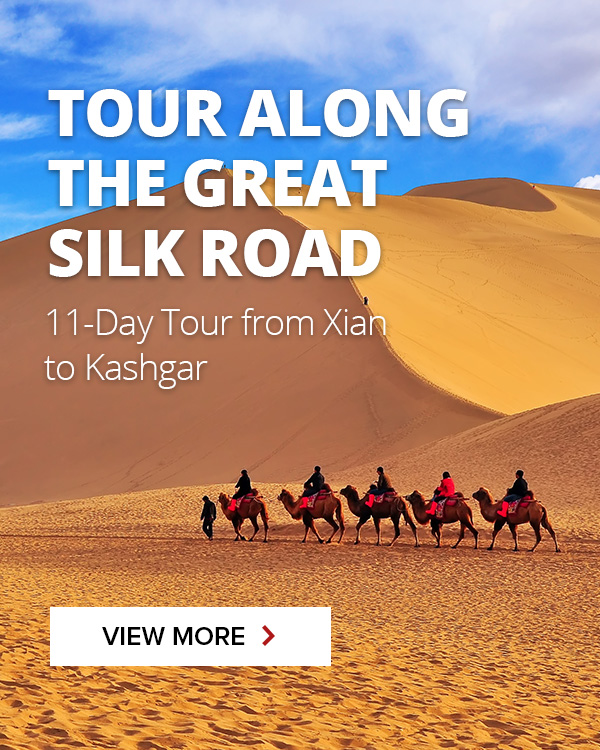 October is a good time to visit the Silk Road: the weather is comfortable and it is less crowded than in the summer. When touring during this time, you can also taste the fresh fruit harvest of the Silk Road, such as watermelons and grapes.
If you do not have enough time to take an all-inclusive Silk Road trip, in October we usually suggest starting your trip from Dunhuang and ending it at Zhangye, with a trip to the see the fabulous fall colors in Ejina Desert Poplar Forest. Ejina is about 5 hours' driving from Jiayuguan and about 7 hours from Zhangye.
Recommended tour: 7-Day Dunhuang, Zhangye, and Ejina Photography Tour
2.The Yellow Mountains — Like an Ancient Chinese Scroll Painting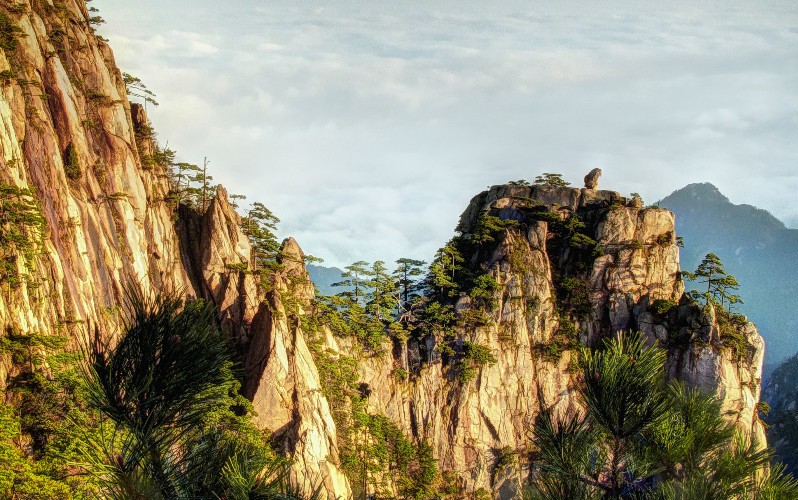 Yellow Mountains
The Yellow Mountains is one of the most famous mountain areas in China, attracting numerous visitors with its imaginatively-named pines, oddly-shaped rocks, seas of cloud and hot springs.
The weather turns cool and dry in October, and it is one of the best months to tour the mountains, whether for hiking or photography.
Watching the sunrises is a popular activity. Make sure to get up early so you can get a good spot. If lucky, you can get many beautiful pictures of the sunrise enlivening the misty mountains. During the day you may walk around and admire the peculiar rock formations and formidable passageways through the granite mountains.
The temperature on the mountains varies greatly between day and night. It reaches 18-25 °C (64-77 °F) in the daytime in October and drops to 0-10°C (32-50 °F) at night.
3. Daocheng Yading — The Last Pure Land on Earth
Yading Nature Reserve is in Daocheng Country, Ganzi Tibetan Autonomous Prefecture, Sichuan Province. It has breathtaking natural landscapes and is praised as "the last pure land on earth".
There are awe-inspiring and beautiful snow-covered mountains and highland plateau scenes including crystal rivers, sky-blue lakes, and rolling meadows. Hiking is the best way to enjoy the magnificent landscapes of Yading Nature Reserve. Usually, two days is suggested to explore the reserve.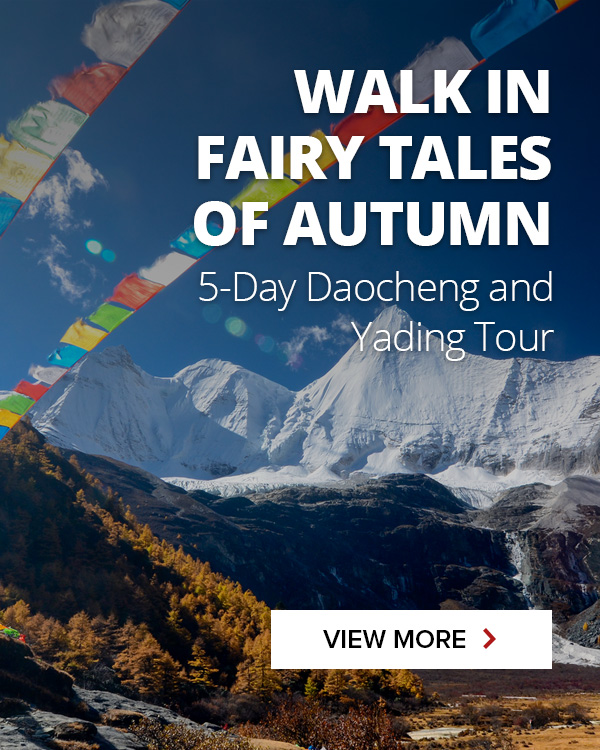 Located on the edge of the Qinghai-Tibet Plateau — the Roof of the World, Daocheng Yading has an altitude from 2,900 to 6,032 m (9,500–19,790 feet), so please prepare for the possibility of altitude sickness. The average temperature range of Daocheng Yading in October is from 0 to 15°C (32–59°F), so please bring warm clothes with you.
Recommended tour: Private 5-Day Daocheng and Yading Tour. We also offer a small-group Daocheng Yading trip during golden week (start date: 2nd October, price: CNY 6,699 per person), please contact us for more information.
4. Zhangjiajie — Precipitous Pillars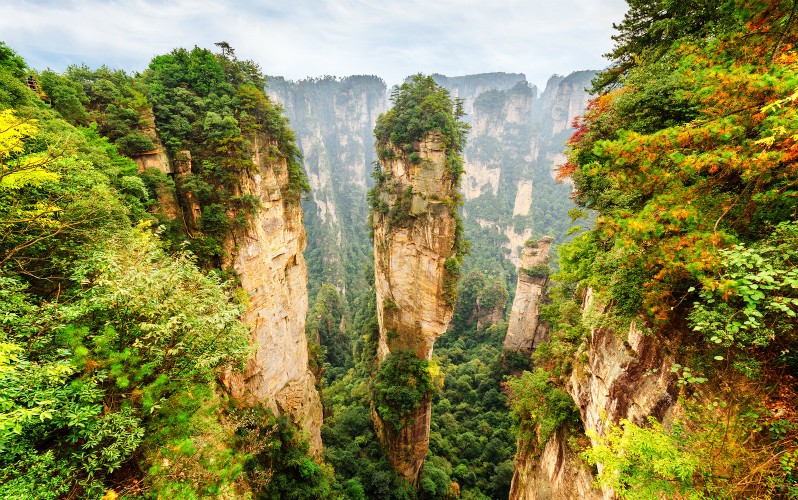 Zhangjiajie National Park
Zhangjiajie is world-renowned for its amazing rock pillar landscapes. You can spend 4 or 5 days hiking in the Zhangjiajie National Forest Park, enjoying panoramic views of the stunning Zhangjiajie Grand Canyon on the world's highest glass bridge, and taking the world's longest cable car ride to explore Tianmen Mountain.
October is the best time to visit Zhangjiajie as the weather is comfortable, the mountains are cool, and (apart from the National Holiday in the first week) it is quiet.
Most of the national forest in Zhangjiajie is evergreen, but, in October, Wolongling (卧龙岭) in the Tianzi Mountain area and Yaozi Village (鹞子寨) are the two best places to see fall foliage.
5. Shangri-La, Yunnan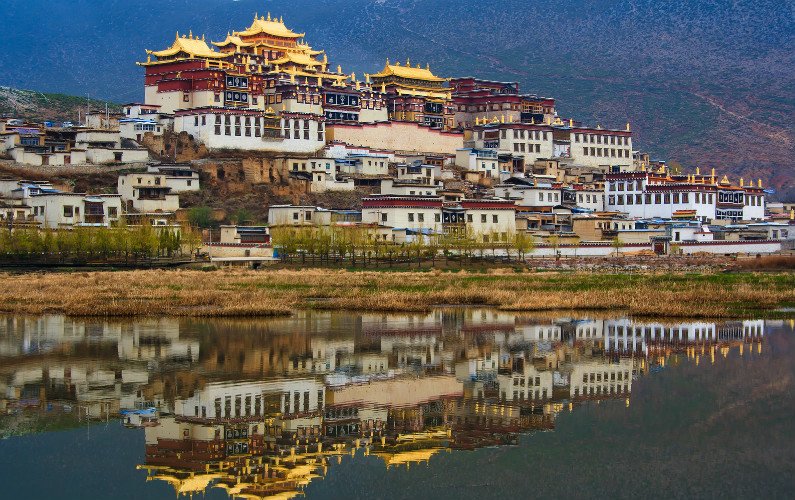 Songzanlin Monastery
China Highlights has recommended Shangri-La as one of the best places to visit in early summer. However, autumn (September and October) is also a great time for a visit to Shangri-La. Shangri-La (check out the Shangri-La travel guide) is a land of idyllic beauty with quiet lakes, verdant forests, vast grasslands with flocks and herds, mysterious monasteries, and snow-capped mountains.
The most-popular attractions in Shangri-La are: Pudacuo National Park, Meili Snow Mountain, Song Zanling Monastery, Lake Bita and Lake Shudu, Lake Napa, and Baishuitai. Feilai Temple is the best place to catch the sunrise and the sunset scenery with Meili Snow Mountain. If you are interested in ethnic culture, you can visit a local Naxi family.
In October most places in Shangri-La are decorated in flaming red and yellow colors. Rare foggy weather in this month brings a much clearer view of snow-capped mountains for photographers. The temperature difference between day and night in October is big, ranging on average from 5 °C (41 °F) to 20 °C (68 °F).
Recommended tour: 6-Day Shangri-La, Deqin and Tacheng Adventure Tour
Visit These Beautiful Places with Us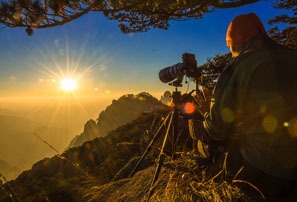 Visit the Yellow Mountains in October
If you are interested in visiting the above destinations, you can contact us for details, and have us tailor-make a tour of China for you. Our travel specialists can help you with an itinerary and insider recommendations.
Here are two sample itineraries for your reference:
Find more ideas from our China tours.
You Might Like to Read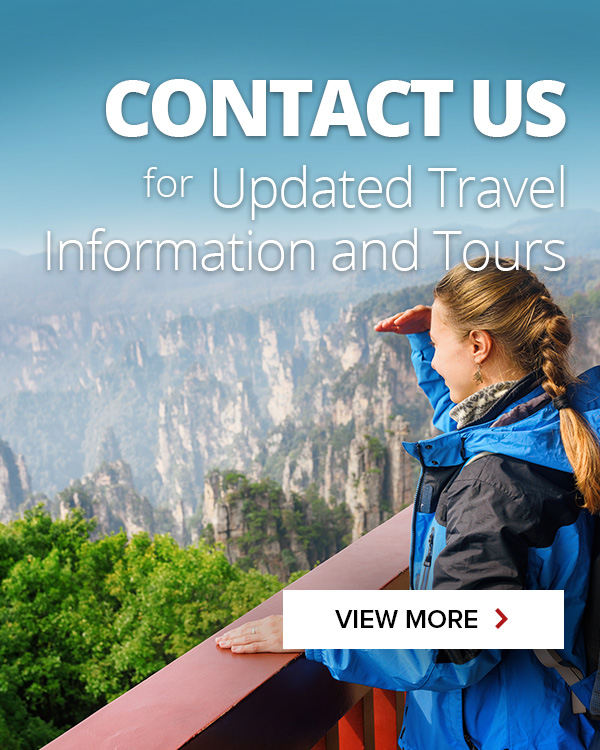 Related Articles

travel guide
Jetlag in China

beijing
Forbidden City