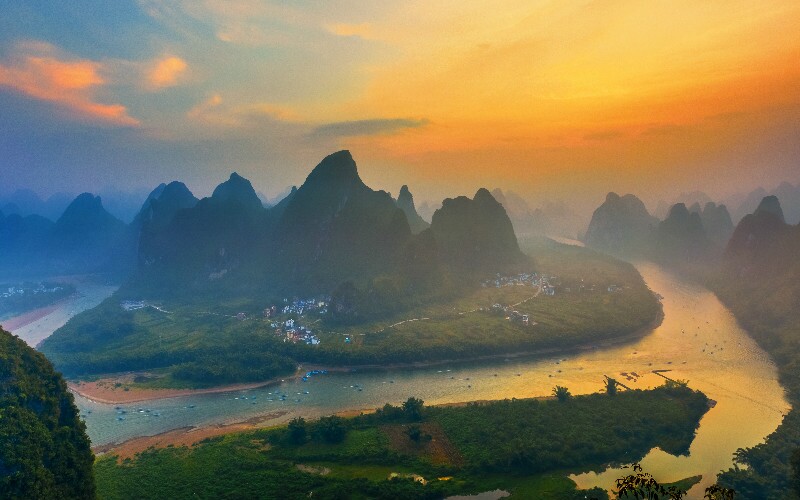 tour planning
Top 6 Places to Visit in June in China
June is the best time to visit areas famous for flowers. The summer sunshine makes natural scenery even more stunning. The best China destinations to visit in June are: 1) Chengdu, 2) Guilin, 3) Zhangjiajie,  4) Yunnan,  5) Xinjiang,  and 6) Hangzhou.

1.

Chengdu — Enjoy a Feast of Sichuan Hotpot and Cuddle Giant Pandas

Chengdu, the capital of Sichuan Province, is the hometown of a famous spicy hotpot and giant pandas. Having a hotpot feast and other local snacks in Chengdu are must-do things. 
Seeing up close and cuddling giant pandas is a unique experience that is the highlight of many a China tour. 
Chengdu is located in the southwest of China. The weather in June in Chengdu is relatively cool at an average 28 °C max., but sometimes hot. Other places in Sichuan Province, such as Leshan, Jiuzhaigou, and Huanglong are cooler still and top destinations to visit. 
Recommended Tours
All our tours can be customized. The itinerary can be adjusted according to your group size, time, budget, interests, and other requirements. Just contact us.
2.

Guilin — the Best Scenery under the Heaven

China's summer is hot and sometimes even scorching. Why not plan a trip to a slightly cooler destination with great summer resorts and amazing natural scenery like Guilin?
A cruise on the Li River from Guilin city to Yangshuo is as popular as a cruise on the Yangtze River. The Li River looks like a green silk ribbon weaving between the mountains, ancient towns, and folk villages. 
After arriving in Yangshuo you can appreciate the countryside scenery by bicycle. If you want to get close to the water, bamboo rafting on the Yulong River is highly recommended.
A scenic tour of Guilin is not complete without a visit to Longji Terraced Fields. It is a large scenic area with amazing tiered fields stepping hundreds of meters up the mountainsides, and also colorful minority cultures. Both the sunrise and sunset there are stunning, when the fields are a twilight fairyland.
Recommended Tours
3.

Zhangjiajie — the Typical Sandstone Landform

Because Zhangjiajie is a mountainous area, the climate there is changeable. Zhangjiajie National Forest Park was listed as a UNESCO World Heritage Site for its outstanding geological and tourism features. 
The mountainous scenery in Zhangjiajie is unique and fabulous, and is even more charming and poetic under the misty rain and fog.
Zhangjiajie National Forest Park, with its photogenic peaks and cooler weather, is a perfect summer resort for avoiding the sweltering heat and enjoying the fresh air.
Recommended Tours

4.
Yunnan Province — the Nearest Place to Heaven

Yunnan Province, a large mountainous region in southwest China, is worth a trip all the year round. Kunming, Dali, Lijiang, Shangri-la, and Xishuangbanna are the best destinations for a trip to Yunnan.
Shangri-la, which is painted with snow-capped mountains, transparent sky, dense forest, and extensive grasslands, is a holy grail for photographers. 
The scenery there is like a huge colorful painting, which you will never be tired of. Many ethnic groups live there, and you can experience their cultures by attending minority festivals.
Recommended Tours
5.

Xinjiang — a Romantic Purple World

Yili, a fabulous prefecture in Xinjiang, turns into a romantic world blanketed by lavender and many other colorful flowers in summer.
Relaxing in this pure world, without the noise of traffics and the bustle of large cities, will leave you calmed and charmed. The grasslands are spectacular, and can be enjoyed in traditional style with a horse ride.
Xinjiang is a gathering place for Muslim culture and snacks. Yili's summer has a cool, semi-arid and continental climate, which is suitable for outdoor activities.
Recommended Tours
6.

Hangzhou — See the Lotus Flowers on West Lake

Unlike in other seasons, West Lake, a must-see attraction in Hangzhou, is covered with lovely water lilies, lotus flowers, and green lotus leaves in summer. It is peaceful, sometimes with little waves ushered in by a soft wind. 
June isn't the hottest month in Hangzhou, about 5 °C cooler than July and August due to the rain, so a cruise on West Lake is more comfortable. Sitting on the east bank of West Lake and appreciating the sunset is wonderful!
Other attractions in Hangzhou, such as Six Harmonies Pagoda and Lingyin Temple, also give you outstanding views of the natural scenery.
Recommended Tour:  2-Day Hangzhou Highlights and Culture Experience
Most Popular June Tours
If you are planning a trip to visit China in June, please see the following tours for inspiration:
Our tours can be customized. If you are not interested in the above tours, you can contact us to tailor-make an June tour for you.
You Might Like to Read
Related Articles

tour planning
China Adventure Travel: Top Things to Do

about us
China Highlights Promise