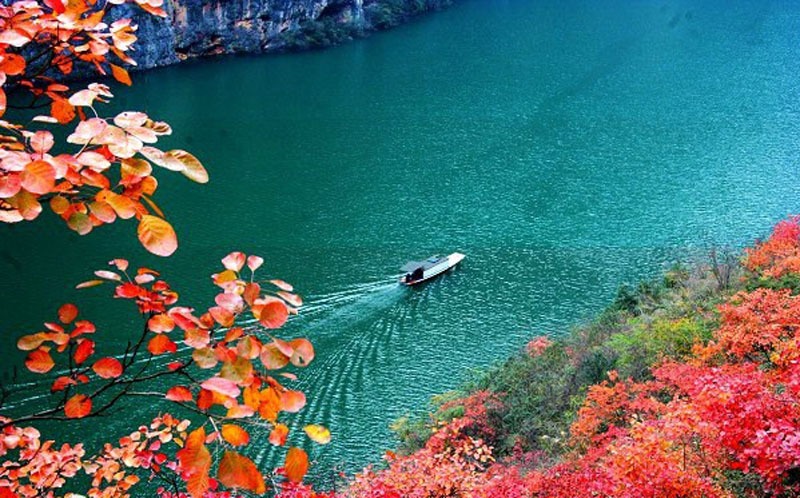 weather
China Weather in August
August is hot and humid in most of China. It is also one of the wettest months. July and August are Beijing's rainiest months with some quite heavy downpours. Central and South China are also hot and rainy.
Cities south of the Yangtze River such as Nanjing, Nanning, Shanghai, Nanchang, Changsha, Wuhan and Hangzhou see the highest temperatures. Sometimes it rises to 40 °C (104°F) or more in these cities that the Chinese call "furnace cities".
August is also one of the busiest months for tourism in China. China's top attractions are crowded with many Chinese tour groups and families.
August Weather Around China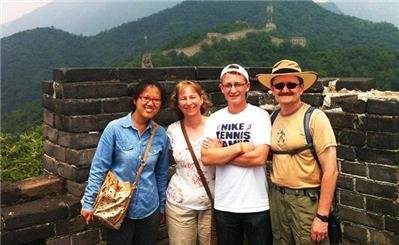 Beijing's Great Wall is popular in summer!
North and Northeast China — hot and rainy
— Beijing, Datong, Hohhot, Harbin…
Beijing is hot and rainy. The first half of the month is hotter than the second half. It might reach over 38°C (100°F) in the inner city sometimes. But it is usually comfortable at night. There is light pollution.
Clothing: Thin jacket, light clothing, shorts, and rain gear.
West China
— Xinjiang, Qinghai, Dunhuang, Xi'an, Tibet…
Late summer is fine for touring Xinjiang in hot and sunny weather with little rainfall. There is a bountiful harvest of top quality grapes, melons, and other fruits. The low humidity makes it feel cooler in Urumqi.
Xi'an is actually hotter than Urumqi, and it feels hotter because of the high humidity. In the first three weeks, there might be "furnace city" temperatures reaching 40 °C (104 °F). You can visit the cool museums on sweltering days. It is a good month for taking the popular Silk Road tour>>
Clothing: What you should pack depends on the altitude. For Lhasa, bring your coat and sunglasses and dress in layers. For Xinjiang, you'll need summer clothes.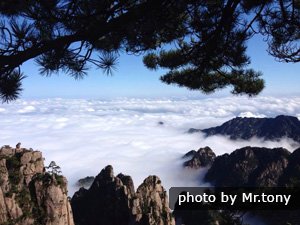 Scene from the top of the Yellow Mountains
East China — hot and rainy
— Shanghai, Hangzhou, Suzhou, Huangshan…
East China gets its heaviest rainfall in late summer. The rainfall is associated with typhoons and storms. It is also often sweltering. On hot days, you can tour and hike in mountains such as the Yellow Mountains and Hong Village where it is cooler.
Clothing: Thin rain resistant jacket, rain gear, light clothing, shorts.
Central — hot, rainy, and humid
— Changsha, Wuhan, Wulingyuan, Zhangjiajie
This area of China around the Yangtze River has its hottest days in July and August, and rain is heavy. The high humidity makes Wuhan and Changsha feel like some of the hottest "furnace cities."
The mountains in Zhangjiajie feel cooler and are good places to go in hot weather.
Clothing: Light clothing, shorts, rain gear.
The South — hot, wet, fun
— Guilin, Nanning, Hainan, Guangzhou, Hong Kong…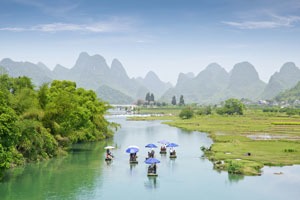 Float down the cool Yulong River in Yangshuo in summer
Guilin feels hot and it often rains, but the climate and activities are such that the rain often feels refreshing and adds to the enjoyment. The temperatures are much like Central China's, but you can spend your time on the rivers to be cool. Just bring an umbrella.
Hong Kong is hot and rainy too. There are occasional downpours or tropical storms.
Clothing: Shorts, light clothes, rain gear.
The Southwest — pleasant weather
— Dali, Lijiang, Xishuangbanna, Kunming, Chengdu…
The mountains and valleys of Yunnan Province and Sichuan Province have pleasant weather. It is cool or warm depending on altitude. Rainfall is heavy with Dali and Lijiang.
Chongqing however becomes the No. 1 furnace city with both high humidity and average highs generally over 33 °C (92 °F) and sometimes going over 100 °F.
Clothing: During the day, shorts, T-shirts, shirts or jeans are fine. Bring rain gear. Take a coat if you go up to the mountains where weather is very changeable.
Average August Weather Data for Major Tourist Cities
Press the links to see the cities' climate and local current forecast.
| Cities | Average High | Average Low | Rainy Days | Precipitation |
| --- | --- | --- | --- | --- |
| Beijing | 30°C (86°F) | 21°C (70°F) | 12 | 160mm (6½") |
| Xi'an | 31°C (88°F) | 21°C (70°F) | 9 | 71mm (3") |
| Shanghai | 32°C (90°F) | 25°C (77°F) | 13 | 230mm (9") |
| Hong Kong | 31°C (88°F) | 26°C (79°F) | 15 | 301mm (12") |
| Chengdu | 30°C (86°F) | 22°C (72°F) | 16 | 201mm (9") |
| Guilin | 33°C (91°F) | 25°C (77°F) | 15 | 175mm (7") |
| Kunming | 24°C (75°F) | 16°C (61°F) | 19 | 204mm (8") |
Why Visit China in August?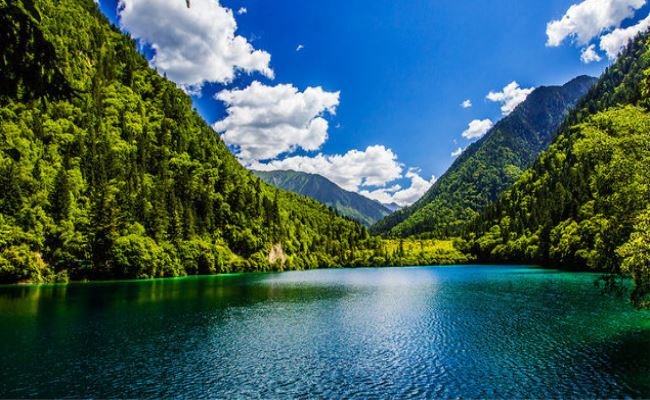 Jiuzhaigou in high summer
The warm weather and sunshine is great for outdoor activities, travel, street shopping, etc.
It is so warm that you can travel light.
Disadvantages
There might be heavy rain, thunderstorms and flooding in Central and South China. The coastal areas sometimes suffer typhoons.
It is the peak travel season, so top attractions, such as the Great Wall, are packed with tourists.
Schools and universities are on vacation. Expect a great number of students, school tour groups, families and big noisy Chinese tour groups.
China's Top Destinations for August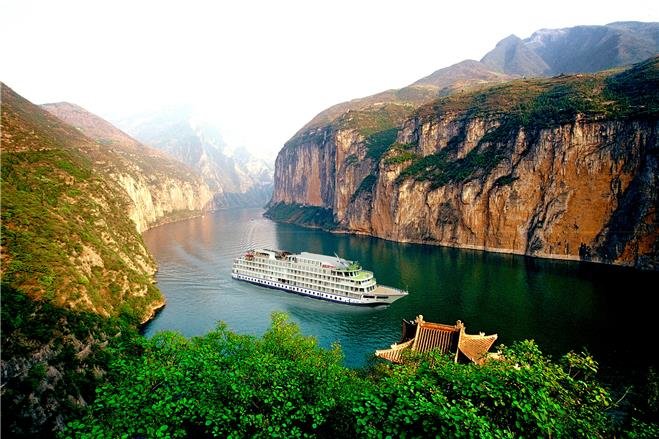 River Cruise Touring: 7-Day Li River and Yangtze Tour
Xi'an: Visiting and touring the highlights.
Beijing: Tour the amazing ancient sites.
Guilin: Enjoy the countryside and take the river cruise.
Hong Kong, Macau, Shenzhen: Shop, sightsee, hike, go to a beach, etc.
Yangtze cruise: Summer weather is best for cruise ship touring.
More about China's Top Summer Destinations.
Popular China Tours for August
Below are popular tours for your inspiration that you can modify.
10-Day Classic Golden Triangle: Our most popular tour through Beijing, Xi'an, Guilin, and Shanghai goes to the best attractions in the best known tourist destinations.
For more suggestions and tips on a China trip, please see How to Plan Your First Trip to China.
China Climate Information by Month
Related Articles

travel guide
The Top 10 China Travel Destinations in 2021

about us
Company History