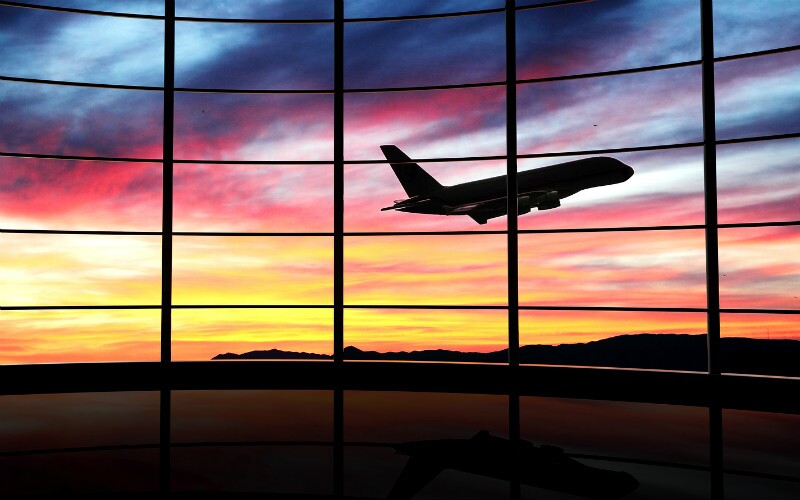 zhangjiajie
How to Travel from Shanghai to Zhangjiajie
Shanghai–Zhangjiajie transportation
The distance from Shanghai to Zhangjiajie measures 1,300 kilometers (or 808 miles), There are both flights and trains going from Shanghai to Zhangjiajie. Clearly the best option for speed and comfort is to take a flight.
Traveling from Shanghai to Zhangjiajie by Air
There are 5 direct flights daily, 2 flights depart in the morning before 10 am and 3 in the evening around 8 pm. It takes about 2½ hours from Shanghai to Zhangjiajie. Airlines: Shanghai Airlines, Juneyao Airlines, China Eastern, or Spring Airlines.
Departure Airport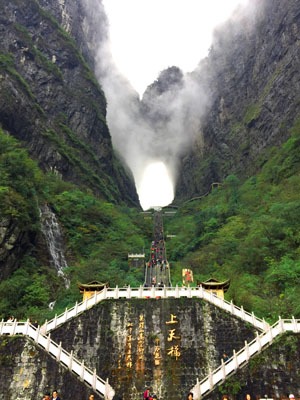 Heaven's Door Mountain in Zhangjiajie
Flights all depart from Pudong International Airport (T1 or T2). Shanghai Pudong Airport is one hour's drive from the city center. Arrive at the airport 2 hours prior to your departure time. There can be really long check-in and security lines during holidays and weekends.
Arrival Airport
Flights arrive at Zhangjiajie Hehua Airport, which is only 4 km (2 miles) from the city center.  However, we don't suggest you stay in Zhangjiajie city unless you want to visit Tianmen Mountain first, as the city is 40 minutes' drive from the National Forest Park. We recommend you transfer straight to Wullingyuan Town next to the National Park. 
There is no direct transportation from the airport to Wulingyuan Town. If you travel with us, your private guide and driver will pick you up at the airport/station and effortlessly transfer you to your hotel.
Traveling from Shanghai to Zhangjiajie by Train 
Traveling by train is possible if you don't mind all the hassle on the way: 22+ hours sleeping on a cramped bunk bed or splitting your journey between a bullet train and a car. There is no English spoken on the train and very limited English spoken at the train stations.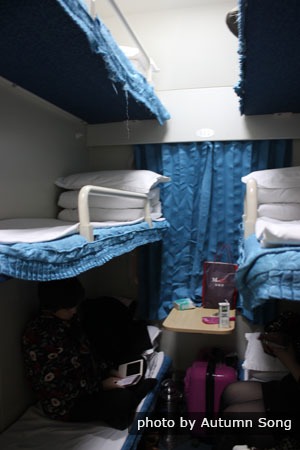 Hard sleeping car
Overnight Train: The overnight trains from Shanghai to Zhangjiajie go from Shanghai South Railway Station to Zhangjiajie Railway Station (the only station in the city).
The train arrives late in the evening (at around 8 pm) in Zhangjiajie. You will reach your hotel at 9 pm ( we recommend you to live at Wullingyuan Town close to Forest Park, which is about 40 minutes' drive from Zhangjiajie train station).  You may choose to live in Zhangjiajie City, which only 5 minutes from the city center. But it is far away from the National Forest Park., which is not convenient for visiting the park. considering you may need to arrive early to avoid the crowds.
Bullet Train + Car: There is no direct bullet train connecting Shanghai and Zhangjiajie. You need transit in Changsha. First, take a bullet train from Shanghai to Changsha for about 6 hours, then transfer to a car or regular train from Changsha to Zhangjiajie for another 5 hours.
This option is half the time, but twice the price and hassle, of the overnight train option. If you travel with us, we will pick you up at Changsha South Railway Station, and transfer you to Zhangjiajie with your private car.
Touring Zhangjiajie with Us
Traveling with China Highlights, you get more than just a private guide and driver. All our suggestions and arrangements will maximize your time and experience. Would you rather spend two hours waiting around or two extra hours touring the best of the national park?
Depending on how much time you have and how active you want to be, we can take you around for four full days to explore everything these gorgeous mountains have to offer. Check out our most popular Zhangjiajie tour:
Related Articles

zhangjiajie
How to Plan a Tour of Zhangjiajie

zhangjiajie
The Best Times to Visit Zhangjiajie

travel guide
The Top 10 China Travel Destinations in 2021