Guangzhou Maps
Guangzhou maps cover Guangzhou's location in China and South China, the Guangzhou subway, and Canton Fair.
The maps below are ordered from large to small scale. Click on the maps below for a single-page enlarged view and more information.
There is a Google Maps window with the city map-pinned at the bottom of this page. Click on it to scroll around and zoom in.
Guangzhou Canton Fair Map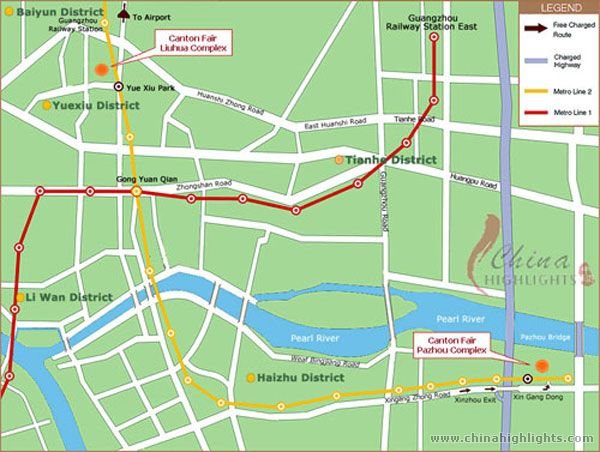 Other City Maps
View Guangzhou details on Google map
2801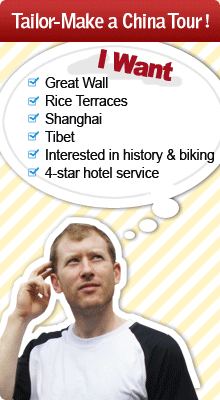 Planning a trip? Ask us here 800-2682918 (USA & CA)
86-773-2831999 (Int'l)
Q:
Mohamed Tawfik
Asked on 2013-09-09
Reply
I need to know how can I come from Guangzhou to Shude using the under ground

Hi, Do you mean go to Shunde from Guangzhou? If so, you could take a bullet train from Guangzhou Southern Train station to Shunde. It takes about 10 minutes and the price of the first class ticket is CNY 15. Regards, guest Replied on 2013-09-09
Q:
Manish Agrawal
Asked on 2013-08-18
Reply
I need to go from Yuexui distric in Guangzhou to Huizhou by bus. Please advise which bus stand in Guangzhou I need to go to get the bus to Huizhou.
Hello, you could first take a taxi to the Provincial Bus Termical (广东省汽车客运站). The addess is No. 145 Huangshi West Road, Yuexiu District, Guangzhou (广州市越秀区环市西路145号). There are buses from 6:30a m to 20:50 in every 25 minutes. The ticket is CNY65 per person.
Nora Ou Replied on 2013-08-18
Q:
bolor
Asked on 2013-08-10
Reply
Hello, i am going to head to Guangzhou from Hong hong on 13th of Aug. Suggest me available trips to there and schedule everything i need.
Thank you for your inquiry.
We here at China Highlights specializes in private tour. We could tailor made the itinerary based on your schedule. However, for a tour starting tomorrow, the time is quite limited. We need to check if there is guide available. Would you please inform some more details before we could offer you more information:
1. Number of people in your group including yourself
2. Length of stay in Guangzhou
3. Places or attraction that you want to visit
4. Class of Hotel: tourist/Deluxe/superior
5. Estimative total budget per person.
We also have some combined tours including Guangzhou. Feel free to check here: http://www.chinahighlights.com/guangzhou/tours.htm
If you need to book the tour for tomorrow, we will need to confirm the tour and complete the payment before 15:30 today. Please reply as soon as possible.
Nora Ou Replied on 2013-08-12
Q:
DINESH CHANDRA
Asked on 2013-07-18
Reply
Need 3 days stay in GUANGZHOU from 23-26 Sept 2013 require local tour
Hi Dinesh, I have sent you an itinerary about your Guangzhou tour via email. Please check it.
Any questions, please feel free to let me know. Nice day, Whitney
Whitney Liao Replied on 2013-07-22
Q:
fari
Asked on 2013-07-17
Reply
i want to go to shenzhen from guangzhou?how i can plan it?
Hi Fari, you can take bullet train(D train) from Guangzhou Railway Station or Guangzhou East Railway Station( second class seat: ≈CNY80, first class seat: ≈CNY100 ). The trains are available from 06:03 to 22:40, takes 80-100mins, with very good frequency.
Whitney Liao Replied on 2013-07-18