Huangshan Weather in October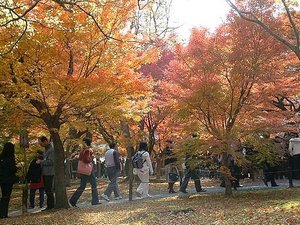 The weather turns cold and dry in October. The average temperature and precipitation are 9 °C (48.2 °F) and 111 mm, respectively. Low temperatures may get to below 0 °C (32 °F), so the weather can fluctuate greatly.
Bring a light knitted sweater with a wind coat and trousers for outdoors. Sneakers and climbing boots are also acceptable. Wear a hat if you want to protect your head from the wind.
October is the greatest time for enjoying the leaves that are turning red all over the mountain. Since October 1st is National Day in China, people are out enjoying this golden week holiday, and scenic attractions, hotels, and other sites are crowded. Reserve your hotel and travel tickets in advance. See our Huangshan Tours.
Huangshan Climate Information by Month
You might like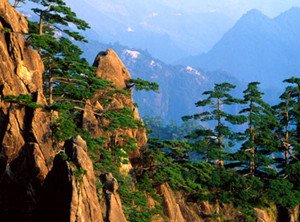 Photography Tips at the Yellow Mountains

China Highlights
Planning a trip? Ask us here 800-2682918 (USA & CA)
86-773-2831999 (Int'l)
Q:
Sofia Ng
Asked on 2011-10-12
Reply
Hi We will be in Mt Huangshan on 29Oct to 02Nov and 03Nov to 09 Nov will be in Hangzhou and Shanghai... What kind of weather should it be in China? Autum? can you please advise, so that we can pack the necessary clothing for the holiday Thanks Sofia
Hi Spfia, It is late autumn then, and it gradually gets cold. There is a noticeable drop in temperature between days and nights. In Huangshan city, the average temperature is 20 ℃(68F), but on Mt.Huangshan, the temperature is about 6-15 ℃(43F-59F). In Shanghai and Hangzhou, the average low and high temperatures are respectively 10 ℃(50F)and 19 ℃ (66F). Prepare sweaters, coats and long-sleeve shirts. Nice day! lisa Replied on 2011-10-13
Q:
B. Chu
Asked on 2011-07-17
Reply
Is mid-October a good month to visit Huangshan? How is weather and would it be foggy for that time?
Hi B. Chu, Glad to share my opinions with you! September and October are good months to visit Huangshan, it is cool and the sky is clear, there is not much rain during the time. The vegetation turns colorful in October and the views are fantastic. The climate on the mountain changes all the time, the temperature is around 10-15 degrees, about 10 degrees lower than the city center. A warm coat is required if you wish to see the sunrise and sunset (most hotels offer coats free of charge). There are many steps on the mountain, comfortable walking shoes/sneakers are strongly suggested. Candy Wei Replied on 2011-07-18
Huangshan Travel Guide