Experience the Best Nightlife by Visiting Top Night Spots in Shanghai
With a bounty of high-class skyscrapers and ancient architectures, Shanghai's nightlife is different from the one in Beijing, which is more sophisticated combining fashion and traditional culture.
1.

The Bund — Foreign Buildings Complex
As one of the symbols of Shanghai, the Bund showcases the world with its famous foreign buildings complex, which is more fabulous under the yellow lights at night. After shopping for several hours during the day on Nanjing Road, it is relaxing to take a stroll there.
2.

Lujiazui — the Forest of Skyscrapers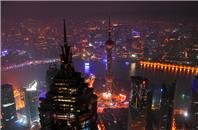 Located on the opposite bank of Huangpu River and facing the Bund, the skyscrapers in Lujiazui witness the fast development of Shanghai. You can reach Shanghai World Financial Center through the tunnel under the river to take a bird's eye view of the whole city. Taking a night cruise there is also available.
3.

Nanjing Road — the Busiest Shopping Street in Shanghai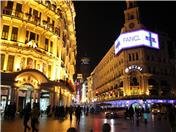 Spending your night-time going shopping in this popular shopping street is great. It is still busy at night, with many famous old-brand shops and authentic restaurants. It is an important part of night-time in Shanghai, lit up by colorful lights. Music fountains in Century Square make this shopping street more lovely and lively.
4.

People's Square — the Highlights in the City Center

Surrounded by the Shanghai Urban Planning Exhibition Hall, Shanghai Museum, and Shanghai Grand Theater, People's Square is one of the landmarks of Shanghai. When it gets dark, the grand buildings around the square become even more fabulous. A warm and quiet atmosphere is created.
5.

Huaihai Middle Road — a Romantic Boulevard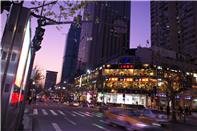 Huaihai Middle Road is like an elegant lady in Shanghai, which enjoys equal popularity with the Champs-Élysées in Paris, Fifth Avenue in New York, and Ginza in Tokyo. It becomes more charming and romantic under the rich cultural and leisurely atmosphere created by the exotic architectural styles, and the decorations in hundreds of shops.
6.

Xujiahui — a Paradise for Relaxing at Night

Large shopping malls and little old alleys can be found in Xujiahui. Appreciating the fabulous night scenery of lights in the modern buildings is great. You can take an overview of the buildings and stream of cars by standing on the platform bridge.
7.

The Bank of Suzhou River — a Blue World on the Bank of the River

Recording the development of Shanghai, Suzhou River is the mother river of Shanghai. At night, it is lit up by the forest of modern buildings. Yellow lights deliver the in-depth insight of the history, and the blue lights show the vitality of this large city.
8.

Xintiandi — a Leisure Place with Bars and Restaurants

Xintiandi is a multifunctional place, which can fulfill your catering and entertainment desires. The old-fashioned buildings under the yellow lights are quiet and graceful, where you can be overwhelmed by the rich Shanghai-style culture.
9.

Anting Old Street — a Mini Water Town

Wandering off in Anting Old Street, you may feel like you're strolling on the paved roads in a water town near Shanghai. A load of shops selling antiques, porcelains, Chinese paintings and calligraphy works, and old-style teahouses, express the culture of old streets in Shanghai.
10.

Jing'an Temple — a Quiet Park and Temple

As the most famous temple in Shanghai, Jing'an Temple looks more sacred and quiet at night. It is in a green park in Shanghai's city center, where you can stroll around. Stepping into Jing'an Park, the vigorous Platanus trees along the corridor are like soldiers welcoming you. A solemn temple with stylish shopping malls nearby looks unique in Shanghai.

Why not hang out at night to experience the nightlife by visiting these popular night spots in Shanghai? China Highlights can help you tailor-make unique night tours of Shanghai. You can also see our Shanghai night tours.
Recommended Tours
Related Links
Questions and Answers About Experience the Best Nightlife by Visiting Top Night Spots in Shanghai
April Offer $25 Coupon
Send your inquiry before Apr. 30, 2014, and we will email you a $25 coupon.
The coupon is valid till Dec. 31, 2014, for paying tour packages worth $250 or up.
The coupon cannot be used for paying flight tickets, train tickets, hotel rooms and day trips.
Travel Advice or Question? Ask us here

China Highlights
Shanghai Travel Guide