Beijing Nightlife
As the capital of China, Beijing brings together people from all over the world. The prosperity of the city has brought about a varied and colorful nightlife.
The diverse nightlife in Beijing makes it suitable for people with different interests, but especially for the young. There are cinemas, theatres, nightclubs, bars, song and dance halls, Karaoke clubs, restaurants, Beijing opera, or teahouses, not to mention Kung Fu and acrobatics shows.
There are hundreds of bars in Beijing, the famous bar streets, such as Sanlitun or Houhai, cater for the local youth as well as many foreigners. The music, décor, and various kinds of activities make them enjoyable places to relax and make friends.
Beijing's Trendiest Nightlife
For any traveler to Beijing the city's history and culture can be daunting. The Chinese capital is brimming with more sights, eats and treats than most countries. The city streets pulse with an intermixing of tourists and locals inspired by the lights, sounds and tastes of the night.
This daytime and nighttime culture cross, contrast and lie upon the pedestal of thousands of years of history, making Beijing not just the cultural and political capital of the country but also the center of the party.
Beijing is no longer the "sleeping tiger"of the east; it is awake, alive and roaring with nightlife.
The Hutongs
The ancient homes and alleys of foregone China, dubbed hutongs, are renovated and revived. Tourists watch HD sports as they sip on their selection of drinks in five hundred year old abodes.
Houhai
Lying amid the secret streets and alleys of hundred year old hutongs is the modern pub hub built into an ancient fishing lake called Houhai.
The area attracts hordes of tourists both foreign and domestic during the daylight hours with shopping and local snacks. A local carriage peddler is always eager to carry tourists around rather than have them stroll on foot.
Beijing and perhaps China's most well known restaurant Quanjude, famous worldwide for its roasted duck, can be found at the center of Houhai for a perfect lunch or dinner.
But as the sun sets and the neon lights rise the shopping hub is transformed into a hotspot of twenty-four hour restaurants, bars and upscale night clubs. Live bands set the tone with everything from R&B to jazz.
Many visitors take to the water in small boats full of wine and snacks and the sail away under the moonlight.
Beijing's secret escape, Houhai is a perfect stop for any tourist.
798 Art District
The 798 Art District is one of the largest art locales in the country. Reconstructed from a 1950's factory and railway station the district has been rebuilt and reborn with the breath of art.
Hundreds of galleries with artists from every corner of the country and globe gather and offer themselves to world.
Taking a break in one of the many western style cafes nestled betwixt the galleries is perhaps the best way to recharge after a full day of art viewing and sightseeing though 798 also offers some of the best traditional Chinese tea shops in the country.
Sanlitun
Sanlitun could be called the tourism capital of the city, filled with embassies, five star hotels and familiar landmarks like Pizza Huts and Hooters. A place to feel at home abroad, it offers a wide selection of international eats and treats.
The Italian, Spanish and French restaurants built into the hutongs blur the lines between east and west. Indian, Russian, American, Mexican and Afro-Caribbean restaurants add to the international cornucopia of cuisines that lure customers in with a mere scent from the kitchen.
Shopping in Sanlitun also keeps tourist on their toes. From local souvenirs to the latest domestic high-tech devices and western fashion, there's nothing one can't buy.
Then as the daylight wanes and moonlight takes its shift, Sanlitun nightlife is born. The cafes and restaurants are transformed into both laid back and luxury nightclubs. Samba, hip hop and tango dancehalls offer everything for those with frisky feet.
Hidden Tree
Offers Belgian beer (the owner is Belgian), and tasty pasta dishes. Hidden tree is an excellent place for relaxation, popular among foreigners.
Address: 12 Sanlitun Street (South)
Beijing's Top Night Sights
The nightlights and night-sights of Beijing rival that of the liveliest in New York or Paris.
Beijing is a large city with stunning night scenery in the urban area. Modern buildings, like skyscrapers in the busy streets, look more fabulous under the colorful lights at night. A collection of characteristic and traditional performances are only shown in the evening.
Beijing Olympic Park – Bird's Nest & Water Cube
If you have seen the Bird's Nest and Water Cube during the daytime, you could be amazed by their grandness. But if you come to visit them when they are colorfully lit up in red and blue respectively at night, you may be overwhelmed by these two magnificent buildings, designed by talented architects.
The Bird's Nest looks fiery under the red lights at night, standing by a little pond on a large square in Beijing Olympic Park. The Water Cube is a mega-size bubble glowing pure blue. Paying a visit there, you can create a lifetime memory of the two great buildings.
Chang'an Street
With many world-famous attractions located nearby, such as Tian'anmen, the Forbidden City, Xidan Commercial Street, and Wangfujing Shopping Street, Chang'an Street has been called "the most important street in Beijing".
If you are tired after a day of touring Beijing, you can take bus 1 from Dongdan (东单) to Xidan (西单) instead of walking. It is enough to take a bus to appreciate the night scenery along this street.
Note: the Forbidden City is closed at night.
Wangfujing Shopping Street
After a day-trip to Tian'anmen Square and the Forbidden City, having a dinner in a Chinese traditional restaurant, and hanging out in Wangfujing Street are quiet wonderful. The shopping malls generally close at 10pm. The nearby attractions, including the Catholic Church, look more exotic and mysterious under the lights at night.
Qianmen Street
Similar to Wangfujing Shopping Street, Qianmen Street is one of the most popular shopping streets in Beijing, and has kept the ancient buildings' style.
Sanlitun Village
Sanlitun Village turns into a paradise combining shopping and entertainment at night, where the young people gather and hold activities. Many world-famous brands covering casual and sporty clothes, and electronic products can be found in this fashionable village.
Sanlitun Bar Street is a popular place that you shouldn't miss. If you want to stay in a bar, and have a drink chatting with friends, go to Sanlitun Bar Street!
Solana Blue Harbor International Commercial District
It is the first lifestyle shopping center combining shopping, entertainment, catering, and recreation in China. Located in the northwest of Chaoyang Park, Solana International District interprets the European building style well. When it gets dark, this little town dresses in its splendid "gown", lit up by countless blue lights.
The Place
The Place is a highlight of Beijing's CBD (central business district) thanks to the biggest LED screen in Asia sweeping over the long corridor. The plazas and restaurants there are high-class, where you can fulfill your high-budget culinary desires.
Shichahai
Surrounded by historical places, ancient hutongs, and courtyards, Shichahai, comprised of three big lakes, is one of the busy places in Beijing at night. Authentic snacks are popular there, as well as the bars. Houhai, one of the lakes of Shichahai, is a popular side-trip destination after touring Nanluogu Lane, which you can find numerous curios.
Beijing Shows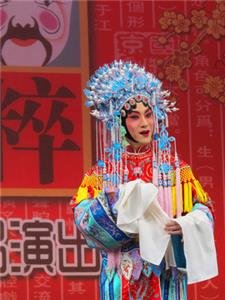 Peking Opera at Liyuan Theater.
Peking Opera, or Beijing Opera, as the quintessence of China, displays the unique Chinese culture to the whole world. It is a combination of acrobatics, singing, and dancing.
The distinguished singing style of Beijing opera is impressive, and the costumes and masks are also quite charming.
Chinese Acrobatics, with its long history, has been praised as "The Pearl of the Oriental Art". A successful acrobatics show demands superb skills and hard training from the artists, and their amazing performances are sure to impress.
Chinese kung fu is a unique Chinese style of martial arts, which is probably one of the earliest and most enduring sports which utilizes both brawn and brain. The theory of kung fu is based upon classical Chinese philosophy.
The following are some popular places for people to enjoy these shows.
Peking Opera at Liyuan Theater
Everybody's heard about Peking Opera, no matter whether he or she's ever been to China. The 200 some years have enriched the opera's spirit. Roles, facial make-ups, costumes, skills and music are the major highlights of Peking opera. Four main types of performers: Sheng (生 male role), Dan (旦 female role), Jing (净 painted-face role) and Chou (丑 comic role which means clown) make up the show and every performing troupe has several of each. Stories are vividly narrated based on classic novels, folk tales and some modern literature works. Regardless understanding the storyline, every audience is to get lost in the spectacular lights and vibrant casting. Liyuan Theatre is our recommended theatre to get a real taste, at which you might get a chance to watch performers put on make-ups before the show.
Location: Liyuan Theatre, 1st Floor, Qianmen Jianguo Hotel NO.175, Yong'an Road, Xuanwu Distrct, Beijing 北京市宣武区永安路175号前门建国饭店1楼
Tel: 010-51651914
Transportation
From Beijing Capital International Airport 北京首都国际机场:To Beijing South Train Station by Airport Line NO, To Taoran Bridge North Stop 陶然桥北站 by Electrical Bus NO.102 or 106, To Hufang Road Stop 虎坊路站 by Bus NO.343, 70, 603 or Electrical Bus NO.102 and walk to the theatre for 255m.
From Beijing West Train Station 北京西站:To Hufang Bridge Road East Stop 虎坊桥路口东站 by Bus NO.57, 201 or 715 and walk to the theatre for 307m.
Time: 7:30pm – 9:00pm daily year round
Ticket Pricing: 200CNY, 280CNY, 380CNY, 480CNY, 580CNY / Person depending on the seat
Acrobatics Show at Chaoyang Theater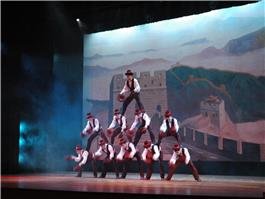 Acrobatics show.
Traditional acrobatics at modern stage setting and excellent performance, this is the key to Beijing Chaoyang Theatre's fame.Greatly involved with music and dancing, it holds some unique artistic characteristics by high requirements for performers' control and precision as well as ingenuity of their moves. At the theatre, people will watch bicycle acrobatics, ballet, circle jumping, ball skill, contortion and Chinese magic tricks. The show itself is a cultural doorway for people to get under the skin of China's traditional art form. As every feat is devoted to present the audience the best of acrobatics, jubilation is sprawling all over the place.
Location: Chaoyang Theatre, NO.36, Dongsanhuan North Road, Chaoyang District, Beijing 北京市朝阳区东三环北路36号
Tel: 010-65071818
Time: 5:15pm – 6:15pm, 7:15pm – 8:30pm daily year round
Transportation
Bus NO.9, 112, 118, 101, 830, 846, 859, 420, 611, 113, 801, 729, 113, 725, 402, 405 to Hujialou 呼家楼;
Subway Route 10 to Hujialou 呼家楼;
From Beijing Capital International Airport 北京首都国际机场: Beijing Capital International Airport to Sanyuan Bridge Stop 三元桥站 by airport coach,Sanyuan Bridge Stop to Hujialou 呼家楼 by Subway Route 10.
From Beijing West Train Station 北京西站: Bus NO.673 to Hujialou 呼家楼.
Ticket Pricing:
1st – 4th line: 280CNY / Person;
5th – 7th line: 680CNY /Person;
8th line: 880CNY / Person;
9th – 11th line: 480CNY/ Person;
12th – 14th line: 380CNY / Person.
Note:
Clients shall book the tickets 2 days in advance;
Clients who book 580CNY and 680CNY tickets get souvenirs.
Kungfu Show at Red Theater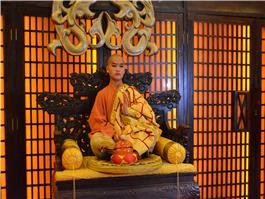 Kungfu Show at Red Theater
The show, the Legend of Kung Fu, tells the story of a young boy, who dreamed of becoming a Kung Fu master, overcome difficulties and temptations on the road to enlightenment. The actors of the show are real and excellent Kung Fu practitioners found from all over China. The actors do no speak, and the story line is shown above the stage with English subtitles. This spectacular show is all a combination of Kung Fu, acrobatics and dancing, and is produced up to international standards by China' leading performing arts production company. It is a show not to be missed for Kung Fu fans, or families with kids.
Schedule (daily): 19:30 – 20:50
Address: 44, Xingfu Dajie, Chongwen District, Beijing
Red Moon Bar for Traditional Chinese Music
An elegant bar-restaurant, with a contemporary décor, offering an impressive selection of lunch options, cocktails, wines and premium whiskies, featuring a live band performing modern music on traditional Chinese instruments.
1 Chang'an Road (East), Grand Hyatt Beijing, Chaoyang District
Laoshe Teahouse for a Variety of Performances
Laoshe Teahouse, known as "Beijing's best teahouse", has various performances: drums, puppets, kung fu, Beijing opera, face-changing, ventrilioquism, comedy duos, and more, from 7:40 to 9:20 pm.
3 Qianmen Street (West), Xuanwu District
Experience Beijing's Nightlife with China Highlights
Why miss the golden nighttime opportunities for traveling around Beijing? You can find something different and worth seeing. Discover the beauty and charm of Beijing at night!
China Highlights can help you tailor-make a night tour of Beijing without any extra cost. We can also help you customize a Beijing tour to include a night itinerary. Contact us to start your trip to Beijing!
Related Links
Questions and Answers About Beijing Nightlife
manish
2013-04-23
Show Answer
Hi am coming to beijing on April 26 and will leave on 28th Morning, i am looking for a good travel guide to be with me during all the stay time and visit me beijing during those days, i want to enjoy my time
Hi Manish, we can arrange the English speaking tour guide for you. It is CNY450/DAY(8hrs).
Whitney Liao replied on 2013-04-23
Adel
2013-01-23
Show Answer
Ji,i am coming to beijing on march 23rd night and leave on march 30th night, i am looking for a good travel guide to be with me during all the stay time and visit me beijing during those days, i want to enjoy my time
Dear Sir or Madam, We can only arrange a tour guide for you and also arrange a tour package. The guide's service fee is CNY390/US$63 per day (about 8 hours). Because Beijing is a big city, it is not convenient to go to an attraction to another attraction without a private van. I suggest you book a tour with us. We can leave some free day for you and you could do some shopping by yourself. Here are some packages for reference. Please click: http://www.chinahighlights.com/beijing/tours.htm Lussie Lu replied on 2013-01-24
Kuen
2012-12-19
Show Answer
HiI would be planning a 5-day trip to Beijing next Sept for my family. If we were to arrive at Mutianyu in the late afternoon, what could we do for the rest of the afternoon? Is it possible to do the Great Wall in the morning and then followed by a visit to the Olympics stadium before going to Beijing in time for dinner? Also besides visiting the usual recommended places, is there a ''shui xiang'' that we could go to?
Hi Kuen, usually the Mutianyu Great Wall takes half a day to cover, so if you arrive at Mutianyu in the late afternoon, it will be a little push to visit another attraction. However, there is no problem for you to visit the Olympics stadium, because it is right on the way back to Beijing.
But if you would like to see ''shui xiang'', then Shanghai, Suzhou and Hangzhou are better choices. There is no ''shui xiang'' nearby Beijing.
Whitney Liao replied on 2012-12-20
batchu govindaraj
2012-10-17
Show Answer
planning to visit in first week of nov
Hi Batchu, we are very glad to arrange the China tour for you.
In order to give you an accurate quotation please answer a few questions so that we can construct an itinerary that gives you what you want at the best possible price.
1. Number of people in your group including yourself
2. Length of stay in China
3. City or cities of entry/exit
4. Start date of Tour
5. Places or attraction that you want to visit
6. Class of Hotel: tourist/Deluxe/superior
7. Estimative total budget per person.
After getting further information from you, we will send you a tentative itinerary.
Whitney Liao replied on 2012-10-17
thomastay
2012-10-09
Show Answer
three of us will be coming on 15 Oct for 7 days, we ve heard so much of the Beijing Duck, can you recommend me the best one in Beijing and what''s the price for a duck?
Hi Thomastay, the best Beijing Duck is Da Dong Roast Duck. Add:Building 3,Tuanjiehu Beikou,East Third Ring Road,(south east corner of Changhong Qiao),Chao Yang District. The price is CNY240/PP for a group of 2-3 people. Do you need any tour in Beijing? We are a travel agency since 1959, if you need any tour service, please feel free to contact me. Have a nice day. Whitney Liao replied on 2012-10-09
China Highlights
Beijing Travel Guide