Top Reasons to Visit Shanghai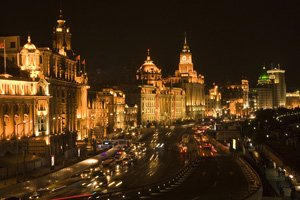 Night views of the Bund.
Shanghai, the Oriental Paris, is China's biggest and most prosperous city. It is one of China's greatest economic and cultural centers, therefore it is popularly seen as the birthplace of everything considered modern in China. The city rivals New York or Paris in terms of modernity, and boasts a blended culture of the East and the West. Shanghai is a tourist destination famous for historical landmarks as well as modern, ever-expanding skylines. You will never get bored in this dynamic metropolis. You can also check out recommended top things to do, attractions and destinations to visit in China
1. China's Largest and Richest City
Shanghai has a population of more than 20 million. It is the largest city in China and the second largest city proper in the world after Mumbai. Today it is the largest center of commerce and finance in mainland China, with many Chinese and international companies opening offices here, especially along the Bund. Undergoing a construction boom, new high-rise buildings are making a new skyline in Shanghai.
2. A Blend of Eastern and Western Cultures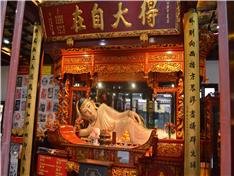 Jade Buddha Temple
With a favorable location and distinct oriental culture, Shanghai has attracted many foreigners, including Bernard Shaw, Albert Einstein and Tagore, to live here, or just experience the oriental charm. In the eyes of a foreigner, Shanghai has a unique oriental charm, while in the eyes of a Chinese, Shanghai certainly has strong Western flavor.
3. Shopping Paradise
Shanghai offers a shopping experience that you will never forget. Whether or not you are a shopaholic, there are various shopping areas selling anything imaginable that you will surely find worth a look. The main shopping streets like Nanjing Road and Huaihai Road offer the latest selections of luxury goods, while in numerous traditional outdoor markets you will get a unique taste of old Shanghai.
4. Colorful Nightlife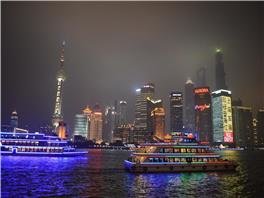 Night scenes of the Huangpu River.
Being a sleepless city, Shanghai's dynamic life goes on way beyond the daylight hours. It is a city of colorful nightlife. It has a diverse cultural flavor, with cinemas showing foreign and Chinese films, and theatres featuring opera, dance, drama, acrobatics and puppets. There are also numerous night clubs and bars which are open until the sun comes up.
5. Convenient Transportation
As the most metropolitan city in China, Shanghai is very accessible. Shanghai can be reached by plane, by train, by bus and by ship. Elevated highways are everywhere.
6. Onward Trips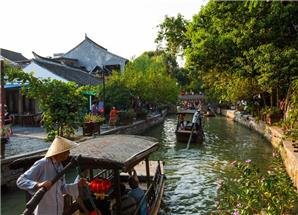 Zhujiajiao Water Town
Shanghai has tourist attractions both in and around the city. Zhujiajiao Water Town, only 40 minutes' drive from Shanghai, is an ancient water town of typical Southeast China style. You can also visit the cities of Hangzhou, Suzhou, Nanjing and Wuxi, which are all within 3 hours' ride by bullet train or express bus.
- Top - or - Shanghai Travel Guide
Questions and Answers About Top Reasons to Visit Shanghai
swetal joshi
2012-10-18
Show Answer
hie, we are planning to visit china mostly 03 days in sanghai, 03 days in beijing and 02 days in xi''an.. so plz suggest me the most beautiful places in it!!!!!
Hi swetal,
here is the guide for the most worth visiting attractions in China.
http://www.chinahighlights.com/beijing/top-things-to-do.htm
http://www.chinahighlights.com/shanghai/top-things-to-do.htm
http://www.chinahighlights.com/xian/top-things-to-do.htm
we specialize in private china tours, please feel free to let me know if you need any help on the tour arrangements.
Have a great tour.
Sammi
Sammi Dai replied on 2012-10-18
anitha
2012-07-23
Show Answer
hi, two of us are planning to visit beijing and shangai from bangalore india on 14th august 2012 and back to bangalore india on 20th august 2012 early morning. please suggest the climate and the cost with indian breakfast and dinner
Tracy Groshinski
2012-07-20
Show Answer
Thinking of heading to Shangai for 3 nights from Hongkong at the end of December beginning of January. Reading this I can see it''s not a good time to come weather wise. What would be recommended things to see/do over 2/3 days in this weather? The extension tour I was looking at doing covered Bund,Yu Yuan Garden & Old Bazaar morning walking tour,afternoon tour to Fuxing Road & taikang Road & morning tour of Zhujiajao Water Village. Would these things be any good to see/do in this weather? Thanks
It is OK to visit all those places you mentioned.. The average temperature is around 7 C(42F).
Leon Long replied on 2012-07-22
DAvid
2012-07-09
Show Answer
Good afternoonWhat will the weather be like the last week of october ?Any rain?Thanks
Hello David, the weather of the last week of october is very comfortable. The temperature is 8-19℃. It doesn't rain often, maybe once or twice a month. In the north of China, it is cool during the day and chilly at night. In the Central China, it is warm during the day and mild in the morning and evening. In the south of China, it is still very warm, shorts are enough for day time. It is the golden time for travel. If you are interested in any tour package in China, please feel free to contact me via whitney@chinahighlights.net. Thanks & kind regards. Whitney Whitney Liao replied on 2012-07-10
Moitreyee
2012-06-02
Show Answer
Hi, me & my husband wants to travel to Shanghain with our 10 months old son on 4th July 2012. Is it d right time to travel with kid? do you want to gv some tips since we are traveling with kid.
There is no special tips for traveling around Shanghai with a 10 months baby. Just be prepared the temperature in July would reach 38℃/100℉. Karen Yang replied on 2012-06-03
April Offer $25 Coupon
Send your inquiry before Apr. 30, 2014, and we will email you a $25 coupon.
The coupon is valid till Dec. 31, 2014, for paying tour packages worth $250 or up.
The coupon cannot be used for paying flight tickets, train tickets, hotel rooms and day trips.
Travel Advice or Question? Ask us here

China Highlights
Shanghai Travel Guide