How to Eat Like a Local in Beijing?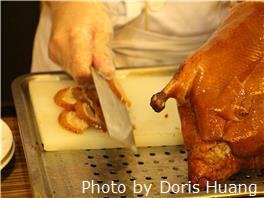 Peking duck
On our Beijing Food page we list some local Beijing foods, like the classic Peking duck and Tuckahoe pie. On our Beijing Restaurants page we give a comprehensive range of restaurants, including some local favorites. Most Chinese cities have their snack streets. These are really a place to experience local flavors.
Finding a Local Restaurant in Beijing
If you want to (and are brave enough to) eat like a local don't go to the tourist areas, where there are Western restaurants, other international restaurants, and restaurants offering standardized Chinese dishes for the tourist market.
China Highlights however will give you an authentic culinary experience.
Go slightly off the beaten track and choose the noisiest, busiest, and (most important) best-smelling restaurant you can. Whether you are going to enjoy most food is given away by the smell. If you keep your nose open you shouldn't be disappointed. Ideally you should enjoy your eating like a local experience!
How do I know if a restaurant is selling authentic local food?
Every city has its local cuisine and palette (see our guide to regional cuisines), and what is offered in the large restaurants is often not what the average local eats on a regular basis. Smaller restaurants and the other options below are often more authentic.
Other Local Eating Options
Family Visits and Local Cooking
For a really local experience we can organize family visits in many cities (for example on our Hutong tours), where you can eat with locals who cook well. On our Beijing Food Tours you will not only eat like a local but also find out how to cook like a local!
Farmhouse Meals
Farmhouse meals (农家菜) are a popular local option when going out to the countryside. There are farmhouse eateries, offering (organic) home-grown produce and local recipes, near some of the sections of the Great Wall of China. For example, you will get plenty of opportunities to eat like a local on our Beijing Great Wall Hiking Tour.
Further Reading
Questions and Answers About How to Eat Like a Local in Beijing?
Crystal
2013-04-15
Show Answer
Hi i m taking in internship in Beijing in coming summer for like three months, I wonder if Beijing got something like octopus card in Hong Kong for convenient traveling or is there a wifi card or temporay service for Internet use ?Many thanks,crystal
Hi Crystal, we have WIFI rental service. Please check details here: http://www.chinahighlights.com/travelguide/wifi-rentals/
Whitney Liao replied on 2013-04-16
April Offer $25 Coupon
Send your inquiry before Apr. 30, 2014, and we will email you a $25 coupon.
The coupon is valid till Dec. 31, 2014, for paying tour packages worth $250 or up.
The coupon cannot be used for paying flight tickets, train tickets, hotel rooms and day trips.
Travel Advice or Question? Ask us here

China Highlights
Beijing Travel Guide