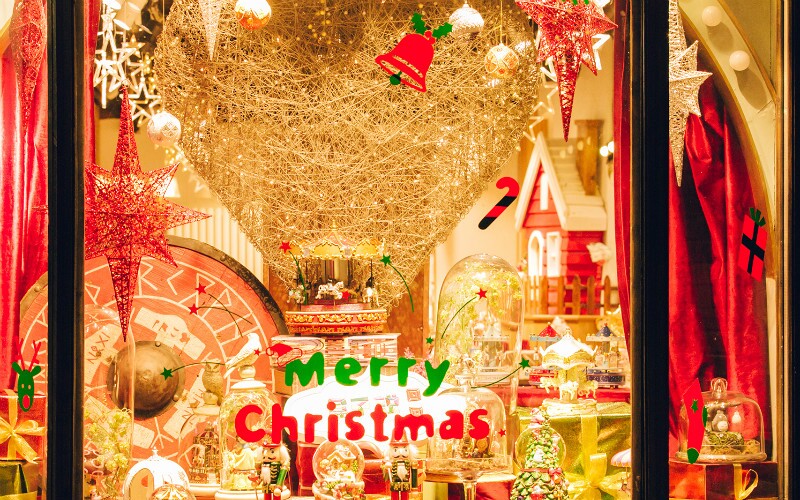 Chinese Festivals and Events
Christmas in Beijing - Celebrating Christmas 2021 in Beijing
Celebrated: Dec. 25
Location: Beijing
Christmas 2021 is definitely celebrated in Beijing, but not as much as in the West.
In Beijing around Christmas 2021, everything's open: churches, theaters, restaurants, shopping malls. It's a winter wonderland of options for tourists and travelers to enjoy Christmas in the Orient.
Christmas sales and markets help make the Christmas season the biggest shopping period in Beijing. Don't worry about everything being closed during the Christmas holidays. Christmas sales are big business. You'll see Chang'an Avenue adorned with Christmas displays and the big malls likewise.
Best Christmas Shopping Markets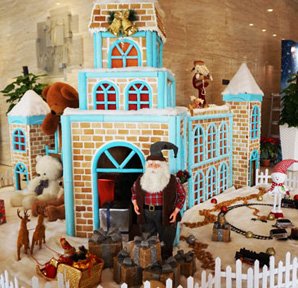 Christmas shopping in Beijing
The peak season for shopping is during the Christmas and New Year season like in the West. During the Christmas shopping season in Beijing, department stores and shopping malls launch promotions and prolong business hours starting in the middle or end of November. Be prepared for large crowds in public places, and remember to keep your belongings in a safe place. Check out our Beijing shopping guide for more information.
Unique Christmas tourist souvenirs and gifts: Light and easy to carry items for local-color souvenirs or gifts include silk products such as scarves, porcelain, wall hangings, tea, Chinese calligraphy, wood carvings, weaving, and embroidery. These items could be excellent choices for souvenirs and gifts if they are inexpensive. However, tourists shouldn't attempt to buy quality or expensive products to avoid fake or overpriced products.
Christmas trees and ornaments shopping: Before Christmas, Christmas trees are usually available at flower markets. Christmas ornaments can be found in small goods markets and some supermarkets. And It is worth checking out these markets too:
Liangma International Flower Market 
亮马国际花艺空间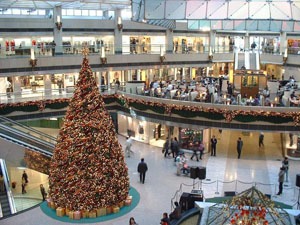 Christmas is one of the best times to go shopping in Beijing.
It is the largest flower market in northern China. They offer wholesale and retail services, flower auctions, and Christmas trees of every size, and ornaments for customers to consider. Due to recent market closures in Beijing, such as the old Tianyi market, this is now your best bet for picking up Christmas decorations and other Christmas-themed novelty items.
Address: 27 Liangmaqiao Road, Chaoyang District (

朝阳区亮马桥路27号

)
Top Christmas Events
Hoping to capitalize on the holidays, retailers and communities alike decorate the city in their Christmas best and lure you in with Christmas concerts, music, and countless other events.
Christmas Eve gala parties: In recent years, many four- and five- star hotels have held gala parties to promote social networking (guanxi). The Christmas eve gala parties include three elements: high-level performances, a big dinner, and many rounds of exciting lucky draws. 
Beijing Playhouse is one of the biggest holiday players with a Christmas themed play every year.
The Bookworm features readings and live music in the evening that links China to Christmas like never seen before for a cultural event. Expect Christmas carol-signing and other Christmas themed activities.
The Bookworm: Building 4, Nan Sanlitun Road, Chaoyang District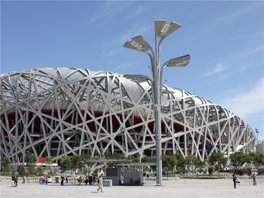 The Bird's Nest
For more active Christmas days for the entire family, check out the Bird's Nest as the national stadium transforms to host the Ice and Snow Festival every year. This is a long-term event that runs from Mid-December until Mid-February with ice-skating and themed winter fun for all ages.
The Bird's Nest: 3 Anding Road, Haidian District
Christmas Bazaars
There are several Christmas bazaars every year.
The Hilton Hotel: 1 Dongfang Road, Chaoyang District
The bazaar at the German Embassy is popular with foreigners living in Beijing as well as locals. If you plan to go to this Christmas market, do make sure that you bring your passport for security purposes as the market is on embassy grounds and get there early as tickets sell out fast. 
The German Embassy: 17 Dongzhimen Outer Street, Chaoyang District
There is also the Hutong Winter Fayre in December that is also popular with visitors and foreigners living in Beijing. All of these will make your Christmas atmospheric while away from home. 
The Hutong: 1 Zhongxiang Hutong, Jiudaowan, Dongcheng District
Christmas Choirs at Churches
There are six Catholic and five Protestant church buildings in Beijing. In most of them, there are activities, mostly choirs, on both Christmas Eve and Christmas. Christmas choirs usually start at 7 p.m. and last for 2 or 3 hours. You should call the church in advance for more details. Below is a short list of churches in Beijing.
Beijing International Christian Fellowship 北京国际基督教教会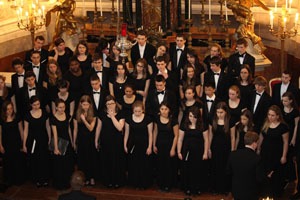 International church choir
About 3,000 evangelical tourists/ex-pats meet weekly in three locations around Beijing. Meetings are held in more than ten languages. The largest English-speaking meeting is held at the 21st Century Hotel in Chaoyang.
There are English Christmas events scheduled each December at the Haidian branch, at the 21st Century Hotel, and the ZGC branch. There are also events in Chinese and other languages at other places.
Address: 21st Century Hotel, #40 Liang Ma Qiao Road, Chaoyang District 二十一世纪饭店-正门, 朝阳区亮马桥路40号
Tel: 86(10)8454 3468
South Church (Cathedral of the Immaculate Conception at Xuanwumen) 南堂 (宣武门天主教堂)
Established in 1652, it is the first Catholic Church in Beijing.
Address: 141 West Qianmen Avenue, Xicheng District 西城区前门西大街1 4 1号
Tel: 010-66087238
North Church (Xishiku Cathedral) 北堂(西什库教堂)
Established in 1703, it is the location of Beijing Cardinal Bishop Office. The present building was built in 1900.
Address: 33 Xishiku Road, Xicheng District 西城区西什库大街33号>
Tel: 010-66175198
West Church (Our Lady of Mount Carmel Catholic Church) 西堂(西直门天主堂)
Address: 130 Xizhimennei Avenue, Xicheng District 西城区西直门内大街130号
Tel: 010-66156619
Dongjiaominxiang Cathedral (St. Michael's Church) 东交民巷教堂(圣弥厄尔教堂)
It is located near the foreign embassies area. This church was part of the French Embassy, and it was built in 1901.
Address: Jia 13, Dongjiaominxiang, Dongcheng District 东城区东交民巷甲13号
Tel: 010-65135170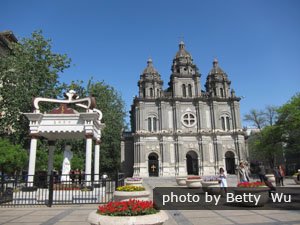 East Church Wangfujing
East Church (St. Joseph's Wangfujing Cathedral) 东堂(王府井天主教堂)
Address: 74 Wangfujing Avenue, Dongcheng District 东城区王府井大街74号
Tel: 010-65240634
Beijing Christian Chongwenmen Church 崇文门教堂
Chongwenmen Church of Beijing Christian Council was established in 1870. Back then, it was called Asbury Church. It is the largest Christian church in Beijing and enjoys high prestige both at home and abroad. It has hosted countless big names such as Former U.S. President George Bush, Bill Gates, George Carey, and the former Archbishop of Canterbury.
Address: 2 Hougou Hutongding, Chongwenmennei, Dongcheng District 崇文门内后沟胡同2号
Tel: 010-65133549
Gangwashi Protestant Church 缸瓦市教堂
Address: 57 South Avenue, Xisi, Xicheng District 西城区西四南大街57号
Tel: 010-66176181
Christmas Eve and Christmas Day Buffets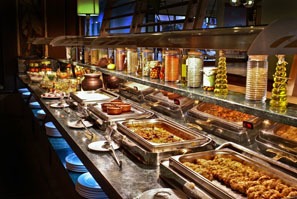 The typical China hotel buffet servery usually looks more festive at Christmas in international hotels.
Get your fill during Christmas with the numerous Christmas buffets around the city. 4-star and 5-star hotels and upscale restaurants often offer the best in special Christmas Eve dinners and buffets, and they serve all kinds of dishes like Christmas turkey, ham, apple pie, and even eggnog. Reservations are essential.
Skiing Spree
Warm things up during the chilly holiday season by hitting Beijing's hottest slopes. Some of the best in Asia and gradually approaching world-renowned status, slopes like Huaibei, Snow World, and Nanshan Ski Resort offer winter fun for the whole family. Getting ready for the Winter Olympics in 2022 is the area of Zhangjiakou, where you'll find top ski resorts such as Wanlong and Genting Secret Garden resort. 
New Year's Eve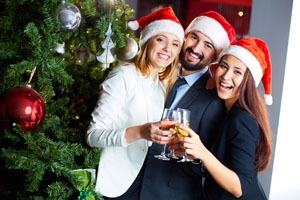 There is plenty of Christmas cheer to be found in Beijing!
The ball drops in New York City, the Eiffel Tower gleams on a backdrop of fireworks, and now the excitement doesn't end at the Great Wall in Beijing. This once a year gala includes dinner, dancing, and live jazz in the Schoolhouse Art Room.
Another great New Year's alternative is The Place in Beijing's Financial District. Beijingers, Chinese out-of-towners, and foreign tourists pack the square and countdown in unison. Free and open to the public, it's an improvised, play-it-by-ear ceremony, and ANYTHING COULD HAPPEN. And that's a good thing.
Schoolhouse Art Room: 12 Mutianyu Village, Beijing 101405
The Place: 9 Guanghua Lu, Chaoyang District
New Year's Eve Watch at BICF 北京国际基督教教会
On New Year's Eve, 2021, Beijing International Christian Fellowship's branch at the Xijiao Hotel and the 21st Century branch have special midnight watches.
Address: 21st Century Hotel, #40 Liang Ma Qiao Road, Chaoyang District 二十一世纪饭店-正门, 朝阳区亮马桥路40号
Tel: 86(10)8454 3468
Christmas Season Travel Information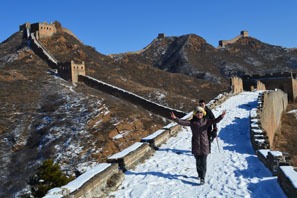 Enjoy the Great Wall with snow and no crowds!
Low Season: The last half of December is an excellent time for touring in Beijing. The prices are low. The busy crowds of Chinese tourists don't visit until Chinese New Year, but some foreign tourists arrive during their Christmas/winter vacations. Local ex-pats often travel or go back to their countries during this time.
Our Beijing and China Christmas Tours
Would you like to take your family on a Christmas holiday they will never forget? Book a tour with us, and we can arrange festive activities like those above into your itinerary. See our most popular Beijing and China family tours:
Our tours are developed through years of experience and customer feedback and are reasonably priced. They can be customized to your requirements. You can contact us for help.
Guides, drivers, and private vehicles can be provided for great private tours for individuals and groups. You can book Beijing hotel rooms through us.
Recommended Tours: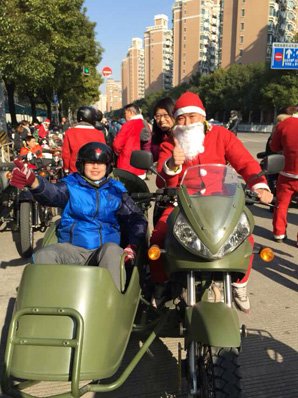 Our Beijing sidecar guide makes this Christmas tour of Beijing unique.
If you happen to spend your Christmas eve in Beijing, let us help you plan a personalized tour of Beijing.
Free Christmas E-cards
China Highlights has designed some exquisite Christmas e-cards. Check them out and send cards to your family or friends for free.
Related Articles

Chinese Festivals and Events
Summer Solstice (xià zhì夏至) — the Longest Day

Chinese Festivals and Events
Red Envelopes/Packets (Hongbao) - Amount, Symbols and How to Give

Cultural diversity
How to Deal with Culture Shock in China More Easily

chinese-food
Chinese Food